Review – Baller 1/10th scale touring/drifting body by Fire Brand RC
From: Fire Brand RC
Direct Link: Firebrand RC Baller body
Fire Brand RC is a new name on the market that specializes in RC accessories for the Basher/Scaler/Drifter crowd. They recently popped up on the radar at iHobby last year and sent us some product to check out. So far we have reviewed their Icestar XD drift wheel and tire combo which you can see here. This time around we will be looking at the "Baller" 1/10th scale touring/drifting body. How does the Baller stack up in a sea of clear lexan options? Read on and find out.
Review by – Evol
Pics by – Evol
Specs – MSRP $38.00 Dimensions: 17" x 7.5" (190mm) 1/10th scale clear polycarbonate lexan body.
What's needed to complete Install: Lexan paint, body scissors or hobby knife, and a well-ventilated area to paint it in.
Build Quality: The quality of an RC body becomes very apparent while you're cutting it out. If the lexan is inconsistent in thickness and shows flaws around the tight bends you can pretty much tell what you're working with. The Baller appears to be formed from high quality lexan and I found no flaws while in the trimming stages. If I can nitpick about anything it would be that I wish the lower door lines were a little more defined. I found myself getting a little lost while cutting it out.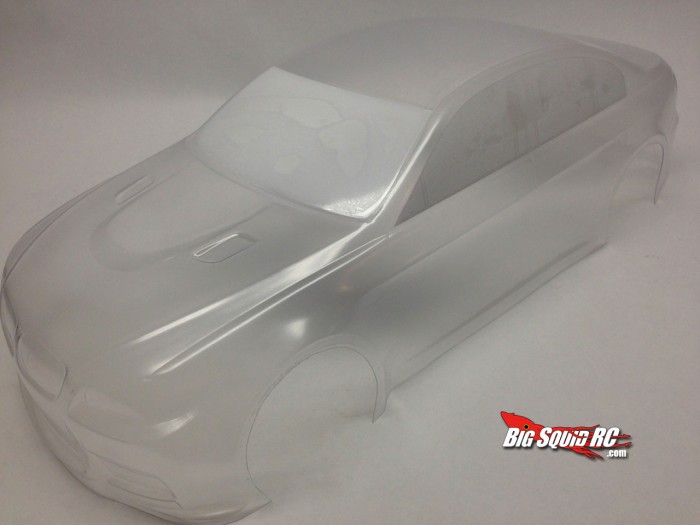 Test Venues:
Kansas City RC Drift Movement club track – a polished concrete floor with heavy 2×4 wooden crash barriers on the outer perimeter.
Set-up Notes: The Baller features an overspray film on the outside like other high-end lexan bodies to make painting a snap. It also includes pre-cut window masks for convenience, or you can just paint the entire thing one color and use the window decals afterwards. Extra points for giving us more options and making it easy on the new guys. Very nice indeed.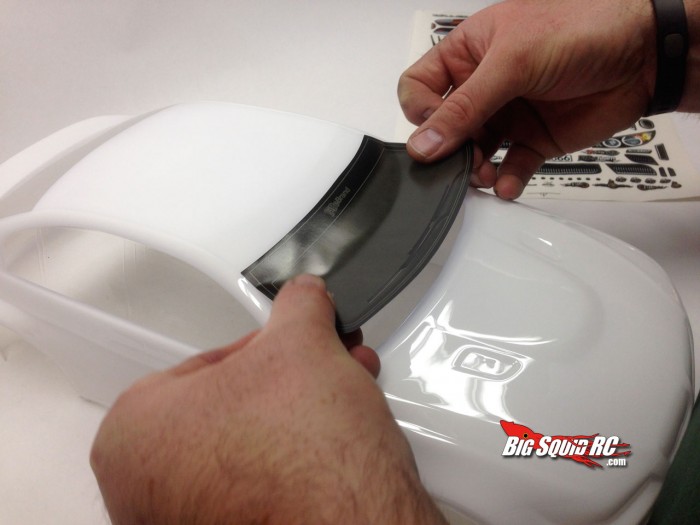 Appearance – The detail of the body is passable. The styling is clearly modeled after a 3 series BMW and when painted the body is very attractive. I think the front grill and fascia could have been pulled in a bit more giving more 3D realism to the front of the car. The Baller also loses some points in the decal department. The decal sheet was pre-cut which is awesome for newcomers to the hobby, but I found the adhesive on the decals to be a little lacking. The window decals tunneled after sitting for a night, and continue to be a pain even after using a heat gun on them. They didn't fall off or anything, but a little more stick in this department would be good. We also found the art work to a bit cartoonish. I would have liked to see them be a bit more scale realistic.
The Baller also comes with a lexan wing and molded wing mounts. We found the wing to be a little much in the looks department so we left it off of our test unit, but it is nice that they included it if you want to go for a more wild look.
Performance– The body performed as expected. For durability testing I turned it over to a couple of newcomers to the drift club who spend a liberal amount of time rubbing the walls while learning to drift. It had several hard collisions with other cars, walls and drift barriers. It came away with several scuffs, a fair amount of other peoples paint, but no cracks creases or chips.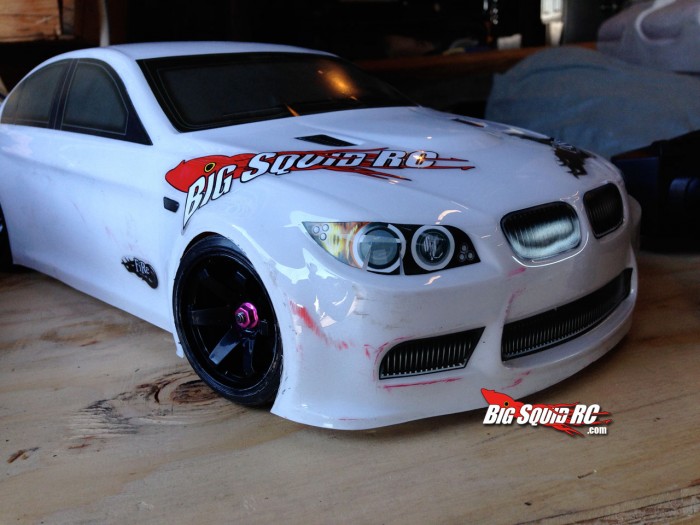 Summary:
The Firebrand Baller body is clearly aimed at the basher crowd and will be graded as such. It has awesome features like the options for window masks, pre-cut decals, overspray film, all things that are meant to get it prepped and on your car in the shortest amount of time possible and with minimal effort. All huge pluses when you just want to get your RC out and drive.
A = Outstanding/Best in Class, B = Above Average, C = Average, D = Below Average, F = Horrific
Time to Bash: B-
Features listed above make this body quick and easy to setup, However there is some time involved with prepping and painting. This is not a drop on and go body.
Bash-A-Bility: C
High quality lexan is extremely durable and this body is no exception, but we deducted a few points for decals pulling up.
Performance: C+
The body performed great, It bounced back from large impacts without denting or creasing, but the decals again pulled the category down a bit.
Value: C
The baller is a bit more expensive than its comparable competition. At this price I think if they included light buckets, and a fully injection molded GT style wing, I could have rated them a B here.
BigSquid Rating: C+
I'm going with an C overall because aside from the MSRP being a bit high, there is still a lot to like here from the bashers perspective. The body is very rugged, and looks pretty good, but has decal issues as described above. It's not the most scale realistic shell on the market by any stretch, but if that stuff isn't your priority and you just want some tough new lexan on your ride then the Baller is worth a look.