Review – Carisma GT10DT Brushless RTR Desert Racer Review
THE Carisma GT10DT Brushless RTR Desert Racer Review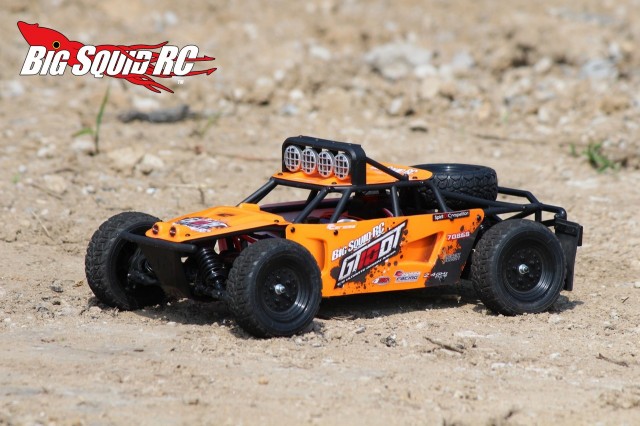 Daily our hobby changes. Off-road buggies have gone from cool looking scale derived machines, to UFOs, and now they are headed back to looking like something you might actually be able to see in real life. The crew over at Carisma and their new GT10DT continues the trend back to scale realism. The GT10DT packs plenty of features like brushless power, 4wd, and a 2.4GHz radio system, all of which should make it a good bash machine. So it is? Is it a good basher? Hit the "Read More" button and find out…
From: Carisma
Direct Link: GT10DT
Unboxing Pictures: GT10DT Unboxing BSRC
Review By: Cubby
Pictures By: Tim Mohr
Specs:
RTR or Kit: RTR
Age: 14+
2wd or 4wd: 4wd
Chassis: Aluminum
Electric or Gas: Electric
Waterproof: Yes
Scale: "Mini 1/10th"
Length: 338mm
Width: 214mm
Wheelbase: 229mm
Motor: Brushless 4500kv, 370 sized
Speed Controller: Non-Sensored brushless, MSC18WP
Low Voltage Cut-off:
Radio: Carisma CTX2710 2.4GHz
Differential: Two metal gear diffs
Slipper Clutch: Yes
Driveshafts: Bones
Shocks: Plastic bodies, oil filled
Screws: Hex
Bearings: Full set
Tires: Carisma street tread
Battery: 6 cell 1200 mAh, EC3 connector
Top Speed (measured by BSRC w/ stock battery)- 21 mph
Part Number: #70868
Street Price: $N/A
Primary Competition: Once again we are testing a machine that is unique. Carisma calls it a "Mini 1/10th scale" for size, but it is substantially smaller than a "normal" tenth scale buggy like an Associated B4 and substantially larger than a 14th scale mini. For example, the GT10DT has a 40mm longer wheelbase than a 14th scale Losi Mini 8ight. So… lets say it is in the same league as other large/mini brushless 4wds.
What's Needed To Complete: Nothing, zero, nada, it even comes with AA batteries for the transmitter.
Build Quality: We didn't find anything binding, the gear mesh was spot on, the shocks were not leaking, everything looked well assembled out of the box.
Test Drivers: Cubby, Tim, "Iron" Mike, and Sam "The Noob"
Test Venues: RC Outlaws off-road track in Collinsville Illinois, Arnold City Park in Arnold Missouri, CostCo parking lot, and a cul-de-sac.
Set-up Notes: We ran the Carisma box stock with no adjustments. We primarily used the included Ni-MH pack for power, but also did some testing with 3S Lipo. We used a Hyperion 720iNet3 for charging duties. We even left the stock EC3 connector on.
Turning: The GT10DT exhibits a bit of understeer in tight corners, but not a lot. A tap of the brakes helps to plant the front end, then it will rotate right around. In sweepers it tends to turn pretty much neutral. The stock street tread tires don't offer a lot of mechanical grip on loose surfaces so corner speeds aren't exceptionally high, but it is easy and predictable to turn.
Jumping: For its size, the GT10DT jumps fine. It doesn't have a center diff so it responds quickly to radio input for mid-air corrections. Its small overall physical size can make it hard to jump on a blown out dirt track, but if you are hitting prepped jumps like a wood ramp or carpeted jumps, it tends to jump fairly level. Landings can be a bit rough because the shocks are lightly damped, but whether you be a noob or a seasoned pro, jumping the GT10DT is generally a pleasure.
Bumps/Whoops: The small'ish diameter tires and light shock damping can lead to some wild times in the rough. If you plan on driving on rough outdoor tracks or at a bash spot with big dirt clods, you might want to consider a larger truck. If you are only going to see small bumps where you drive, the Carisma will be just fine.
On-Road: The Carisma jams on pavement. It doesn't traction roll (at any speed), it corners well, and the stock tires work quite well on-road. The GT10DT thrives and is a blast on pavement.
Grass: While the Carisma has plenty of power on tap and 4wd, its limiting factor in grass is its tires. Those are easy enough to change out, but out of the box the relatively low slung Carisma with street treads is only good at navigating very short or spotty grass.
Off-Road: For its size the Carisma does an admirable job off-road. It is generally easy to control on a prepped dirt track or in an empty dirt lot. We had plenty of fun just pounding around an un-prepped dirt lot, but if the majority of your driving will be in the dirt, a change of tires and heavier shock oil would come in mighty handy.
Tires: The stock tires work well on-road but just aren't made to excel in grass or on dirt. The compound is fairly hard, but not insanely so, and the stock inserts are soft to help get more traction on loose surfaces. To boil it down, on high bite the stock tires works well, on the loose stuff you'll be looking for more aggressive shoes.
Power: When using the included 6 cell Ni-MH pack the Carisma had good yank. The low end was strong, the mid-range had a nice punch, and the top end felt powerful until it ran out of rpm. The 21 mph top end isn't impressive to a seasoned hobbyist, but it's right on target for noobs, and the Carisma gets to top speed in a hurry. On 3S Lipo things change drastically, you get a real taste of what the GT10DT can do. Instantly it becomes an insanely fast bash machine, with more power than 99% of people could ever use.
Radio: We didn't have any glitching issues with the Carisma transmitter and it gave a long working range for us. The included wheel is molded out of plastic, we would rather have seen foam on it. The grip felt fine, as did the wheel-to-trigger-to-grip relationship. While the trigger felt fine, it recesses back into the grip when pulled WFO, something that was hated by one tester, and not even noticed by others.
Broken Parts: I'm not going to beat around the bush here, the Carisma GT10DT took the nastiest beating we have ever put out and it still lives with no broken parts. Let me repeat, it survived every stupid thing we could think of and did not break one part. It's an epic level bash machine if you are looking for tough.
After doing our "normal" testing it was time to test the durability of the Carisma (read- to break the thing). We started slamming it into non-movable objects full speed. It walked away with zero problems. Then we started jumping it off a 2 story roof to pavement with no success in breaking it. Then we hucked it off the roof to pavement purposely landing at weird angles and still no success. Then we popped in 3S and started slamming it into railroad ties, once again it would not break. Finally we resorted to slamming it full speed into a concrete curb on 3S. Finally, for the first time it did not drive away! However, that was simply because the battery connector had come apart. Then we slammed it into the concrete curb again, bending the front center driveshaft so far that it couldn't turn over anymore. Also on the last slam the receiver and speedo came loose from where they were mounted. It also popped off 2 screws from the where the bottom of the front bumper was mounted to the chassis. The chassis was also tweaked, as was the front of the cage, but just slightly. We bent the driveshaft back straight, double sided taped the electronics back down, and the GT10DT drives nearly as well today as it did when we got it. Impressive, extremely impressive.
Misc Notes:
Want to know the best thing about the included servo? It is the fact we never noticed it. Servos only get noticed when they are too weak or too slow, the included servo works great.
We gave our GT10DT some severe water testing. Generally it didn't have an issue but occasionally it would just stop working when submerged. Once allowed a few minutes to dry it was fine again.
The GT10DT has a small bit of cogging from a dead stop. Nothing massive, but noticeable.
The ambient temp for most of our testing was 80F and higher. The highest motor temp we measured was 138F.
We measure runtime at 9 minutes. That isn't a lot by todays standards.
The stock battery tray is somewhat hard to get to. One of our testers hated putting a pack in, while another didn't really think it was difficult.
The GT10DT comes with e-clips on some of its hinge pins, we are not fans of e-clips at all.
The extra tire mounted on the cage is real working unit, nice touch.
Best Mod Under $5: Easy one here, we highly recommend popping in 50 weight Associated shock oil into all four corners. The stock oil is very thin, thicker oil makes a real improvement in handling at very little cash outlay.
Best Mod Over $5: Can you say 3S Lipo? 🙂
---
Summary:
A = Outstanding/Best in Class, B = Above Average, C = Average, D = Below Average, F = Horrific
Time To Bash: B Everything comes in the box but you'll want to skip the wall charger if you want to get on track fast.
Workability: D The scale realism added by the cage comes at a price when you need to wrench on the Carisma. Thankfully it rarely needs wrenching.
Car Show Rating: B We determine this by going around the office and asking the BigSquid Bash Crew if they like how the car looks or not. Everyone in the office liked the look of the Carisma, which is rare, we normally have at least one person that hates the look of what we are testing.
Bash-A-Bility: A+ The Carisma GT10DT took the worst beating we've ever put out and did not break one single part. We bent a driveshaft and ripped a couple of screws out, but nothing broke. The GT10DT is HOF tough.
Fun Factor: B The Carisma generally drives well, has decent power, and never breaks, that is a lot of fun to us.
Handling: B The Carisma turns well and is generally easy to drive.
Value: N/A We have not received pricing information.
Parts Availability: N/A The GT10DT, nor its parts, are available in the US at this time.
BigSquid Rating: B- We are core bashers and we liked the Carisma GT10DT a lot. The Carisma has plenty of yank on tap, it is easy to drive, and it has HOF durability, all are key attributes to a great bash machine.
Once we know a price point, and how people will be able to get parts, we will update the scores accordingly.
Make sure to check out the video in full screen and high def!