Review – Carisma GT16MT Brushless 4wd RTR
THE Carisma GT16MT Brushless 4wd RTR Review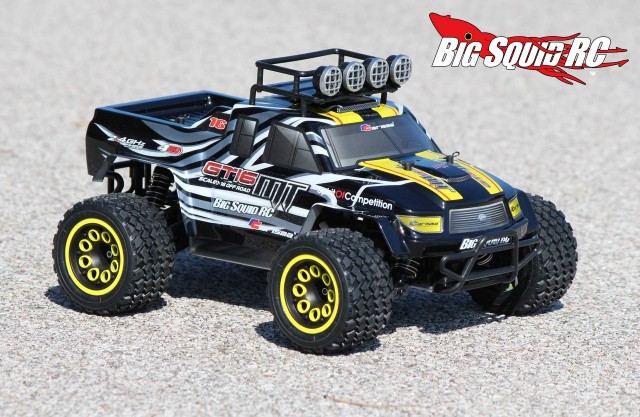 Nope, you can't buy Carisma here in the states. However, you never know when they might get picked up, so to stay "ahead of the curve" we are busting out some reviews of their products. Today we'll be taking a closer look at the GT16MT, a 1/16th scale, 4wd, RTR, off-road truck. The first Carisma we reviewed was arguably the toughest truck we've ever tested, could our second review truck possibly live up to our expectations? Does the brushless powerplant in the GT16MT have plenty of rip? What do we really think of Carisma? Click the "Read More" to get the party started…
From: Carisma
Direct Link: GT16MT
Unboxing Pictures: BSRC Unboxes the GT16MT
Review By: Cubby
Pics By: Tim Mohr
Specs:
RTR or Kit: RTR
Age: 14+
2wd or 4wd: 4wd
Shaft or Belt: Shafts
Electric or Gas: Electric
Waterproof: No
Scale: 1/16th
Length: 335.9mm
Width: 239mm
Wheelbase: 189mm
Motor: Brushless, 370 sized non-sensored
Speed Controller: Carisma V6 Type R
Low Voltage Cut-off: Yes
Radio: Carisma CTX-2710 2.4GHz
Differential: Front & Rear metal gear diffs
Slipper Clutch: Yes
Driveshafts: Metal bones
Shocks: Plastic caps and bodies, oil filled
Servo Saver: At servo
Screws: Phillips
Bearings: Yes
Tires: Carisma intermediate tread
Battery: 6 cell 1200mAh saddle pack
Part Number: #57168
Top Speed (measured by BSRC): 27 mph w/ stock pack
Runtime: 9 minutes
Street Price: $N/A
Primary Competition: ECX 1/18th Ruckus, Associated 1/18th Rival MT, Losi 1/14 Mini 8IGHT, Dromida MT4.18
What's Needed To Complete: Nothing, everything comes in the box.
Build Quality: We found no issues with the assembly quality. Camber and toe were properly set, the shocks were properly filled, even the pinion/spur mesh was spot on.
Test Drivers: Your favorite Cub Reporter, Tim Mohr, "Iron" Mikeee, and Sam "The Noob"
Test Venues: RC Outlaws 8th scale outdoor off-road track in Collinsville Illinois, Dirtburners in St Louis Missouri, Belleville City Park in Belleville Illinois, Arnold City Park in Arnold Missouri, and a CostCo parking lot.
Set-up Notes: We ran the GT16MT bone stock, even with the included Tamiya plug, but we didn't use the included wall charger. Our charger of choice was a Hitec X1 Touch.
Turning: The tires on the Carisma don't offer a bunch of overall grip so the GT16MT pushed a bit going into corners. It turns ok, but doesn't have a lot of mechanical grip so corner speeds aren't blazing fast.
Jumping: The GT16MT comes damped fairly soft, resulting in relatively hard landings. Take offs are generally straight and in air corrections are easily made via throttle control. The GT16MT generally jumps flat, and its body doesn't catch too much air so parachute effect is rarely noticed. Overall, the Carisma is easy to jump, and with its ample power, you can pretty much make every jump at the local track.
Bumps/Whoops: Being lightly damped the GT16MT can get a little crazy in whoop sections, bouncing a bit more than we liked. This is easily and cheaply fixed with heavier shock oil.
On-Road: The GT16MT tends to slide around corners like a drift machine on-road, but never traction rolls and generally is a joy to drive on pavement.
Grass: For its size, the Carisma gets around well in grass. It just blows through short grass, and even gets around quite well in some of the taller stuff. Its 4wd and tires work well in the green stuff. If most of your driving is in taller grass, you'll want to look at larger scale machines, but for the short stuff the Carisma works just fine.
Tires: The intermediate tread design gives exactly that, medium traction on pretty much every surface. They don't offer a lot of mechanical grip on any surface, but are long wearing and get at least decent grip on everything.
Power: Oh yes, the GT16MT has good power, even with the included Ni-MH pack. It has good yank off the bottom that rips into a peppy mid-range, then it just keeps on pulling to a 27 mph top end. It has more than enough yank to make big jumps, shoot huge roost, and put a big smile on your face. It can cog occasionally from a dead stop, but once it gets rolling it has very good power for a 16th scale RTR.
Radio: The included Carisma radio system worked well for us. Range was excellent and we never experienced a glitch. Ergonomics were good, but we would have preferred a foam covered wheel instead of just plastic. The trigger is sized right for most fingers, but recesses back into the grip when pulled wide open, something that most of use didn't really notice, but some testers couldn't stand.
Broken Parts: So… the first Carisma we reviewed, the GT10DT, was a tank, perhaps the toughest car we've ever tested. Therefore, we thought there was no possible way the GT16MT could be as tough. Early in testing we were super careful with it, not wanting to break it before we got a couple dozen packs through it, that way, if it broke early, at least we had plenty of time on it for the review.
After breezing through our "normal" testing, it was finally time to destroy it, we were free to do all the stupid stuff you should never do to your car. First came the normal stuff, slamming it into walls, metal posts, and concrete barriers, full speed of course. The GT16MT didn't break, heck, it didn't even bend, it came away completely unscathed. Then came the multiple two story roof jumps, then running it full speed into more unmovable objects. Then came more, and more, and more, until we finally tired of attempting to break it. There are no caveats here, the GT16MT walked away 99% unscathed. It didn't bend, it didn't pop off any tie-rods, the camber didn't end up out of whack, the chassis didn't taco, and all the wheels are still round. Other than various scratches, the GT16MT works as well today as it did the day it came out of the box. The GT16MT took the sickest, stupidest, most insane beating we've ever dished out and did not break. The GT16MT is the toughest truck we have ever tested.
Misc Notes:
When you first turn on the Carisma you notice the front wheel are limited to a very narrow turning arch. You think in your mind that the GT16MT is gonna have the turning radius of a log truck, but in real world use that is not the case. It can indeed turn in a fairly small radius.
The included Ni-MH battery seems to have good power, but it is a saddle pack. I don't know how many after-market 18th scale saddle packs your LHS stocks, but none of our local shops carry any.
The tires rub on the fender flares of the body while turning and during heavy suspension compression.
The body comes with some neat scale details, but the VW bug rear exhaust seemed a bit out of place on a truck like this one. It slips right off, so no biggie if you don't like it.
We ended up removing the roof rack, exhaust, and cut the fender flares off, giving the MT16MT more of a basher truck look. It took all of 5 minutes to do this and we liked the look much better afterwards.
Carisma includes extra spur gears and wheel hexes with the truck, nice touch.
To keep dirt out of the chassis the GT16MT comes with a polycarbonate under tray and a buggy body on top. We left the under tray on, but ditched the buggy body.
The chassis on the GT16MT is basically an uber 16th scale race machine. If you were to throw some different tires on it the truck would be capable of racing at any level.
Best Mod Under $5: Associated 45 weight shock oil is your friend with the Carisma. After adding the heavier oil the Carisma started to absorb bumps instead of bounce over them.
Best Mod Over $5: Bolt on some new kicks. We bolted on some wheels/tires off a Duratrax Vendetta (the hexes are the same size) and enjoyed the newly found grip.
---
Summary:
A = Outstanding/Best in Class, B = Above Average, C = Average, D = Below Average, F = Horrific
Time To Bash: B With everything you need to get going right in the box it is fast and easy to hit your local bash spot.
Workability: B Everything is well laid out, but we would have rather seen hex hardware instead of Phillips.
Car Show Rating: C Some of our Bash Crew thought the GT16MT looked ok, but none of them raved about it, and one reviewer really wasn't feeling the look. The truck looked like a hodgepodge, part monster truck, part Beetle, and its proportions looked a bit off, as if it needed a longer wheelbase.
Bash-A-Bility: A+ The GT16MT is the toughest vehicle we have ever tested, hands down. We simply could not break it, even when taking durability testing to the extreme.
Fun Factor: A Strong brushless power combined with a truck you simply can not break is loads of fun to drive.
Handling: C The GT16MT is a decent handling machine but is held back by its soft damping.
Value: N/A We have no pricing information on the GT16MT yet.
Parts Availability: N/A The GT16MT is not available in the USA at this time.
BigSquid Rating: B If/when the Carisma GT16MT hits the states, should you pick one up? We had an absolute blast driving the GT16MT and were in awe of its ability to take a huge hit without breaking. Yes, the GT16MT will make a great bash machine for your rc garage.