Review – Carisma M40DT Desert Truck Brushless RTR
THE Carisma M40DT Desert Truck Brushless RTR Review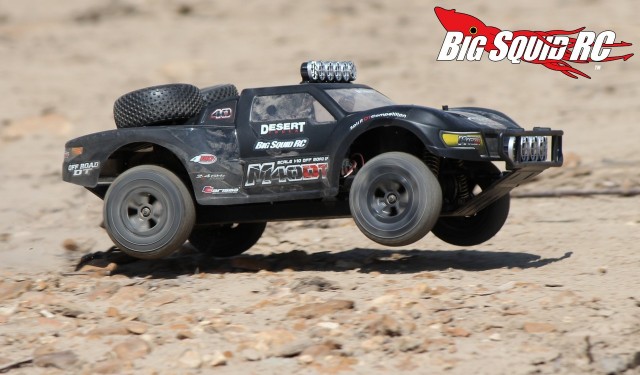 Is there a hotter class than 4wd Short Course Truck right now? It seems that when we go bashing they are everywhere, and for good reason, they look good and can typically take a pretty hard beating. One of the newest trucks to enter the category is the Carisma M40DT Desert Truck. The M40DT comes with the brushless power and scale detailing that everyone is looking for now days, and it does it at a very affordable price point. After driving the truck for weeks (like escaped mental patients) what did we learn? Click the "Read More" to find out…
From: Carisma
Direct Link: M40DT Desert Truck
Unboxing Pictures: BSRC M40DT Unboxing
Review By: Cubby
Pictures By: Tim Mohr
Video Editing By: Doug Welker
Model: Ashley Renee
Specs:
RTR or Kit: RTR
Age: 14+
2wd or 4wd: 4wd
Shaft or Belt: Shaft
Electric or Gas: Electric
Waterproof: Yes
Scale: 1/10
Length: 18.6″
Width: 10″
Wheelbase: 10.1″
Motor: 540 brushless 3000kV
Speed Controller: Carisma V10 Type S
Low Voltage Cut-off: Yes
Radio: Carisma CTX-2710 2.4GHz
Differential: Front & rear metal gear diffs
Slipper Clutch: Yes, on pinion!
Driveshafts: Bones
Shocks: Oil filled, plastic bodies
Servo Saver: On servo
Screws: Phillips
Tires: Carisma, knobby
Part Number: #70268
Top Speed (measured by BSRC): 26 mph
Runtime (on 2S 6800mAh LiPo): 27 minutes
Street Price: $229
Primary Competition: Helion 10SCv2, Caster SCT10, Traxxas Slash 4×4, Losi SCTE RTR, Associated SC10 4×4, Racers Edge Pro4 Enduro
What's Needed To Complete: The Carisma comes with four AA cells for the transmitter but you will need to supply a battery for the truck and a charger.
Build Quality: We didn't find any issues with the build quality on the Carisma. The shocks were properly filled and not leaking, pinion/spur mesh was good, and we didn't find a bunch of excessive flash on any of the plastic parts.
Test Drivers: "Hawaiian" Chris, Sam "The Noob", Daniel "The Engineer", Ashley "The Model", Tim "Pro Driver Guy" Mohr, "Iron" Mike, and yours truly. Yes, we had plenty of input on this truck. LOL
Test Venues: Glidden Park and RC Outlaws in Collinsville Illinois, Minnie Ha Ha Park in Fenton Missouri, City Park in Arnold Missouri, and Dirtburners in St Louis Missouri.
Set-up Notes: We ran the Carisma exactly how it came out of the box. We soldered up an XT60 to Traxxas battery adapter, ran a TrakPower 2S 6800mAh LiPo for juice and used a TrakPower VR-1 for charging.
Turning: The geometry on the Desert Truck definitely yields a planted front end, but not so much that it makes the truck hard to drive. On high traction surfaces the truck never pushed, on loose surfaces the front generally goes where pointed. On other vehicles with some oversteer the rear can be uncontrollable, but not on the Carisma. The rear rotates quickly, but doesn't just snap around.
Jumping: The Carisma jumps well like most 4wds do, we just wish it had a bit more rpm on top to help pull the nose up during endos. The Carisma handles rough jump faces well enough and in the air it immediately responds to trigger input. It is damped a bit light for hard landings, but overall a decent jumping truck.
Bumps/Whoops: For a 10th scaler the Carisma has about a 3″ shorter wheelbase, and is about 1.5″ more narrow, than other SCTs. The tires on the Desert Truck are also about 3/4″ smaller in diameter. The smaller form factor helps make the truck more nimble in small areas, but when blasting through rough spots and over dirt clods it tends to get bounced around more than others in its class.
On-Road: The pin tires on the Desert Truck get good traction on-road, while its low cg keeps it from rolling over. We found the truck to be quite capable and plenty of fun to drive on pavement.
Grass: We found the Carisma got around quite well in grass. The stock tires got decent grip, and the 4wd system just kept on pulling. The Carisma even made it through some fairly deep leaves without needing to be marshalled.
Tires: The medium sized knobbies on the tires found traction on most surfaces. While they might not have excelled on any one surface, they worked better than expected everywhere, and wear was longer than expected.
Power: The Carisma has good yank. Our noobie testers were very impressed with its power, yet it didn't have so much that they were constantly getting in trouble. For our more experienced drivers, the Carisma had snappy power off the bottom, was very strong through the mid-range, but topped out fairly early with a 26 mph top end. Also of note, we experienced no cogging at all from the power system.
Radio: The included radio is a solid working unit. We found it had great range and never glitched during our rather extensive testing. On the ergonomics side of things, there were very few complaints, although some of our testers were not fans of the trigger (that recesses into the grip at WFO) or the plastic steering wheel.
Broken Parts: Very early during testing, like the part where all we do is drive around in circles to get some pictures, we ended up breaking the stock servo saver arm. The spring on the servo saver is stiffer than the plastic arm, so it broke during the first pack. We popped on a Kimbrough unit and were back to driving. On the second pack the truck came to a halt and would no longer move. After some inspection we found the stock slipper had backed off, so we tightened it back up and were back to full tilt boogie. After that- the truck proved to be a tank. We handed the truck off to several noobies and told them to try and break it and the Carisma proved very durable. Eventually, during some extreme testing, we ended up breaking a shock shaft end and breaking the tabs off the front body mounts. Overall, the Desert Truck lived up to Carisma's rep of being able to take a hard beating.
Misc Notes:
About that slipper clutch that backed off, it was located on the pinion gear. Yes, you read that right, there is a small slipper set-up on the pinion gear. We ended up tightening it all the way down and experienced no more issues after that. Of note- for all you guys that have vehicles that don't have a slipper, the Carisma unit should bolt right on to pretty much any standard 540 motor shaft.
The Desert Truck comes with a pair of wheels on the back of the body. The tires are glued to the wheels, but they don't come with any foam inside, thus making them unusable for driving. We would have liked to have seen foam in them. Also, the spare wheels slide over the rear body posts, so every time you remove the body you have to remove the tires.
You won't find any high-zoot carbon fiber or aluminum under the hood, everything is plastic, and in this application it works great. Even the motor mount is plastic, but the use of plastic helps to keep the truck durable and at a price point that nearly anyone can afford.
The Carisma is geared conservatively. This helps keep motor/speedo temps reasonable and gives it a whopping 27 minutes of runtime.
Do yourself a favor and lose the stock body pins the first time you take off the body. Seriously, you will thank me for it. Pop on larger units that are a whole lot more finger friendly.
We found the Carisma to be very waterproof. We fully submerged the truck multiple times without issue.
As mentioned above, the Desert Truck is slightly smaller than a "normal" tenth scale truck. For general bashing this was not a big deal, our noobs were having a blast with the truck and didn't care it was slightly smaller. However, as one progresses in the hobby the different size will keep you from just bolting on a standard sized SCT body or wheels/tires.
One of our testers, Daniel "The Engineer", stated several times he thought the Carisma was the funnest truck he had ever driven. He doesn't get to drive rc cars that often, so the snappy (but not excessive) power kept him interested, while being able to drive the truck without fear of it breaking really put a smile on his face.
On that same note, even our model Ashley, who had never driven a hobby grade rc car before, kept commenting on how fun the Carisma was. Even though she was as green of a noobie as you could ever find, she was wheeling it quite well before the first pack was through, and having a total blast doing so.
Best Mod Under $5: We recommend popping on a Kimbrough servo saver first thing.
Best Mod Over $5: The Desert Truck looks good the way it is, but for some extra cash the Carisma #15154 LED Light Module adds to its scale appearance.
---
Summary:
A = Outstanding/Best in Class, B = Above Average, C = Average, D = Below Average, F = Horrific
Time To Bash: B Charge a pack up, pop in some AAs, and you are ready to hit the track. It is very quick and easy to get the Carisma going.
Workability: B The layout on the Carisma is easy to spin wrenches on, however we would rather have seen hex hardware on the truck.
Car Show Rating: B We received a lot of comments on how good the truck looked, and our bash crew agreed that it was easy on the eyes. The body comes shot partially with flat 909 black, while the other parts are shot with glossy black, making for a cool look. The bumpers and light buckets looked good, as did the stock wheels. The stock knobby tires aren't bad looking, but we would rather have seen scale type tires to match the overall appearance of the truck.
Bash-A-Bility: B While we experienced a couple of small issues right out of the gate, we beat the truck like a red headed step child for the vast majority of testing with very little breakage.
Fun Factor: A The Carisma received a rare "A" in this category due to the enthusiastic response it received from the people driving it. In fact, we could barely pry the transmitter away from most of the people who got a chance to drive it. The Desert Truck had a nice blend of power and handling that made it a blast to drive for a wide variety of drivers.
Handling: C While the Desert Truck doesn't really excel in any one handling category, it is easy to drive and doesn't do anything massively wrong. It has plenty of steering when you need it and has enough power and ground clearance to get over most of the rough spots at the local park.
Value: A The 4wd brushless Carisma comes in at $229 and for those hard earned dollars you get a whole lot of fun in return, arguably more than any other truck in its class.
Parts Availability: D The Carisma does have one strike against it, parts availability. Parts are available for the truck, but not like a Traxxas that can be found at nearly every hobby shop, or even like an Associated or Losi where there are parts available at hundreds of different shops. Given time there will be more Carisma dealers here in the states, but for now places to get parts is quite limited.
BigSquid Rating: B If you are looking for a truck to bash around in your backyard or down at the local park, the Carisma M40DT is a great choice. It has the cool scale look that everyone is after, it's a blast to drive, and we found it could take a legit beating.