Review – Carisma M40S Volkswagen Golf 24
THE Carisma M40S Volkswagen Golf 24 Review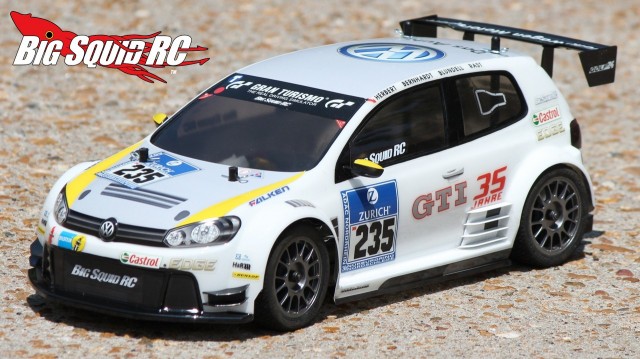 Now days it just isn't enough to put out a solid car, it has to perform well and look exactly like its full scale equivalent. Today we'll be taking a close look at the Carisma M40S Volkswagen Golf 24, an affordable ready-to-run that promises the precise scale looks everyone is after, as well a fun driving experience. Does it meet expectations? Hit the "Read More" to find out…
From: Carisma
Direct Link: Carisma Golf 24
Unboxing Pictures: BSRC Golf 24 Unboxing
Review By: Cubby
Photography By: Tim Mohr
Specs:
RTR or Kit: RTR
Age: 14+
2wd or 4wd: 4wd
Shaft or Belt: Shaft
Electric or Gas: Electric
Waterproof: No
Scale: 1/10
Length: 14.7″
Width: 7.2″
Wheelbase: 10″
Motor: Brushed, 540 19 turn
Speed Controller: Carisma MSC-04RB V2
Low Voltage Cut-off: No
Radio: Carisma CTX 2710
Differential: Two gear diffs
Slipper Clutch: No
Driveshafts: Bones
Shocks: Friction type, plastic bodies
Servo Saver: On servo output gear
Screws: Phillips
Spur/Pinion Pitch: 48 pitch
Bearings: Yes, full set
Tires: Carisma gravel spec
Battery: 6 cell 1400mAh NiMH
Part Number: #CIS70068
Top Speed (measured by BSRC): 18 mph on included battery
Runtime: 8 minutes on included battery
Street Price: $169
Primary Competition: Other 10th scale brushed rally cars.
What's Needed To Complete: Absolutely nothing, everything you need comes right in the box.
Build Quality: Our car was ready to jam out of the box, we didn't find any faults with the assembly quality.
Test Drivers: Iron Mike, Tim, Sam, Jake, and yours truly.
Test Venues: Letz Go Nutz off road park in Foley Missouri, Dirtburners rc track in St Louis Missouri, CostCo parking lot, baseball diamond in Arnold City Park in Arnold Missouri, and a local cul-de-sac.
Set-up Notes: We ran the Carisma bone stock with no changes. We did not use the included wall charger, instead opting for an iCharger 308. For power, our noobs used the included NiMH but our more experienced drivers used a MaxAmps 2S 6500 LiPo.
Turning: The Golf 24 has a lot of steering. Wherever the front wheels are pointed is exactly where the front end of the Golf is going to go. While the front is planted, the rear was not, it pretty much just slid around following the front around. This type of turning is great for drifting, in fact the Golf is easy (and a blast) to drift. The downside is corner speed, with very little rear traction it is hard to carry much speed through the corners.
Jumping: Is anything more fun to jump than a touring car? For kicks it is funny, but if you are looking to actually control a car up in the air, and land without it bouncing around like a beach ball, touring type cars just don't cut it. The Golf was never designed to be jumped, you can jump it, but for serious airtime look elsewhere.
Bumps/Whoops: The Golf sits really low to the ground, has small tires, and has friction shocks. So yes, it performs just like you would expect it to over rough ground, it bounces like a hay wagon. If your thing is pounding whoop sections, the Golf is not for you.
On-Road: Here is the forte of the Carisma VW. The Golf is set-up for on-road use so that is where we spent most of our time driving it. The Golf is great fun to drift around the corners, but its friction shocks can make it hard to drive. For example, when testing the top speed we would hit a road joint and the rear of the car would bounce to the side. This required that the driver make a correction to the steering, which often lead to the car bouncing too much the other direction. If there were any bumps around, it was hard to drive the car in a straight line. This made the car hard to drive for noobs, but helped make it more interesting for the old timers, guys who actually enjoyed the challenge of driving a car where you never knew where it was going to bounce next.
Grass: Hey, the Carisma is basically a touring car, so no, it doesn't perform well (read- doesn't move at all) in grass. If you put 2 tires in the green stuff, count on being stuck.
Tires: We really liked the stock tires. On dirt they did a fine job of getting traction, just like they did on pavement. We found that they offered good grip just about everywhere, and even when abused they showed very little wear.
Power: The powerplant that comes in the Golf is very soft, perhaps one of the slowest we've tested in a tenth scale car. While it does have enough power to turn the tires over from a dead stop, the mid-range is soft and it signs off really early (18 mph). The soft power was great for our noobs but forced our other drivers to install a peppier LiPo pack.
Radio: The included 2.4GHz radio system performed fine for us, it had good range and we never experienced a glitch while using it. However, it does have a dated look and comes with a plastic wheel that is not foam covered.
Broken Parts: The Carisma Golf 24 took some solid abuse without breakage. Early in testing, while taking photos at a baseball diamond, a small rock got inside the motor and locked it up. We took the motor out, removed the rock, and were back up to full speed. We suffered no other issues during the normal part of our testing. During durability testing at the end of our review the Golf still held up well. The first full speed run into a railroad tie resulted in no damage at all. The second caused one of the shock bodies to crack and one of the drive bones to come shooting out. We popped the shock back together, put the bone back in, and were back up to full speed. We slammed it around some more without breakage, then decided to really try and finish it off. A two story roof jump was in order, so that's what we did. The car landed upside down on pavement from two stories up and we managed to break all four body posts and a shock end, but that was it. Even after all the abuse the Carisma Golf still didn't break anything to keep it from actually driving. Oh and, that pretty body that it comes with actually held up well. The rear view mirrors never got torn off, even the rear spoiler stayed on. There are a few cracks in the body, but for the amount of abuse it took, it held up better than expected.
Misc Notes:
We took the VW Golf 24 to a full on motocross track for some testing. It was fun on the smoother hard packed areas, but just wasn't designed for the rough sections.
Carisma put a relatively high tech brushed motor into the Golf, one that you can easily change brushes and springs.
We found that the included high zoot motor ran quite hot. The motor mount is plastic leaving no place for all that heat to go.
While gorgeous, the body is quite thin. Luckily it held up better than expected.
Btw, everyone that laid eyes on the Golf 24 commented on how cool it looked, it truly was a head turner.
The front of the body hangs down quite low, while a diffuser on the rear means very little clearance in the back. If you do much off-roading you'll want to look elsewhere in the Carisma catalog.
We found adjusting the pinion/spur mesh to be a real PITA on the Gold, in fact we resorted to forcing the motor around with a large screwdriver.
While a bit on the slow side, we found the stock servo did a fine job of pointing the wheels. We also never noticed the stock ESC, this tells us it was doing a fine job.
Yes, the Golf is slow with the included pack, but using a good LiPo really wakes up the power system. Using a LiPo yields significantly more rip out of the hole with a decent increase in top speed.
Best Mod Under $5: Oh, this is an easy one, put some oil in those friction shocks!
Best Mod Over $5: LiPo battery. A 2S LiPo instantly turns the Golf from mild to peppy.
---
Summary:
A = Outstanding/Best in Class, B = Above Average, C = Average, D = Below Average, F = Horrific
Time To Bash: B Pop in a pack and hit road, the Golf is easy to get driving with.
Workability: C While the layout is fairly standard, the hard to adjust pinion/spur mesh and Phillips screws bring this score down.
Car Show Rating: A The Carisma Golf 24 is the second best looking car we've ever reviewed (arguably behind the Carisma 959). The body is highly detailed, the mirrors/wing/diffuser are nice touches, and the wheel/tire combo is spot on. Kudos to Carisma, the Golf 24 is gorgeous.
Bash-A-Bility: B The Carisma took plenty of abuse with very little breakage.
Fun Factor: C The slow power system is great for noobs, but limits fun for the more experienced crowd.
Handling: C A bit of oversteer and friction shocks hurt the Carisma's score in this category.
Value: B At $169, the Golf is solid for its price point.
Parts Availability: D While parts are available here in the states, you won't find them at most hobby shops and at only a limited number of on-line stores.
BigSquid Rating: B- With the Carisma Golf 24 we have a tale of two cars- the uber scale looks on the outside, and the very base model chassis underneath. Is the chassis too basic to even consider buying the car? Absolutely not, some shock oil and a good LiPo are all it takes to get the Golf up to speed. To boil it down, the Golf can take a good bashing and will make your friends jealous with its hot scale look.