Review – Duratrax 1.9″ Scaler CR Mounted Tire
From: Duratrax
Direct Link: Scaler CR Mounted 1.9"
Review By: Doug Welker
Pictures By: Doug Welker
Specs:
Size: 1.9″
Tire Height: 4.6″
Tire Compound: Duratrax C3
Pre-Mounted: Yes
Wheel Hex Size: 12mm
Beadlock Design: No
Price: $25.99
Competition: A myriad of 1.9 scale tires from the likes of RC4WD, Axial, Pro-Line, & Pit Bull.
Build Quality: The pre-mounted Duratrax wheels look fantastic and feel as sturdy as any other quality non-aluminum/steel 1.9 wheel on the market. The C3 compound feels very soft with the foams feeling very pliable. Clean glue job.
Ease of Use: These tires are pre-glued so all you have to do is mount them on your truck as long as it can handle the size. I put them on an RC4WD Trail Finder 2, a 1.55″ tired truck, so I had to do some fender work to get them to fit (size comparision between the older RC4WD Cepeks and Duratrax CR's below).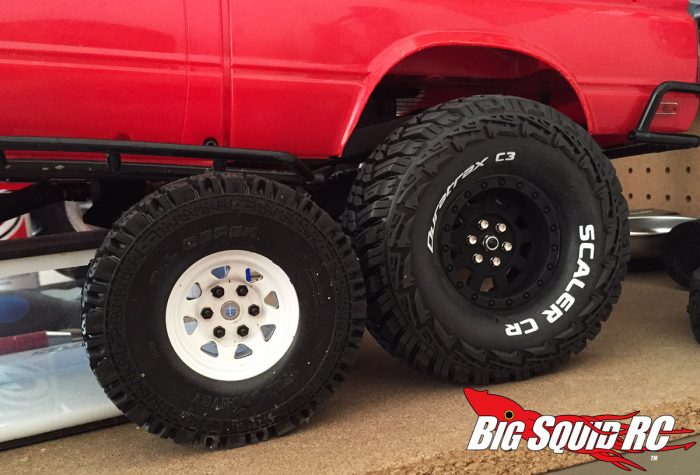 Traction/Grip: We took the truck to a creek bed deep in the woods and the CR's were outstanding right from the get-go. Sometimes it takes awhile for a set to break-in, but within 10 minutes the mold sheen had worn and these did work. They are exceptional on wet, mossy rock and plow through wooded terrain with ease. This is a great crawling tire. The only complaint is that the stock foams are a tad soft for a heavy rig like the Trail Finder 2.
Misc Note:
Given that previous Duratrax scale tire reviews we've done have featured them mounted to various Axial trucks, I went with my RC4WD Trail Finder 2. The truck typically uses tires much smaller, so to get them to fit I trimmed the fenders (as mentioned above). I loved the end look, as it mimicked a jacked up Toyota with hacked fenders.
Great looking wheel and an awesome looking tire. I'm a huge fan of white lettering, so I view that as a big plus as well.
The plastic wheels are very light but appear strong as there was no hex stripping even under load heavy enough to pop the driveshafts (of which we did several times, lol).
These REALLY woke up the TF2, as even with its scale suspension and limited articulation tough lines could be completed.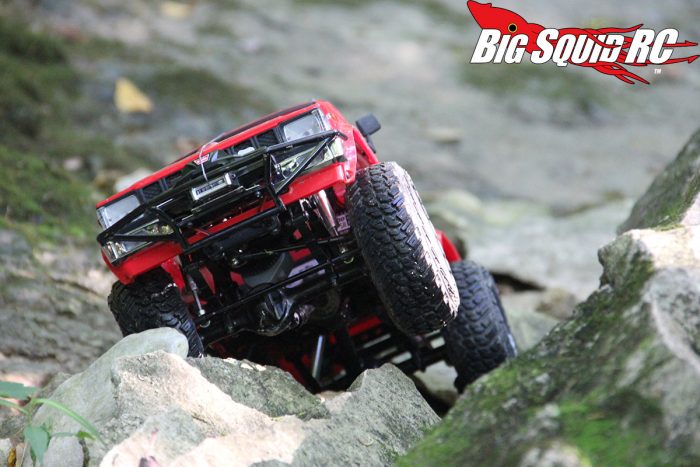 Final Verdict: These are an absolute steal for the price. They work great, look good, and require no hassle to mount up as long as your rig can handle the size. These come highly recommended.