Review – Duratrax 835E 1/8th RTR Buggy
THE Duratrax 835E 1/8th RTR Buggy Review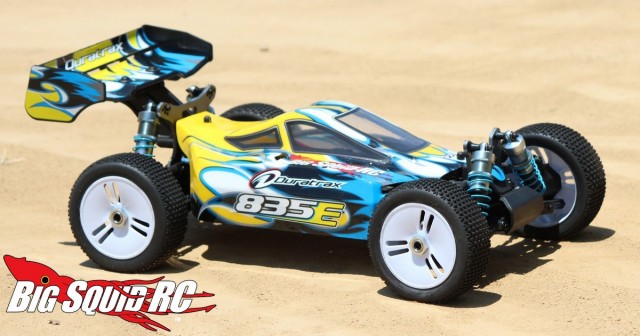 We received a Duratrax 835E for review a few weeks ago and everyplace we went people seemed interested in it. That seemed a bit odd to us, I mean most people have seen/driven an 8th scale buggy before. However, the 835E is different, it's a RTR brushless buggy that comes in at a fairly low price point. For less than the price of what most brands charge for just their buggy, the 835E comes RTR ready for the track. A lot of people want to know if the price point is "too good to be true", or if the latest Duratrax is legit. Here is our review, click the "Read More" and find out the real scoop…
From: Duratrax
Direct Link: 835E RTR
Review By: Cubby
Pics By: Cubby
Specs:
RTR or Kit: RTR
Age: 14+
2wd or 4wd: 4wd
Chassis: Aluminum
Shaft or Belt: Dogbones
Electric or Gas: Electric
Waterproof: Yes
Scale/Size: 1/8th
Length: 19.9″
Width: 11.9″
Wheelbase: 12.8″
Weight: 8.4 lb w/battery
Motor: Duratrax Onyx 2200kV brushless, 40mm diameter
Speed Controller: Onyx 120A
Low Voltage Cut-off: Yes
Radio: Duratrax T240FS 2.4GHz
Differentials: Three fluid filled gear type
Driveshafts: Front universals, center and rear bones
Shocks: Big bore, aluminum, 3.5mm shafts
Screws: Hex
Bearings: Yes, full set
Tires: Small knobbies
Battery: Not included
Part Number: DTXD78**
Top Speed (measured by BSRC): 32 mph on 3S, 41 mph on 4S
Warranty: 90 days materials or workmanship, 1 year Stress-Tech parts
Street Price: $399
Primary Competition: ECX Revenge Type E
What's Needed To Complete: Charger, four AA batteries for transmitter, 2 to 4S battery for buggy.
Build Quality: Gear mesh was good, shocks weren't leaking and nothing was binding. Everything looked well assembled out of the box.
Test Drivers: Cubby, Brian, Tim, and "Iron" Mike
Test Venues: HobbyTown USA Convention in Lincoln Nebraska, Leisure Hours in Joliet Illinois, Dirtburners in St Louis Missouri, Cliff Cave Park in St Louis Missouri, and RC Outlaws in Collinsville Illinois
Set-up Notes: We ran the 835E 100% box stock except for dialing in more front and rear camber, changing shock oil, and re-positioning the shocks for more down-travel. For power we used a 3S Duratrax Onyx 6400 and a TrakPower 4S 5600 Lipo. Charging was handled by a Hyperion 720iNet3.
Turning: The tires really hold back the turning traits of the 835E, it just doesn't exhibit much mechanical grip. The front pushes when going into corners and the rear end slides all over looking for grip. However, once good shoes are installed corner speeds were much improved. The only place the stock tires seem to work is on grass.
Jumping: Typical 8th scale buggy, very easy to control in the air. The center diff and low mass tires make it easy to make mid-air corrections, without being overly aggressive like a monster truck would be. The low center of gravity make it easy to scrub up jump faces and land relatively sideways without flipping over.
Bumps/Whoops: The rear end gets a bit loose in the gnarly stuff, otherwise you can simply point and pound through.
On-Road: The stock set-up works good for pavement, you can drift the 835E around without having to worry about traction rolling.
Grass: If there is one place that the stock tires do get some traction, it is on grass, and with a powerful brushless motor under the hood, driving in moderate grass is a blast. The front end sticks going into corners and pinning the throttle will typically "diff out" the inside tires allowing the 835E to pivot on a dime. Taller grass reveals the limitations of the low slung buggy design.
Off-Road: You aren't going to want to go rock crawling with the Duratrax, but for its intended use, prepared dirt, it drives well. No, it isn't dialed like a top of the line uber buggy, but with some fine tuning of the suspension it can be very easy to drive fast, at a fraction of the price. After some dialing in, the 835E held its own against some very high end machines at our local tracks. We left more than a few "racers" ticked off because we were beating them with a rig that cost much less than what they were driving.
Tires: They look fine, they wear a long time, but they don't provide much traction. The stock tires are molded out of a hard rubber and have very soft inserts. Yes, they work for bashing, but they don't provide much forward or side bite.
Power: The 835E packs an 8th scale power system, for most typical uses you won't be left wanting for more power. Running on 3S seemed about right for track driving, having more than enough yank to make all the jumps and top end on the straight. Running on 4S was even more of a good thing with another 10 mph on top and more rpm to help raise the nose when endo'ing off jumps. On track, the Onyx power system certainly held its own against "racer" power systems, and at the bash spot it had very good power to get massive air off our wood ramps. In most normal conditions we didn't experience any cogging, but when doing our best to make it cog, like starting from a dead stop on an uphill with a low battery, we could get the system to lightly cog. Overall, the 835E has impressive brushless power.
Radio: While not fancy, the included transmitter got the job done. Range was excellent and ergonomics felt fine. The included receiver is tiny.
Broken Parts: The very first time we got to ran the Duratrax 835E was putting on a street demo at the HobbyTown USA Convention in Lincoln Nebraska. Our demo basically consisted of hitting wood ramps, going 15 feet high, then flat landing to pavement. Within two packs the front face of the motor had come loose from the can. We ended up putting some Loctite on the screws and bolting the motor back up tight. Even though we did plenty of huge jumps later, we didn't experience the same issue again, albeit we were landing to dirt not to concrete.
A few packs into testing the double sided tape came loose on the speedo. Not a big deal, we simply installed new tape and it held for the remainder of the review. However, it does bring up the point that with today's power/speeds- perhaps every speedo needs to be bolted down and double sided tape needs to go away.
We broke a bolt while changing the top position on one of the rear shocks. A little too much Loctite had been used at the factory.
The speedo comes with very long wires that go to the battery. Make sure you secure them with the velcro battery straps or they will get caught in the metal spur gear. Yes, we know from first hand experience.
Finally, after hucking it off of roofs, letting a 3 year old drive it, and generally bouncing off multiple hard objects we hadn't really broken a major part. Just before we started the crazy part of our durability testing we tapped a curb at high speed and blew out the servo. The 835E had taken a pretty intense beatings before that point, with several people commenting on how tough it was.
Misc Notes:
We measured gross run-time at 26 minutes, then had to deduct 2 minutes for crashes, netting a run-time of 24 minutes. Yes, you read that correctly, 24 minutes when driven as hard as possible on a 3S 6400 Onyx pack. We used our standard run-time backyard track that consists of half grass and half pavement with a few jumps and corners. 24 minutes of run-time on an 8th scale buggy is outstanding.
We mainly ran the 835E on 3S and saw motor temps of around 125 F, which is just about perfect. Ambient temps were normally in the low 90's presenting a real challenge to the power system.
We elongated the rear hole in the body. The chassis on most 8th scale buggies flex a lot, if there isn't some room for the body to move it will end up cracking.
The body is secured two ways, with velcro and with body pins.
Our buggy came with 2 degrees of positive camber front and rear. Clearly this isn't optimal for traction so we dialed in a couple degrees of negative, much improving traction in the corners.
Stock the 835E didn't come with much down-travel. This really holds back the rough track handling of the buggy so we changed the shock positions and reaped the benefits.
The stock shock fluid is too thin, we put in Associated 50 weight and found some much needed damping.
The included servo saver worked great one way, but didn't work at all the other. This ended up blowing out the servo. The stock servo was actually a decent performer, we hated to see it die.
Best Mod Under $5: These mods are free and yield great benefits- dial in some negative camber and reposition the shocks for more down-travel (don't forget to back out the droop screws).
Best Mod Over $5: Upgrade the tires. We eventually bolted up a set of Duratrax Equalizer pre-mounts and found a whole lot of mechanical grip.
---
Summary:
A = Outstanding/Best in Class, B = Above Average, C = Average, D = Below Average, F = Horrific
Time To Bash: B We prefer when RTR's come without a main battery or wall charger, it saves some cash on gear we would never use anyways. The 835E was quick and easy to get going.
Workability: B The 835E is laid out well like most 8th scale buggies, making it generally very easy to work on. The one exception was the stock motor mount. We really wish the Losi style motor mount would catch on with other manufactures.
Car Show Rating: B The 835E has a very modern racer'ish look to it that the BSRC Bash Crew thought looked clean. The graphics are sharp and well done.
Bash-A-Bility: B We never broke a plastic part on the 835E and it was generally quite tough. The stock servo ended up blowing out just before we started our real torture testing.
Fun Factor: B Big power with ridiculously long run-times resulted in the 835E putting a lot of smiles on our faces.
Handling: C The 835E isn't the best handling 8th scale buggy you can buy, but with some dialing in it can hang quite well at your local track.
Value: A An affordable price point with good performance means a great value in our eyes.
Parts Availability: C You aren't going to find replacement parts hanging on the hooks at your LHS but they are readily available on-line.
BigSquid Rating: B We were impressed with the Duratrax 835E. It took a good beating, had a powerful motor, and seemed to run forever. Out of the box it's ready to be a good basher, with some minor tuning and better tires it's ready for the track. The 835E is one of the best "bang for the bucks" on the market, pick one up and enjoy.