Review – Duratrax Lineup C2 Pre-Mounted 8th Scale Buggy Tires
THE Duratrax Lineup C2 Pre-Mounted 8th Scale Buggy Tire Review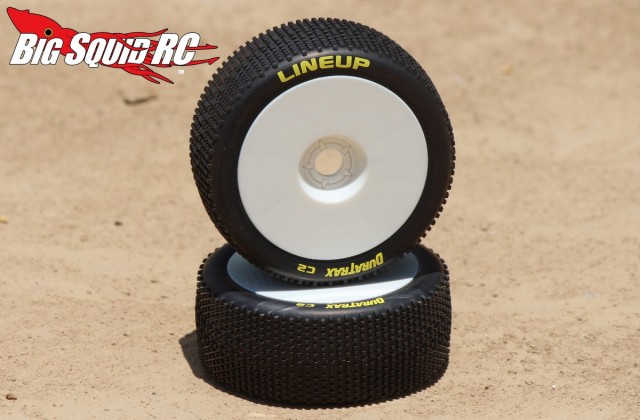 If you've run 8th scale buggy for very long, then you already know how tire costs can eat at your wallet. Duratrax has an extensive line of affordable shoes for your 8th scale buggy, today we'll be taking a closer look at their Lineup buggy pre-mounts in C2 compound. Are they good for bashing or only for the track? More importantly, are they worth the cash? Click the "Read More" to find out.
From: Duratrax
Direct Link: Lineup C2 Buggy Pre-mounts
Review By: Cubby
Pics By: Cubby
Specs:
Part number: #DTXC3620 (C2 white) and #DTXC3621 (C3 white)
Fits- 8th scale buggies, front and rear.
Street Price: $18 per pair
What's Needed To Complete Install: Very easy to install, simply remove 4 wheel nuts and bolt the Lineups on.
Build Quality: Gluing withstood some serious over-revving, the rims felt a bit soft but worked well, and the included inserts were right in the ballpark.
Test Drivers: Cubby, Brian, Tim, and Iron Mike
Test Venues: RC Outlaws in Collinsville IL, Leisure Hours in Joliet Illinois, St Louis Dirtburners, and Cliff Cave Park in St Louis MO.
Set-up Notes: For testing we threw the Lineup's on a HHH chassis'ed Hot Bodies VE8 buggy. Speedo was a Castle Monster, motor was a Castle 2650, radio system was a Futaba 4PK Super R, Hitec handled the steering duties, and we used 4S worth of MaxAmp Lipo power to turn the tires over.
Performance-
Street: We did very little driving on-road with the Lineups, but what little we did yielded decent traction but high wear. We would not recommend the Line-ups on-road if you want them to live more than a pack or two.
Grass: There are much better performing buggy tires on the market for grass than the Lineups. The pins on the Lineups aren't large enough, or spaced far enough apart, to really bite on the green stuff.
Dirt: The Lineups produced good mechanical grip on a damp clay track and on an outdoor track that was blue-grooved up. Turn-in seemed to be their best feature as the moment you initiated a turn they dove right in. You could go flying into a corner thinking you were going too fast to even remotely hit the proper racing line, yet the initial turn-in would bite and the buggy would turn right on in. Otherwise, bite through the rest of the corner was decent, as was the forward bite when pinning it in a straight line. The Lineups aren't class leaders in the traction department, but they had surprising good grip on the right surfaces.
On looser/loamier surfaces the small pins just were not intended for that application. For example, on a typical un-prepped outdoor track the Lineups didn't have much mechanical grip. They didn't have much side-bite in the corners, causing our test buggy to slide wide in most corners, and when tagging the throttle on the main straight much of our buggys power was wasted in wheel-spin. If you mainly drive on loose surfaces the Lineups are not for you.
---
Summary:
A = Outstanding/Best in Class, B = Above Average, C = Average, D = Below Average, F = Horrific
Time To Bash: A It doesn't get any faster than this, it literally takes 2 minutes to bolt the Lineups on.
Car Show Rating: C The yellow lettered sidewalls were liked by some of the BSRC Bash Crew, while others would rather have seen the more traditional black sidewalls.
Bash-A-Bility: C We didn't blow up any tires and didn't have any wheel failures. We gave the Lineups a C because of relatively fast wear rates. In their element the Lineups provided good traction, but that went away when all the edges got dull and that happened faster than we would have liked to have seen.
Performance: C On wet clay or blue groove the Lineups provided good grip but their small pins rarely worked well elsewhere.
Value: B Under $20 for a pair of pre-mounts, the Lineups are half as much as some of their competitors.
BigSquid Rating: B- The Lineups are a tire for a specific purpose, getting good grip on hard/high bite surfaces. If most of your driving is on high bite prepped surfaces the Lineups are definitely worth a look. For bashing purposes there are better choices out there like the Duratrax Equalizers, Derringers, and Lockups.