THE Duratrax Nissan GT-R Nitro RTR Review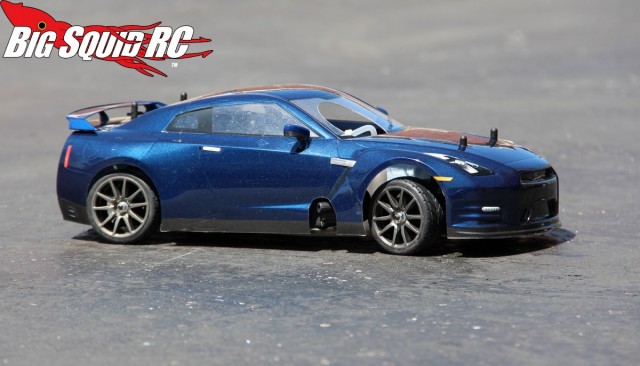 It is no secret I hate nitro, so I found it quite "interesting" that Brian would drop a nitro car on my desk for review (then he RAN out of my office). The new Duratrax Nissan GT-R has all the makings of a success, it has a big engine, a 2 speed tranny, and ultra hot scale looks. Did we have a good time with it, or did I end up smashing it to bits with a hammer out of frustration? Lets find out…
From: Duratrax
Direct Link: Nissan GT-R
Unboxing Pictures: Unboxing the Duratrax Nissan
Review By: Cubby
Pics By: Cubby
Specs:
RTR or Kit: RTR
Age: 14+
2wd or 4wd: 4wd
Shaft or Belt: Bones
Electric or Gas: Nitro
Waterproof: No
Scale: 1/10th
Length: 17.32″
Width: 8.46″
Height: 5.31″
Weight: 4.1 lbs
Wheelbase: 10.2″
Clutch: 3 shoe
Transmission: 2 speed
Motor: .18 ST18-S Super Tigre
Radio: Duratrax 2.4 GHz
Differential: Rear only, spool in front
Slipper Clutch: None
Driveshafts: Bones
Shocks: Plastic bodied, oil filled
Servo Saver: In rack
Screws: Phillips
Bearings: Full set
Tires: Duratrax street tread
Battery: None included
Part Number: DTXD51**
Top Speed (measured by BSRC): 34 mph
Warranty: 90 days limited plus Stress-Tech 12 months
Street Price: $299
Primary Competition: Traxxas Nitro 4-Tec, Associated TC3 Nitro
What's Needed To Complete: 6 cell Ni-MH for roto-start, 4 AA cells for receiver pack, 4 AA cells for transmitter, fuel, glow igniter
Build Quality: The quality of assembly looked good. Nothing was binding, shocks were not leaking, tires were well glued, camber settings were in the ballpark, etc.
Test Drivers: Cubby, Brian, and Iron Mike
Test Venues: CostCo parking lot, city park, and a cul-de-sac
Set-up Notes: We used a Duratrax Onyx 3000 mah Ni-Mh pack for the roto-start, Venom AA's for the car and transmitter, and O'Donnell 20% nitro fuel.
Turning: The Duratrax had some push at speed, but could turn on a dime with a tap of the brake. Pounding on the gas rewarded the driver with some serious, yet controllable, drifting action. The stock tires had good grip helping the Nissan GT-R maintain good corner speed. Overall, no major complaints and a blast to throw around in the corners.
Jumping: Yes, of course we jumped the Nissan GT-R, it's a regular part of our testing regimen, regardless of vehicle type. And just like you suspected, it is an on-road car, so it jumps very poorly (but is a LOT of fun to do!). If you plan on doing a lot of jumping skip the Nissan and buy a dedicated off-roader.
Bumps/Whoops: We didn't drive the Nissan "off-road" as such, but we did drive it on some pretty rough pavement, gravel, and smooth hard packed dirt. The Nissan handled cracks in the pavement well, but you could hear the back of the chassis slapping on bigger hits. Still, the suspension soaked up what it was intended for quite well.
On-Road: This is the forte of the Duratrax Nissan GT-R. If you are looking for an absolutely gnarly nitro on-road machine, it truly fits the bill. It corners well, it has an animal of an engine, and it just flat out hauls ass on a large paved surface. It doesn't traction roll, and it's a blast to drift at high speeds. Very fun.
Grass: Yes, we tried the Nissan GT-R in the grass, and no you won't want to. Its ride height is simply too low, it just can't move in the grass (at all).
Tires: The tires were a relatively soft compound yielding great traction and that must be appreciated. However, when mated up to a monster of an engine they wear quite quickly. We burnt through all four tires in two quarts of fuel, you'll want to pick up spares for the long haul. The stock inserts are a bit soft but usable.
Power: I don't drive much nitro, in fact, very little. However, I don't have to drive a lot to know the .18 powered Nissan GT-R has good yank. When properly tuned it burns all 4 tires off from a dead stop and keeps burning them off till it hits top speed. It blows through first gear in short order then second gear kicks in like a warp drive. It revs quickly, and has more than enough yank to keep a smile on your face.
Radio: The included radio worked well for us, range was great and we had nothing but glitch free performance. However, its ergo's weren't as good as some of the recent RTR radios we've tested. The wheel to trigger relationship was good, but the trigger was a bit too large and the wheel was plastic covered, not foam.
Broken Parts: The Nissan GT-R can get going real fast in a real small area, thus we ended up slapping a lot of hard objects with it. The good news is nothing broke during "normal" testing, and we hit a lot of stuff real hard with it. Only when we tagged a curb full speed during the torture part of our testing did we finally manage to break the car. We ended up tearing off the left front wheel, but at that kind of speed I highly doubt many (if any) cars would have walked away unscathed.
Misc Notes:
The Duratrax came in nice packaging with an easy to read manual.
A clear protective coating came over the body to keep it in pristine condition during shipping. Nice.
We weren't a fan of the tiny body clips.
The Nissan comes with a plastic pipe. It's relatively quiet for a nitro, quiet enough to run in the cul-de-sac without the neighbors freaking out.
The cut-out in the body for the exhaust exit didn't line up with the actual pipe. We broke out the body scissors to correct the hole and keep a lot of unwanted exhaust gook out of the chassis area.
There were no holes provided for a glow igniter or the roto-start in the body. We busted out the body reamer and made some for easier access.
The second arm on the throttle/brake servo horn gets in the way of the receiver box lid, we cut ours off.
Our car wouldn't start with the stock ultra-rich carb settings. We had to go a half turn leaner on the high speed and an eighth turn leaner on the low end for ours to even think about firing up. This still yielded an ultra-rich setting with engine temps around 110 F for break-in.
We ran O'Donnell 20% fuel and it seemed to work great.
Nothing actually "fell off" our car during testing. If you've driven much nitro, you'll know that is actually an accomplishment. However, the rubber coupling on the exhaust header did come loose. Nitro cars really should come stock with a flanged header, this has been a problem since the beginning of time. Btw, when the coupling comes loose it causes the pipe to slide forward and bind up the steering on the Nissan.
The stock windows are a bit cloudy due to the clear sticker over them. We got out a hobby knife and removed this film for crystal clear windows.
Like most nitro engines, the Nissan really leans out when the tank is nearly empty. Resist the urge to keep driving, bring it in and fuel it up to keep temps in check.
Speaking of temps, we had great power at 220 F with our final carb settings. We ended up at about one and a half turns out on both the low and high speed settings (65 ambient, 400 ft above sea level, humidity 40%).
The brakes work ok on the Nissan, but the car could use more. For a car with Warp 9 power it needs brakes to haul it down in a hurry too.
You can drive the Nissan in a relatively small area, but then it's just an exercise in trying to get slowed down before you slam something hard. The most fun to be had with the Duratrax Nissan GT-R is in a large open parking lot.
Do you remember what a PITA it was to properly set the shift point on a T-Maxx? No worries about that on the Nissan GT-R, the shift point was perfect out of the box.
We had issues with the stock receiver pack set-up. It worked fine for the first few tanks, but then had a short in it causing the car to lose electrical power (read- runaways are pretty gnarly on a car like this). The stock receiver pack consists of putting AA's in a plastic holder, this is just begging for issues and I highly suggest you install a proper receiver pack before you do much driving with the car.
Our car turned tighter to the right than to the left. We had the travel maxed out but still couldn't get enough throw for full turning both directions.
Did we mention the Nissan GT-R has a pretty insane power to weight ratio? Ya, it hauls, and more importantly, we had very few engine tuning issues during our testing period.
We experienced some "spider cracking" in the paint job on our review car. Not a lot, but some. Perhaps there was an issue at the factory while applying the paint.
The wing and rear view mirrors on our test machine did not get destroyed during testing, a nice surprise.
Best Mod Under $5: Spare glow plugs. Our stocker burnt up on the 3rd break-in tank, you should always keep a couple spares in your box.
Best Mod Over $5: Ditch the stock receiver pack set-up and switch, buy a real receiver pack to keep from having a dreaded runaway.
---
Summary:
A = Outstanding/Best in Class, B = Above Average, C = Average, D = Below Average, F = Horrific
Time To Bash: C You are looking at roughly an hour to charge up the roto-start pack, then perhaps a couple more hours breaking in the engine. The Duratrax doesn't take longer to get going than another nitro vehicle, but it will take a few hours before you are up to full tilt.
Workability: B The Nissan is logically laid out and easy to work on, but we wish it came with hex hardware.
Car Show Rating: A The Nissan GT-R is the best looking Duratrax vehicle to ever hit the market, and overall one hot scale machine. The body, wheels and tires all look top notch. It looks so good you have to think long and hard if you really want to scratch it up by driving it.
Bash-A-Bility: B We did end up breaking the Nissan GT-R, but it withstood a lot of abuse with no issues.
Fun Factor: B Big power, 2 speeds, and good handling result is a machine that is a blast to drive.
Handling: B The Duratrax drives well, you can point and shoot it, or drift it all day long.
Value: A The Duratrax is $30 cheaper than the Associated TC3 Nitro and a whopping $160 cheaper than the Traxxas Nitro 4-Tec 3.3, yet performs at least as well. The Duratrax Nissan GT-R is the best value in its class.
Parts Availability: C Out of three local hobby shops none of them stock many Duratrax parts, and none had the parts we needed for repair. However, they were easily found, and in stock, on-line.
BigSquid Rating: B The Duratrax Nissan GT-R provided quite a nitro thrill at a very reasonable price point. If you are looking for the nitro experience, the Nissan GT-R is a solid car.