Review – ECX Ruckus 1/18 4WD RTR Monster Truck
THE ECX Ruckus 1/18 4WD RTR Monster Truck Review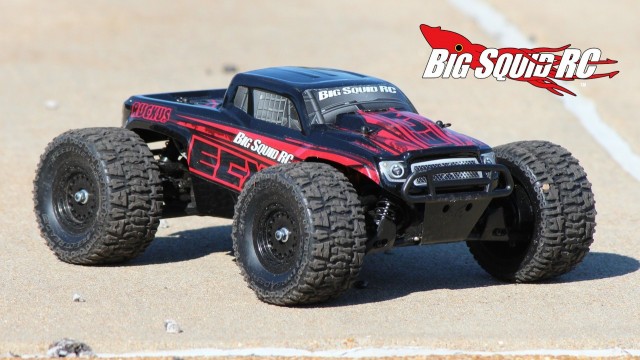 We were big fans of the 10th scale ECX Ruckus. It was tough, it drove well, and we had a blast thrashing it like we stole it. Today we are putting its little brother, the 1/18th ECX Ruckus Monster Truck, through its paces. Hit the "Read More" button to find out if it has enough power to be fun, to find out how well it handles, and see if it is worth your hard earned cash…
From: ECX
Direct Link: 1/18 Ruckus
Unboxing Pictures: BSRC 1/18 Ruckus Unboxing
Review By: Cubby
Pics By: Tim Mohr
Specs:
RTR or Kit: RTR
Age: 14+
2wd or 4wd: 4wd
Shaft or Belt: Shaft
Electric or Gas: Electric
Waterproof: Yes
Scale: 1/18th
Length: 10.51″
Width: 7.72″
Wheelbase: 7.01″
Motor: Brushed 380 size
Speed Controller: ECX 18001 ESC/Receiver combo
Low Voltage Cut-off: No
Radio: ECX 2.4GHz
Differential: Gear
Slipper Clutch: Yes
Driveshafts: Sliders
Gear Ratio: 2.47:1
Shocks: Plastic body, oil filled
Servo Saver: On servo output shaft
Screws: Phillips
Spur/Pinion Pitch: 0.5 Module
Bearings: Yes
Tires: Speedtreads Intermediate Terrain
Battery: 7.2 volt 900mAh NiMH
Connectors: EC3
Part Number: ECX01000
Top Speed (measured by BSRC w/ stock battery): 21 mph
Runtime: 11 minutes
Warranty: "free from defects… at time of purchase"
Street Price: $99
Primary Competition: Traxxas Mini Revo, Associated Mini Rival Monster Truck
What's Needed To Complete: Nothing, everything you need to get running comes in the box.
Build Quality: After cracking open the box we inspected the quality of assembly at the factory. We found everything was in order, no binding, nothing loose, shocks felt properly filled and were not leaking, even the gear mesh felt good.
Test Drivers: Cubby, Tim, Iron Mike, and Sam "The Noob"
Test Venues: RC Outlaws in Collinsville Illinois, Cliff Cave Park in St Louis Missouri, CostCo parking lot, local cul-de-sac
Set-up Notes: We left everything bone stock, but we did not use the included wall charger, instead we opted for a Hitec X1 Touch.
Off-Road If the going is relatively smooth, the 1/18th Ruckus gets around fine. If you attempt to drive where there are big dirt clods around, it doesn't have enough ground clearance and can get high centered. In a typical dusty corner the ECX had plenty of steering, turning right in, holding a solid line mid-corner, and had enough exit steering to maintain full control. It pivoted easily for hairpins, but the rear tended to get a bit loose in high speed sweepers. When jumping, the soft power and 4wd system led to a truck that was fairly easy to control. It responded well, but not too well, to throttle input in the air, and landed about as well as any 18th scaler would from big jumps. Compared to other mini trucks, the Ruckus performed well off-road.
On-Road: We had a blast with the Ruckus on-road. It didn't traction roll, yet it turned well, a pretty rare combo for an off-roader on pavement. If you plan on doing a lot of driving on pavement, the Ruckus is great fun.
Grass: Most "mini" trucks just don't work well in grass, they are simply too close to the ground. The Ruckus did well for a truck its size. The Ruckus just ran right through short grass. Medium or taller grass stopped the truck in its tracks.
Tires: The stockers had low wear rates and decent traction on high bite surfaces. In loam their intermediate design didn't yield optimal grip, but it wasn't half bad either.
Power: The power was best described as soft. The brushed 380 rolled smoothly off the line and just didn't have a big hit of power anywhere, it was just smooth controllable power. The 21 mph top speed is decent for a 18th scaler, and while not crazy brushless fast, the Ruckus had enough yank to throw roost on loose surfaces. If you are a noob the power is spot on, if you are an old timer you'll probably be looking to put in more spank, or at least consider going to a lipo. Keep in mind the ESC/Receiver does NOT have a low voltage cut-off if you do go lipo.
Radio: The included ECX 2.4GHz radio was exceptionally light and generally felt fine in the hand. The wheel had a rubber cover, the grip felt fine, and the trigger worked well for a variety of finger sizes. We didn't experience any glitching with the radio, but we did experience relatively short range. We got about 200 feet each direction for range, which may be just fine depending on your situation and where you are bashing at.
Broken Parts: Is the Ruckus tough? Yes it is. The combo of small size, low top speed, and a good blend of plastics make it a pretty hard machine to break. We jumped it off pretty much everything we came across, smashed it into hard objects, and generally treated it like crap and the Ruckus took it in stride. We ended up not breaking any parts, instead the brushed motor quit working after we got sand in it during a photo shoot, finally bringing it to a halt. Yes, you can hand the Ruckus to your 5 year old without too much worry about him/her being able to break it.
Misc Notes:
The red brake caliper on the transmitter was a neat touch.
The included servo saver is a bit on the soft side. This is great for protecting the servo, but can cause soft steering at speed.
We measured runtime at 11 minutes on the Ruckus, not bad, but not quite what we are used to seeing now days.
We are not a fan of the combo esc/receiver unit as it limits upgrade options.
We normally aren't big fans of bottom load battery trays either, but the one in the Ruckus worked well and actually made it quite handy to switch out packs. The big downside is the fixed size of the battery tray, making it hard to fit in larger sized packs.
Best Mod Under $5: Throw in some Associated 50 weight oil front and rear to tame some of the bouncing in the whoops (this also helps absorb big hucks). We did and really liked how it handled afterwards.
Best Mod Over $5: This all depends what you are looking for. ECX offers a bearing set, and there are also different batteries that will fit the truck if you are looking for a longer run time. While you will be tempted to go LiPo because they have some that fit, remember the ESC does not have a low voltage cut-off option.
---
Summary:
A = Outstanding/Best in Class, B = Above Average, C = Average, D = Below Average, F = Horrific
Time To Bash: B The wall charger takes forever, otherwise the Ruckus is fast and easy to hit the local bash spot with.
Workability: B 4wds can be a pain to wrench on sometimes but the 18th scale Ruckus was quite easy. Now if they can just ditch those Phillips in favor of hex screws.
Car Show Rating: C The Ruckus didn't look bad, but none of our Bash Crew thought it stood out. The graphics are well done on the body, the wheels looked decent, but the black on black came across as a bit plain.
Bash-A-Bility: A We put a serious beating on the Ruckus and it did not break.
Fun Factor: C Decent handling truck but its soft power held back the fun factor.
Handling: B The Ruckus had plenty of steering and took to the air well.
Value: B $99 is about as cheap as you are going to get out the door with a hobby grade machine. The Ruckus has a low price point, yet still delivers hobby grade performance.
Parts Availability: C You won't find parts for the 1/18 Ruckus on many hobby shop shelves, but from checking around they are readily available on-line.
BigSquid Rating: B- The 1/18th ECX Ruckus is a solid bash machine at a very reasonable price point. For $99 you get a truck that rarely breaks and is loads of fun to bash with.