Review – ECX Torment 4wd RTR Short Course Truck
THE ECX Torment 4wd RTR SCT Review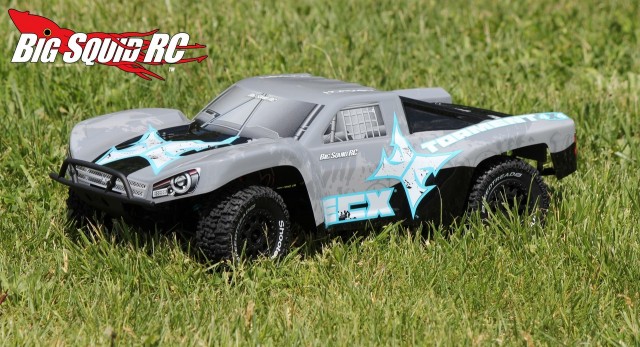 ECX, while still a relatively "new" brand, has made quite the splash in the bashing market. Their original 2wd Torment short course truck proved to be a capable bash machine, as well as several other vehicles in their line-up. We've been driving one of their new 4wd Torment RTR SCTs for a few weeks to see how it stacks up. Is the 4wd worth the extra cash? How does it stack up to one of the toughest fields in all of rc (4wd SCT)? Can the new 4wd platform take a hit without breaking? Hit the "Read More" to find out…
From: ECX
Direct Link: Torment 4wd
Unboxing Pictures: BSRC Torment 4wd Unboxing
Review By: Cubby
Pictures By: Tim Mohr
Specs:
RTR or Kit: RTR
Age: 14+
2wd or 4wd: 4wd
Shaft or Belt: Shaft
Electric or Gas: Electric
Waterproof: Yes
Scale: 1/10
Length: 21.5″
Width: 12.4″
Wheelbase: 13.12″
Motor: 550 Brushed, 15 turn
Speed Controller: Dynamite #2211, waterproof
Low Voltage Cut-off: Yes
Radio: Spektrum DX2E
Differential: Gear type front and rear
Slipper Clutch: Yes
Driveshafts: CVD style front, bones rear
Shocks: Plastic bodies, aluminum threading on caps, oil filled
Weight: 5.34 lbs
Servo Saver: On servo
Screws: Phillips
Spur/Pinion Pitch: 1.0 mod
Bearings: Full set
Tires: Speedtreads Shootout all terrain
Battery: 7 cell 2400mAh Ni-MH
Part Number: #ECX03013
Runtime: 10 minutes on included battery
Warranty: "free from defects… at time of purchase"
Street Price: $239
Primary Competition: Carisma M40DT, Traxxas Slash 4×4, Associated SC10 4×4, Losi SCTE, Helion Dominus 10SCv2, Caster SCT10, Racers Edge Pro4 Enduro
What's Needed To Complete: Absolutely nothing, the Torment 4×4 has everything you need right in the box.
Build Quality: Out of the box we didn't see any issues with the ECX. Shocks were properly filled and not leaking, nothing was binding, and the spur/pinion mesh was right on the mark.
Test Drivers: Iron Mike, Sam "The Noob", Bobby G, Jake "The First Time Driver", Tim "The Pro" Mohr, and yours truly.
Test Venues: RC Outlaws 8th scale outdoor track in Collinsville Illinois, Dirtburners 8th scale track in Kirkwood Missouri, a Costco parking lot, and various local parks.
Set-up Notes: We ran the ECX bone stock and didn't mod anything before driving it. We did skip using the included charger, instead using a Racers Edge EZ80 to charge up the included battery.
Turning: The included servo is a bit slow and lacking for torque. Does that mean the Torment is bad in the corners? No it doesn't, in fact the front wheels do a great job of going where pointed, while the rear nicely pivots without snapping around too far. However, the included servo does hold back the truck for experienced drivers. The slow speed of the servo makes it hard to make immediate corrections or flow through "S" sections, while the lack of torque makes for a wide turning radius. For noobs, the steering is set up just about perfect as they tend to over correct constantly.
Jumping: The Torment 4wd likes to fly neutral, and typically doesn't need much input to level out in the air. This is a good trait to have as it doesn't have much excess rpm on tap to help pull the nose up during an endo. The general geometry of the truck and stock shock settings work well for jumping on the ECX, even on really big hucks.
Bumps/Whoops: The stock set-up of the Torment works well in rough sections. It doesn't bounce around too much, it just seems to soak everything up and keep on trucking forward. You can pound a section of large dirt clods and it doesn't really get out of shape, and on a track it just blows through rough braking bumps.
On-Road: The Torment 4×4 is pretty dialed on-road. It turns predictably, it soaks up road joints and rocks with no issue, and it does not traction roll. The Torment is a blast on pavement, albeit low on power and a bit slow on the steering.
Grass: The 4wd Torment has the platform to get around well, it's 4wd and the stock tires work well in grass, but it comes up short on power to blow through taller grass sections. In short grass life is good, when it gets taller it simply doesn't have the yank to plow through.
Tires: We are big fans of the included Speedtreads Shootouts. They don't excel on any one surface, but work above average just about everywhere. Whether it be pavement, grass, blue grooved track, or loamy dirt at a park, the Shootouts always seem to manage to get good traction. Also, due to their design, they tend to last a long time.
Power: Our experienced drivers complained that the truck was under powered, while our noobs thought it had plenty of yank. The Torment 4×4 with it's brushed motor it intended for more of the noobie crowd, therefore we'd tend to agree that it came with the proper amount of power. Our first time noob Jake had lots of fun with the stock powerplant, saying it was more than enough for him. For all you experienced drivers, plan on throwing in more yank.
Radio: The Spektrum DX2E comes standard in a number of Horizon products and we've had good luck with them. They work well enough that they won't need to be immediately replaced, and their range is much better than they used to be. But… we sure would like to see them come with a foam covered steering wheel.
Broken Parts: Not many. We found the Torment 4wd to be fairly solid and had to start doing stupid stuff to get it to break. It survived a two story roof jump with absolutely no issues, and the same can be said about what happened when we drove it top speed into a concrete wall. To break the Torment we had to hit the concrete wall full speed at an angle, then we managed to yank one of the front inner hinge pins out of its mount. We want to also note, we lost two spring retainers during normal testing, something that doesn't normally happen. While not an actual broken part, we did manage to tweak one of the rear wheels during a one story roof jump. Overall, you can hand the Torment over to a total noob and not expect to break many parts.
Misc Notes:
We like the included body clips. They have a nice sized head on them, go in fine, and don't fall out.
The pitch of spur/pinion is quite course, thus making them very hard to strip out. Bashers don't care if they lose a bit of efficiency, they want durability, and we really like the 1.0 Mod pitch gears.
We found the included motor tends to run quite hot. We tested in ambient temps from 65-89 F and saw motors temps upwards of 170 degrees.
The 7 cell battery slides around a lot in the battery tray. It really needs a foam spacer to prevent this, but none was included.
The battery strap is ultra flexible. Flexibility in some parts is a good thing, for a battery strap it is not. On bigger hits we had the battery partially slide out the side of the truck.
Speaking of flexibility, the stock bumpers are very flexible and this turned out to be a good thing. They soaked up crazy hard hits and never broke. There was one downside, especially in the rear, the bumper would flex and not allow the body to fit properly.
Speaking of the body, while it looks trick it seemed to be made of slightly too thin of material. The body tended to get pushed in (even on smaller hits) and required being popped back out.
The stock battery is stated to be 2400mAh, we tested it at right around 2900.
About the speed controller- it drove smoothly and we didn't have any issues with it overheating, however, there were times when it just didn't want to go in reverse. I guess to make up for it that speedo is programmed so you can go directly from full reverse to full forward, which is great for popping wheelies and doing tricks.
Early in testing we were driving in a rocky area and pulled over because it sounded like the spur gear was nearly stripped out. Turns out the spur was in perfect shape but we had gotten some rocks trapped around the center drive shaft. We flipped the truck upside down, the rocks fell out, and life was good again.
The Torment has wires at the end of its front a-arms (shown in gallery 1, pic #4). Why? We have no idea. In theory they are there to keep from the arms from popping off the front hubs, but we never found that a problem, even with the wires removed.
ECX says the Torment is waterproof, and we believe them. We drove the Torment in crazy deep water with no issues.
Best Mod Under $5: If you are not an EC3 user we'd use the $5 to switch over to your brand of connector.
Best Mod Over $5: No doubt about it, popping $50-$100 on a good servo will be some of the best money you can spend on the Torment.
---
Summary:
A = Outstanding/Best in Class, B = Above Average, C = Average, D = Below Average, F = Horrific
Time To Bash: B The ECX comes with everything you need in the box making it easy to get up and bashing.
Workability: B An easy to wrench on layout is used, but we would sure like to see ECX step it up with hex hardware.
Car Show Rating: B Several of our testers thought the ECX was one of, if not the best looking truck in the 4×4 SCT "bashing" class. We liked the shape and crisp graphics on the body, as well as the scale looks of the wheels. While the tires look ok, we would liked to have seen scale tread used for a more authentic look.
Bash-A-Bility: B The Torment put up with normal bashing quite well, we had to get crazy to break it.
Fun Factor: C While the Torment is one of the better handling trucks in its class, it comes with one of the softest power systems. For a noob, the fun factor is up there, for experienced drivers, they were asking for more yank.
Handling: B The Torment is a great handling truck, not the best in class, but right up there. It is very predictable to drive, regardless of the drivers skill level.
Value: B Solid truck at a low price point, the Torment gives you a decent bang for the buck.
Parts Availability: C The Torment does not have the parts availability of Traxxas, but ECX parts are fairly easy to find from a variety of sources.
BigSquid Rating: B- The 4wd Torment is a tail of two trucks. For newer drivers who are not yet capable of handling big power, it is spot on. It's handling and power output are perfectly tailored to a first time user. It is tough too, we handed it over to multiple first time drivers without it coming back broken. However, the soft power that makes it so good for noobs leaves more experienced drivers looking for more spank. Overall? A solid truck, easy to learn on for noobs, and easily upgraded for those looking to really go fast.