Review – Helion Criterion 2WD Buggy
Helion Criterion 2WD Buggy Review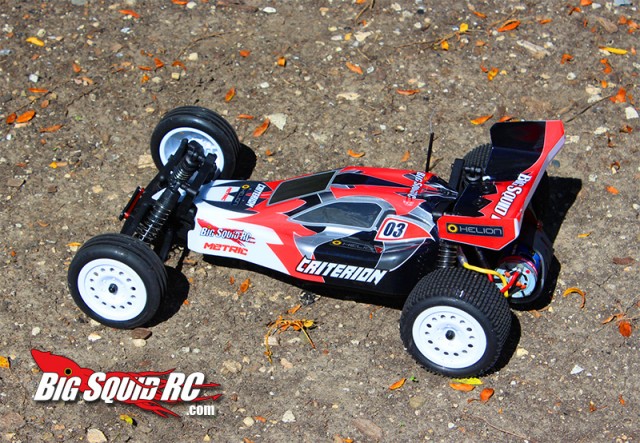 The RC world seems to go in waves, and one of those recent waves seems to be 1/10th scale buggy. Helion RC has jumped in with the Criterion 2WD Buggy, and tossing around the fact that it's one of the fastest stock RTR's you can buy! Want to find out how fast, and what our thoughts were on the rest? Hit the "Read More" button and find out… .
From: Helion RC
Direct Link: Criterion Buggy
Unboxing Pictures: Big Squid RC Criterion Unboxing
Review By: Brian
Pics By: Brian
Specs:
RTR or Kit: RTR
Age: 14+
2wd or 4wd: 2wd
Electric or Gas: Electric
Waterproof: Yes
Scale: 1/10th
Length: 15.21″
Width: 9.8″
Wheelbase: 11.14″
Motor: Metric 540 12 turn brushed
Speed Controller: Metric 30 amp
Low Voltage Cut-off: Yes
Radio: Helion HRS-3.1, 2.4GHz
Differential: Metal Geared Planetary Differential
Slipper Clutch: Yes
Driveshafts: Bones
Shocks: Plastic oil filled
Servo Saver: In steering rack
Screws: Phillips
Spur/Pinion Pitch: 48 pitch
Bearings: Yes, rubber sealed
Tires: Helion small knobs rear, groved front
Battery: 7 cell 3000mAh Ni-MH
Part Number: #HLNA0301
Weight: approx 3.44lbs
Top Speed (measured by BSRC w/stock battery): 31 mph
Warranty: 90 day limited
Street Price: $189
Primary Competition: 2WD Buggies aimed at the basher market like the ARRMA Raider and ECX Boost.
What's Needed To Complete: Four AA cells for the transmitter.
Build Quality: Our of the box, we had to adjust the spur gear, as it didn't seem to be meshed properly, and the rear wing holes were not even. It looked like they were cut wrong which gave the wing a slight tilt.
Test Drivers: Brian, Wrench, Dylan (aka Mini Wrench)
Test Venues: Parking lots, city park, skate park, basketball court.
Set-up Notes: We ran the Criterion in box stock configuration but did not use the included battery charger. For charging we used our Duratrax Onyx 245.
Turning: The rear end of the Criterion tends to push pretty hard. Taking corners in the soft stuff at a decent speed would have the back end flying around and the driver fighting to keep it straight before spinning out. The front tires had no problem pointing where you wanted to go, but the back slipped often. With a different tire setup, something more suited for our terrain, we would of been in better shape.
Jumping: The Criterion jumped nice and straight, and the front end would come down just right during most jumps. It was a blast at the skate park as you could land just about anything without a problem.
Bumps/Whoops: The Criterion sits pretty low, and in the rough stuff, or the small bumps it would get bounced around as the chassis would bottom out easily. A little work to use the travel of the suspension to help keep things planted may be in your future if you are planning some more serious stuff besides bashing.
On-Road: The tires obviously were not intended for on-road on the Criterion, but it did ok. We weren't sliding out, and the Criterion would go wherever you pointed it. We actually had decent traction, and the tires didn't seem to wear too quickly.
Grass: The chassis sits way too low to do any serious grass driving. We did do some after jumping out of the skate park, or going from one part of the park to the other, but it wasn't really going well.
Tires: The stock rear tires were not really enjoying our loose dirt that much. On harder surfaces the tires gripped well, and the front tires always pointed the front end wherever you wanted to go. We didn't notice any unexpected wear during our testing time. If you are going to be in the loose dirt, you may want to consider a different rear tire.
Power: For a brushed motor, the Criterion really hauls! Our top speed was 31 mph, and that was on the stock 7 cell NIMH battery. Acceleration was good through the power band, though a little light from a stop. You could still break loose the tires when you wanted. The top end was more than fast enough to keep you from wanting to do a motor upgrade anytime soon.
Radio: The stock radio well. Nobody had any complaints about it, which in our book means it's good enough. You can set end points if needed, it feels good in the hand.
Broken Parts: Not much had broken on the Criterion during testing. We cracked a rear arm, and destroyed a spur gear. Not long into our final day of testing we heard the tick of what was most likely a missing tooth. After a few runs things were worse, and towards the end of our demolition and destruction phase, we were jumping off a large stair case when it finally gave out.
Misc Notes:
Spur gears seem to be the #1 cause of a short day on our Helion products lately. If you are picking up new vehicle, go ahead and grab an extra spur or 2. They are cheap, and you are going to need one. Trust us.
The servo savor was tested to it's limits and works well. We hit all sorts of stuff, and didn't experience any servo issues.
The steering servo isn't going to win any speed awards, but it's good enough to get you where you want to go. If you are looking to do more serious stuff than just out having a good time bashing, you'll probably want to upgrade.
It's fast. Heck, we have tested some brushless vehicles lately that aren't this fast. It's nice to know when buying this vehicle, you aren't going to be in it for another $100 to get a better power system.
Best Mod Under $5: Save your $5 and do yourself a favor and go over everything out of the box. Make sure the gear mesh is right, check the holes on the rear wing so it's centered properly. Tighten any loose screws.
Best Mod Over $5: A faster steering servo may be on your list, and depending on your surfaces you may be looking for a new set of tires.
---
Summary:
A = Outstanding/Best in Class, B = Above Average, C = Average, D = Below Average, F = Horrific
Time To Bash: B Put batteries in the transmitter, charge up the battery, and while you are waiting, check your screws and gear mesh.
Workability: B The Criterion is pretty open. Everything is easy to get to. We could do without the Phillips screws.
Car Show Rating: B The paint job was well liked by everyone, the body didn't look like it belonged on the moon.
Bash-A-Bility: B The Criterion took a good beating. We were jumping all sorts of stuff, and even launching 15 feet into the air while jumping out of the skate park.
Fun Factor: B The durability and the top speed keep the fun train rolling.
Handling: B Jumping was very good, but the back end liked to slide out on the soft stuff. Just a little too much push on the back side.
Value: C For $189 the Helion Criterion seems like a good value, especially when you know you won't need to upgrade the motor anytime soon, but others in it's class are cheaper.
Parts Availability: C Some Hobby Towns may stock the parts, but you won't find parts at any other local shops. They are easy to order online though.
BigSquid Rating: B- Overall it's a fun 1/10th scale bashing buggy. The price is hard to beat.