Review – Helion Dominus 10SCv2 4×4 RTR
THE Helion Dominus 10SCv2 4×4 Short Course Truck Review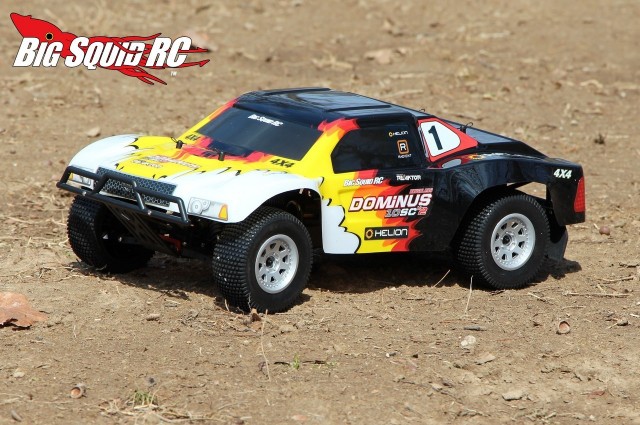 The original Helion Dominus was an affordable and solid bash machine. Recently the Helion crew announced its successor, the Dominus 10SCv2. The version 2 comes with a much more powerful Reaktor brushless system, along with many other changes. Is the 10SCv2 that much better than the original? How does it stack up against the very stiff competition in its class? And more importantly, is it worth your hard earned cash? Hit the "Read More" button to find out…
From: Helion RC
Direct Link: Dominus 10SCv2
Unboxing Pictures: BSRC Unboxing
Review By: Cubby
Pics By: Tim Mohr
Video Editing By: Doug Welker
Specs:
RTR or Kit: RTR
Age: 14+
2wd or 4wd: 4wd
Shaft or Belt: Shaft
Electric or Gas: Electric
Waterproof: Yes
Scale: 1/10th
Length: 21.26″
Width: 11.42″
Wheelbase: 12.87″
Motor: Brushless 3500kV 2 pole sensorless
Speed Controller: Reaktor 35A brushless
Low Voltage Cut-off: Yes
Radio: Helion 2.4 GHz HRS-3.1
Differential: Front & rear gear diffs
Slipper Clutch: Yes
Driveshafts: Bones
Gear Ratio: 3.4:1
Weight: 5lb-9oz
Shocks: Oil filled, plastic bodies, aluminum caps
Servo Saver: In rack
Screws: Phillips
Spur/Pinion Pitch: 32 pitch
Bearings: Yes
Tires: Helion race tread
Battery: 7 cell 3000 mAh Ni-MH included
Part Number: #HLNA0440
Top Speed (measured by BSRC): 26 mph
Runtime: 12 minutes w/ included battery
Warranty: 90 day limited
Street Price: $289
Primary Competition: Losi SCTE, Carisma M40DT, Associated SC10 4×4, Racers Edge Pro4 Enduro, Caster Racing SCT10, Traxxas Slash 4×4
What's Needed To Complete: The only thing you need to come up with is four AA batteries for the transmitter.
Build Quality: The 10SCv2 had the best build quality that we've seen from Helion to date. Wheels nuts were tight and the tires well glued, oil was not leaking from the shocks and had they were properly filled, everything looked like it was well assembled from the factory.
Test Drivers: "Iron Mike", Daniel "The Engineer", Sam "The getting better but still a Noob", Tim "Factory Shoe" Mohr, and yours truly.
Test Venues: RC Outlaws (8th scale off-road road track) in Collinsville Illinois, Dirtburners (8th scale off-road track) in St Louis Missouri, City Park in Arnold Missouri, and Minnie Ha Ha Park in Fenton Missouri
Set-up Notes: The Helion comes with a Deans type connector so it was left on the truck. We used the stock Ni-MH pack for the majority of testing, but also popped in a TrakPower 2S 6800 LiPo to check out the power difference. We did not use the included wall charger instead opting for a TrakPower VR-1.
Turning: The Dominus wasn't an ultra-sharp turner, but it didn't really push either, it was fairly neutral in corners. It turned in to corners well enough, held a decent line mid-corner, and we could pound the gas hard just after the apex. It didn't carry a lot of corner speed, but the Dominus was easy for all different types of skills level to drive in the corners.
Jumping: The stock suspension settings and chassis geometry did well while jumping. Like in the corners, the Dominus didn't do anything bad while jumping, and its 4wd system gave instant response to trigger corrections while in the air. On the downside of things, the Dominus didn't like being landed sideways, but its suspension soaked up even large hucks very plushly. Also, while the brushless system had decent overall power, it didn't have enough rpm to really bring the nose up during endos.
Bumps/Whoops: While the stock shocks aren't made of esoteric materials, the damping and spring rates were well done at the factory. We could blast through some very gnarly sections without a ton of huck-a-buck like some of the other trucks in its class. If there is a place the Dominus excels in handling, it's when pounding through blown out whoop sections and large dirt clods.
On-Road: The Helion gets around well on-road. You can get it to traction roll, but it soaks up road joints and pot holes well, and has enough power to make things interesting.
Grass: The Helion also gets around well in grass, perhaps better than any other truck in its class. The Helion has good ground clearance and its stock tires get good grip in grass. If you do a lot of grass driving the Dominus is a good choice.
Tires: The stock tires worked very well on pavement, hard packed dirt, and grass, but came up a bit short in loam. They were a fairly hard compound which resulted in long wear, but they did not yield the mechanical grip of some of its softer shed competition.
Power: The Reaktor power system has decent overall wattage, but, out of the box, the Helion isn't some crazy powerhouse. It can easily throw a good sized roost and make good sized jumps, but it isn't as powerful out of the box as some of its competitors. With the included battery, the low end was very soft, the mid-range had good authority, but the top end signed off early. With LiPo the truck really woke up, low end was greatly improved as was the top end. To boil it down, box stock the Dominus isn't that fast, but the power is there, it just has to be unleashed with a LiPo and taller gearing. I must also note that the Dominus was very smooth from a dead stop, we did not notice even a hint of cogging.
Radio: The included radio was a solid performer for us. We never had a glitch and range was very long. We didn't actually walk it off, but it was far enough that we still had full control when the truck was so far away it was hard to see. As far as the ergonomics were concerned, they felt very good. Most testers really liked the serrated trigger, and everyone liked the foam covered wheel.
Broken Parts: The Dominus made it through the normal portion of our testing without issue. We slapped it off of park benches, used tree roots as ramps, and tagged chain link fences without issue. We started upping the destruction factor and the Dominus still held up fine with no issues. We finally had to go extreme so we started slamming it full speed into large rocks (about a foot in diameter). On the first full speed run we popped one of the pillow balls out, but after using a decent amount of force it went back in. On the second full speed slam into the large rocks we split one of the front a-arms at the inner hinge pin. The review was then over, but the version 2 Dominus proved to be perhaps the toughest Helion that we've ever tested.
Misc Notes:
The clear cover over the pinion/spur makes it easy to check mesh, nice touch.
The included body clips are small and not very resilient. Do yourself a favor and lose them the first time you take the body off.
The battery tray has some ups and downs. On the up side the velcro straps and extra length of the tray add some versatility to which packs you can fit in the truck. On the downside, if you want run thick packs, like a 3S/4S LiPo, they will not fit in the stock tray.
We did a LOT of water driving with the Helion and didn't have any issues. Props to Helion on the killer waterproofing job.
The stock servo is quite slow. On the upside, this helped the noobs drive a straight line and the more experienced drivers to be smoother. On the downside, it was slow enough to hamper driving in tighter confines.
The stock bumpers are quite large and absorb a lot of force when hitting hard objects. Needless to say they help keep the Helion from breaking and we were big fans of them.
All the stock plastic is quite flexible. If you are Mr A-Hole racer guy, you probably won't like that fact, but we appreciated that the plastic would flex and not break.
Best Mod Under $5: While the truck comes with a decent set-up, we ended up dialing in a bit more negative rear camber to help keep the truck more planted in the corners. This is a free mod that really helps the truck. Our truck came set at zero camber, we dialed in negative 2 degrees.
Best Mod Over $5: Two upgrades here, a good LiPo battery, and some upgrade Pro-Line wheels and tires. A good LiPo really wakes the truck up, while better wheels/tires can help put the added yank to the ground.
---
Summary:
A = Outstanding/Best in Class, B = Above Average, C = Average, D = Below Average, F = Horrific
Time To Bash: B It doesn't take long to get the Dominus up and running. Pop the AAs in the transmitter, charge up a pack and you are dialed. Had the truck come with a faster charger it would have busted out an A.
Workability: B We didn't do a lot of wrenching on the Dominus, but when we did we found the truck easy to work on. The layout is pretty standard, making it fairly easy to get to the important stuff. We just wish it came with Hex hardware instead of Phillips.
Car Show Rating: C While most of our bash crew liked the way the Dominus looked, they all wished it came with more scale detailing. For example, instead of small pin race tires, it could have come with scale looking tires. Scale type tires would have not only looked better but could have gotten the same or better grip on a variety of surfaces.
Bash-A-Bility: B The Dominus is arguably the toughest truck to come out from Helion. It survived all our normal bashing without issue, we had to get extreme to break it.
Fun Factor: B The addition of brushless power certainly makes the truck more fun to drive than the previous version, and as a whole our bash crew had a blast driving the 10SCv2.
Handling: B Overall the Dominus is very easy to drive. It doesn't push or oversteer too much, and jumps predictably.
Value: B There are cheaper and more expensive trucks in its class, but we feel for your $289 you get an above average bang for your buck with the Dominus.
Parts Availability: C To get parts for the Dominus you have two choices, a brick and mortar HobbyTown USA store, or the Helion website. We found that the parts we broke on our truck were readily available on-line, but Helion doesn't have the vast parts availability of Traxxas or Associated.
BigSquid Rating: B- So where does the Dominus 10SCv2 stand vs a stacked field in the 4×4 SCT class? It might not have the raw horsepower of some, and might not have the razor edged handling of others, but it is a very well rounded package at an attractive price point. Only a shootout could tell how it truly stacks up, but we feel the 10SCv2 is the best overall truck Helion has ever produced, and is well worth your cash.