Review – Helion Invictus 10MT 4wd Brushless Monster Truck
THE Helion Invictus 10MT 4wd Monster Truck Review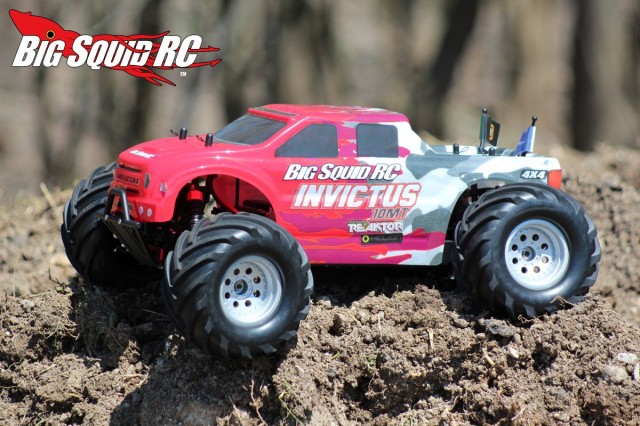 Monster trucks are the weapon of choice for a true basher, their large tires give them plenty of ground clearance for grass driving and driving over large clods of dirt. One of the latest entries in this product categories comes from Helion, a division of Firelands Group and an exclusive product at HobbyTown USA. We've been trying to destroy the new Helion Invictus 10MT for weeks now. Did we succeed? Read on…
From: Helion RC
Direct Link: Invictus 10MT
Unboxing Pictures: Unboxing the Invictus
Review By: Cubby
Pics By: Cubby
Specs:
RTR or Kit: RTR
Age: 14+
2wd or 4wd: 4wd
Shaft or Belt: Shaft
Electric or Gas: Electric
Waterproof: Yes
Scale: 1/10th
Length: 16.61″
Width: 13.27″
Wheelbase: 10.83″
Motor: Radient brushless, 540, 3500kv
Speed Controller: Non-sensored brushless, Radient Reaktor
Low Voltage Cut-off: Yes
Radio: Helion HRS-3.1, 2.4 GHz, 3 chan
Differential: 2 gear diffs
Slipper Clutch: No
Driveshafts: Bones
Shocks: Plastic bodies, oil filled
Servo Saver: Horn type
Screws: Phillips
Spur/Pinion Pitch: 32 pitch
Bearings: Yes
Tires: Helion chevron pattern, foam inserts
Battery: 8 cell, 1800 mah Ni-MH
Part Number: HLNA0248
Top Speed (measured by BSRC w/ 2S Lipo): 26 mph
Warranty: 90 days limited
Street Price: $290
Primary Competition: Traxxas Stampede 4×4
What's Needed To Complete: Four AA batteries
Build Quality: We saw no leaking shocks, nothing was binding, no excessive flash, camber/toe settings were in the ballpark, everything appeared to have been assembled correctly.
Test Drivers: Cubby, Brian, Tim, Sam the Noob, and Iron Mike
Test Venues: RC Outlaws in Collinsville IL, Cliff Cave Park in Oakville MO, CostCo parking lot, and a backyard.
Set-up Notes: We ran the Invictus bone stock initially, then went to a 2S 6500 mah MaxAmps lipo with Traxxas connector adapter later in testing. We used a Hyperion 720iNet3 to charge both the stock pack and the MaxAmps.
Turning: Just like the rest of the Helion line-up the Invictus has a LOT of steering, in fact too much on high bite surfaces, and so much the truck is hard to drive in a straight line. The front end is overly planted making the rear very loose. In a typical corner the Invictus plants hard at turn-in and the rear starts sliding around.
Jumping: The Invictus is a backflip machine. Leave the gas pounded off a jump face and the Invictus loves to backflip, even on small jumps. If you are coming from 2wd or from 4wd with a center diff, the Invictus is lots of fun to backflip but for normal jumping the lack of a center diff makes the truck ultra sensitive to trigger input. A slight stab of the brakes on a 2wd barely nudges the front end down, on the Invictus a little brake drops the front like a brick. Otherwise, due to the large tires and decent suspension take offs and landings are a joy. The big tires and all the travel can soak up crazy amounts of airtime. For example, when jumping off a second story roof the suspension/tire combo soaked up the ultra high impact landings arguably better than many other vehicle we've recently tested.
Bumps/Whoops: The Invictus is a beast in the gnarly stuff. Once again those large diameter tires and ample wheel travel can soak up some very rough terrain. We found the spring and damping rates worked well with the chassis, just point it and pin it, it will blast through the chop like a champ.
On-Road: Overall, the over-steer of the Invictus makes it hard to drive on-road and in the corners the rear end likes to slide out. It certainly soaks up pot-holes and road-joints very well, but generally it was hard to drive. There is an upside, the Invictus can be made into a much better on-road machine with a few simple changes.
Grass: The Invictus drives quite well in grass. It has decent ground clearance and those chevron tires give just about the right amount of side-bite.
Tires: Obviously the stock tires are chevrons so they look scale (which is very cool in our book). For actual rc driving they weren't bad. They give very good bite in mud and they are manufactured from a compound that lives a long time but isn't rock hard. For their intended use on a monster truck the stock tires hit the mark quite well. The foams were right in the ballpark, not too soft nor too hard.
Power: The included Radient Reactor brushless system has decent overall power. It provides enough power to wheelie, backflip, and throw crazy roost. However… the stock power system cogs like crazy and it runs really hot. The Invictus is overgeared out of the box, and the stock battery pack is not capable of putting out enough current to quench its demands.
Even by simply holding the Invictus up in the air and hitting the gas it cogs and takes a long time to hit max rpm (and it gets worse when the wheels are actually on the ground). Stock, the power system just isn't set-up for a vehicle of the rotating mass of the Invictus.
We did drive the Invictus multiple times with the stock set-up, meaning stock gearing and battery. The 8 cell Ni-MH ended up running even hotter than the motor (more on this later), proving the stock pack just isn't up to the task it is being asked to do. When switching over to a lipo (that we know first hand can handle some pretty insane current demands), it still cogged more than we'd like to see, indicating that it was over geared or the brushless system just wasn't up to the demands of the rotating mass involved.
To get down to what the truck actually drove like, all stock it coggs a lot and often times took a while to get moving (in both forward or reverse). Once actually moving, after its soft low end programming, for sure it had good yank. It had decent top end (although it couldn't pull its entire gearing) and had enough mid-rang snap to make big jumps, blast up hills, etc. Going to a quality Lipo cut most of the issues out, still some cogging, but a lot more mid-range yank.
To boil it down, yes, you can drive the Invictus with the stock battery and gearing, but I would highly recommend dropping as many teeth on the pinion as will mesh up, and going directly to a quality 2S Lipo.
UPDATE: During our review period we experienced a significant amount of cogging with it. The review went up and the crew over at Helion read about it and suspected our test sample had issues. Our test truck was a pre-production unit, something we were not aware of during the review. Anyways, we shipped the truck back to Cali and got it back with full production electronics. We haven't had any cogging issues with it since, and we've been bashing it on a regular basis.
Radio: The stock Helion radio had great range and weight distribution. The trigger was of a decent size and was nicely located in relation to the grip and wheel. The wheel had a decent foam on it and all the spring rates felt perfect. Overall, a decent and very usable RTR transmitter.
Broken Parts: We did not break one part on the Helion Invictus, even after crazy/stupid abuse. However, we did have some issues. The first thing we do with a new test vehicle is do a mph test. That takes about 2 minutes then we start taking pictures. While we are taking pics we are somewhat cautious to not break the vehicle. So… halfway through the first pack while taking pictures the Invictus spit out one of its front driveshafts. Our local HobbyTown USA didn't have one in stock yet, so it was a day-ender. We hate day-enders, especially when we didn't even crash or abuse a vehicle and it happens. Because it might take a while to get a replacement (They are at local Hobby Towns now, but we got our truck early) we dug through our parts box and found an Axial 96mm shaft that was just slightly shorter than the one the Invictus spit out. The Axial bone was much thicker than the Helion part, so we had to bust out the Dremel and do some mod'ing. An hour later the Axial bone would fit in the Helion's outdrives. When we put the front bones back in we tightend up the pillow balls to make sure they couldn't accidentally pop out again.
We then went on with our normal testing and didn't break anything. The Helion lived through some massive crashes, deep water dives, and generally proved tough as nails. If a test vehicle lives through normal testing we start doing stupid stuff. The first "stupid" test was to huck the Invictus off a second story roof. We did that (3 times) to grass with absolutely no broken parts. We then flat landed to pavement from two stories up and ended up bending the center driveshaft bad enough that we will need to replace it.
Misc Notes:
The Helion motor runs hot, but the battery runs even hotter. The hottest day we drove the Invictus on was 70 degrees Fahrenheit, yet we saw motor temps over 160 degrees and over 165 on the battery. The battery got so hot its heat shrink shrunk, the high temps have us concerned about the stock battery life.
The Invictus is very waterproof. We had it over its roof in water multiple times with no ill effects. Kudos to Helion on how waterproof the Invictus is.
The speedo fan was quite loud, but things get hot, and it apparently needs it.
We didn't notice this out of the box but after a bunch of runs the rear hubs had developed a lot of slop, causing a wobble in the rear tires under power.
We had a lower front shock screw back out. No biggie, but something to keep an eye on.
The clear pinion/spur cover looks neat and helps keep the nasties out of your gears.
We measured run-time at 9 minutes. The stock pack is listed at 1800 mah, but we measured it just over 2000 during a 1C discharge. 9 minutes run-time sounds like a long time to an old schooler, but feels quite short compared to the "norm" now days. When we popped in a 6500 mah MaxAmps it would run longer than we felt like driving it for.
The stock body clips are of a nice design. Sadly they are a bit too thin and bend easily (then disappear).
We've been blown away by the packaging from other manufactures lately, the artwork on the Helion box is a bit disappointing.
See the two neat little flags on the back of the body? Look fast, because they won't last there long.
The red anodized pieces that come stock on the Invictus look cool.
The drivetrain on the Invictus rolled exceptionally free. This is a good thing, it means nothing is binding, giving you longer runtimes and more performance.
The stock servo is quite slow. Normally that is a bad thing, but on the Invictus it helps take some of the bite out of the trucks over-steer.
I was getting the truck ready for the first top speed testing when I realized there were no AA batteries for the transmitter in the box. I dug through the box and searched all over for them, I simply couldn't find them. I then called Brian and chewed him out for "stealing the AA's" out of the Helion box. Brian is quite the practical joker, and he owes me about a hundred pranks, so I thought the missing AA's were his idea. I was wrong, the Helion comes with everything you need to get running except AA batteries. Helion, can ya please just drop in some cheap AA's? Thanks in advance! 🙂
Best Mod Under $5: A new pinion, any pinion smaller than the stock.
Best Mod Over $5: A high quality Lipo battery.
---
Summary:
A = Outstanding/Best in Class, B = Above Average, C = Average, D = Below Average, F = Horrific
Time To Bash: C We didn't use the included charger. Why? Because the manual says it takes "4-5 hours" to fully charge the pack. That is forever in the RTR bashing world. If you are using an aftermarket charger you can hit the track in about an hour.
Workability: B Good layout but we are not fans of Phillips hardware.
Car Show Rating: C Scale looking tires with good looking rims couldn't overcome the body and graphics. We were just not feeling it on this one.
Bash-A-Bility: B Having a "day ender" on the first pack isn't good, but at the end of testing we didn't end up breaking any parts. This leads to some serious potential!
Fun Factor: C We had a blast running the Invictus through water holes, over mulch piles, and across a rough field, but the cogging and over-steer held back its fun factor score.
Handling: C The Invictus had its upsides- great suspension and ground clearance, and it's downsides- too much steering and too touchy to trigger inputs while jumping.
Value: C The Invictus is $290, the Stampede 4×4 is $430, that's a $130 difference. The problem is that it will probably cost you over $130 to catch up the the Stampede in electronics quality.
Parts Availability: C Our local HobbyTown USA didn't have the front bone we needed to get going early in testing, but we knew we had the truck before it actually shipped! Helion parts are only available from a HobbyTown USA location, and as of this writing, they do have the parts in stock.
BigSquid Rating: C+ You have to admire the Invictus for taking the best we could dish out without breaking any parts, and with a few mods it can be an epic basher. However, out of the box its power system, over-steer and dog-bone issues keep it from hitting the mark.