Review – Helion Volition 10SC RTR
THE Helion Volition 10SC Review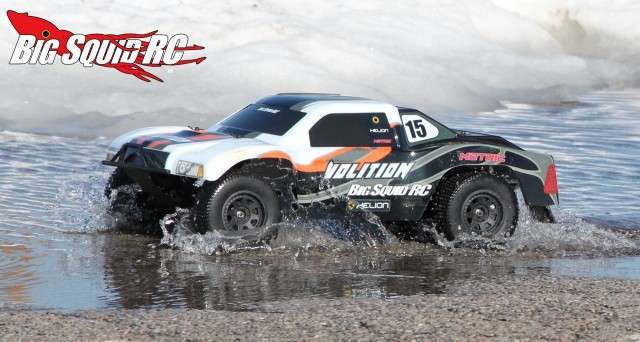 Short course trucks are still scalding hot and Helion RC has jumped into the market with their version called the Volition 10SC. The Volition comes at an affordable price point and is said to come with one of the most powerful brushed RTR motors on the market. We put one through its paces (and then some!) and found out some interesting things. Want to find out how the Volition 10SC stacks up? Hit the "Read More" button to find out…
From: Helion RC
Direct Link: Volition 10SC
Unboxing Pictures: BSRC Volition Unboxing
Review By: Cubby
Pics By: Tim Mohr
Video Editing: Doug Welker
Specs:
RTR or Kit: RTR
Age: 14+
2wd or 4wd: 2wd
Electric or Gas: Electric
Waterproof: Yes
Scale: 1/10th
Length: 21.45″
Width: 11.65″
Wheelbase: 13.03″
Motor: Metric 550 12 turn brushed
Speed Controller: Metric 30 amp
Low Voltage Cut-off: Yes, with switch
Radio: Helion HRS-3.1, 2.4GHz
Differential: Gear type
Slipper Clutch: Yes
Driveshafts: Bones
Gear Ratio: 2.62:1
Shocks: Plastic oil filled
Servo Saver: In steering rack
Screws: Phillips
Spur/Pinion Pitch: 48 pitch
Bearings: Yes, rubber sealed
Tires: Helion small knobbies
Battery: 7 cell 3000mAh Ni-MH
Part Number: #HLNA0400
Weight: approx 4.9lb
Top Speed (measured by BSRC w/stock battery): 24 mph
Runtime: 19 minutes w/stock battery
Warranty: 90 day limited
Street Price: $224
Primary Competition: Traxxas Slash, Pro-Line PRO-2, ECX Torment, ARRMA Fury, HPI Blitz, Associated SC10, TLR 22SCT
What's Needed To Complete: Four AA cells for the transmitter.
Build Quality: We only found one problem with the assembly of the truck, a battery strap hold down was loose from the factory. Otherwise, the shocks were properly filled and not leaking, we didn't find any stripped screws, and gear mesh was good to go.
Test Drivers: Iron Mike, Scaler Doug, WS Raceway's Adam W, Editor Brian, Hawaiian Chris, Tim Mohr, Sam The Noob, and of course yours truly.
Test Venues: WS Raceway in Paxton Illinois, Jake's Race Place in Fairmont City Illinois, RC Outlaws in Collinsville Illinois, Minnie Ha Ha park in Fenton Missouri, and a Jack in the Box parking lot.
Set-up Notes: We ran the 10SC bone stock but did not use the included battery charger. For charging duties we used a Hitec X-1 Touch.
Turning: The Volition was a fairly neutral turner with perhaps a bit of push. Its stock set-up made it easy to corner for everyone from noobs to the pros. When pushed hard neither end gave out dramatically, rather all four corners tended to slide.
Jumping: The 10SC tended to jump neutral to slightly nose high. The 10SC has a peppy enough power system to make minor mid-air corrections, but they typically aren't needed. Hit the jump face straight and the Volition is a pleasure in the air.
Bumps/Whoops: Our test Volition was bouncy though the rough stuff. Out of the box it comes slightly over-damped, both front and rear, which results in more bounce than we would have liked to have seen. On high bite smooth surfaces the heavy damping makes the truck work really well, when the going gets rough it hampers its handling. Thankfully thinner oil is cheap and easy to install.
On-Road: The Volition gets around well on-road. Its tires get good traction on pavement and its low center of gravity keeps it from traction rolling.
Grass: We got in very little grass driving with the Volition, most of our grass was covered in snow during our review period. From what little grass driving we did do, the Volition got around ok. If you dabble in short grass the Volition will get around well, but if you get into taller grass its low ground clearance and small knobby tires hold it back.
Tires: The stock tires worked remarkably well on the damp hard packed dirt at WS Raceway and even on the carpet at Jake's Place. They produced predictable side and forward bite and generally worked well. On looser/loamier surfaces like gravel, snow, or grass, they didn't do so well, but then you can't expect one tire design to work well everywhere. If you drive on hard packed surfaces you will like them, if you drive in the loam you will be reaching for a set of Pro-Line Trenchers.
Power: Compared to your average brushed RTR the Helion had good power. It had good yank on the bottom, a smooth mid-range, and seemed to pull further on top than most stock/brushed systems do. No, it doesn't have the pure wattage of your average non-sensored brushless system, but it has more than enough yank to the make the jumps at your local track, and more than enough to feel fast to a noob.
Radio: Nobody commented much on the stock transmitter, which is a good thing, it means it worked well. The foam wrapped wheel and serrated trigger felt good, and the wheel/trigger/grip relationship was spot on. The radio felt slightly top heavy, but not so much as to be a nuisance.
Broken Parts: We didn't break many parts on the Volition. Early in testing we blew out a spur gear while putting in some laps at the track. We also had a tie-rod pop off early in testing but it never happened again, go figure. Later, during our torture testing phase, we ended up breaking a rear hinge pin mount. Breaking the rear hinge pin mount wasn't easy, it took two full speed runs into a large concrete based light pole.
Misc Notes:
The stock body pins are a nice size and shape, however, they bend easy and like to disappear. Luckily the body mounts are perfect for Pro-Line Thumbwashers.
The 10SC comes with a bit of toe-in on the front. You don't see toe-in used that much, and because of the solid tie-rods it isn't adjustable, but it corners well nonetheless.
The stock servo has plenty of power for the Volition, but it is noticeably slow. The most common comment from all our testers was how slow the servo was. A slow servo can be a good thing, it forces you to be a smoother driver, but it can also hurt performance in tight areas or when you must make split second course corrections (like when some idiot is driving backwards down the main straight).
Surprise, surprise, the Volition comes with two switches on its speedo. Which one do you use? The one mounted to the chassis is the actual on/off switch, while the other one turns the LVC (low voltage cut-off) off and on.
Because there has been so much snow in our area we spent a lot of time with the 10SC at local tracks. At the smaller indoor tracks we visited, the Volition certainly felt competitive, even in bone stock form. While we weren't exactly pulling away from dedicated race trucks, the Volition was more than holding its own.
The stock servo saver works well and is set properly. Why is this being mentioned here? But it isn't that common of an occurrence. Kudos to Helion for a proper working servo saver.
Best Mod Under $5: Thinner shock oil. We didn't get a chance to experiment with lighter oils, but we would probably start with AE 20 weight. Lighter oil at both ends will help it absorb bumps instead of bouncing over them.
Best Mod Over $5: Cut the check to Hitec for a faster servo.
---
Summary:
A = Outstanding/Best in Class, B = Above Average, C = Average, D = Below Average, F = Horrific
Time To Bash: B Charge up the battery, pop some AAs in the transmitter, and you ready to jam.
Workability: B The Volition is well laid and easy to spin wrenches on, but we would have rather seen hex hardware.
Car Show Rating: C Scale is all the rage now days and while the graphics on the Volition are razer sharp and look good, its body has average scale detailing. Its wheels have a great scale look, but the tires aren't scale looking at all.
Bash-A-Bility: C The Volition took some decent abuse but we did break some parts.
Fun Factor: B The combo of good handing and a decent brushed power system was great fun to drive.
Handling: B Our review Volition cornered predictably and jumped quite well.
Value: B At just over $200 the Helion is a decent bang-for-the-buck in the 1/10th scale short course truck class.
Parts Availability: C You won't find Volition parts hanging off the pegs at too many local hobby shops but they are readily available from on-line sources.
BigSquid Rating: B- Helion has a solid truck with the Volition 10SC. The Volition can hang with some stiff competition on track and can take some hits while out bashing.
Check out the video of the Volition in action! Make sure to watch in HD!