Review – Hitec X1 Pro Battery Charger
THE Hitec X1 Pro Battery Charger Review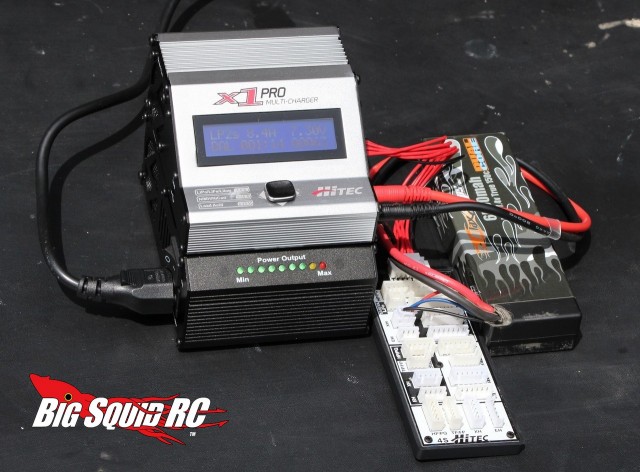 The latest battery charger from Hitec is the X1 Pro. As its name suggests, it is a professional level charger that is tiny in size and comes at an affordable price point. Can it hang with the best chargers on the planet? Is it easy to use? Is it worth the cash? Click the "Read More" tab to find out how performed in the field and on our test bench.
From: Hitec
Direct Link: X1 Pro Charger
Direct Link: ePowerBox 17A
Review By: Cubby
Pics By: Tim
X1 Pro Specs:
AC/DC: DC only
DC Input Voltage: 11~18 volts DC
Max Charge Wattage: 180
Max Discharge Wattage: 30
Charge Current: 0.1~16.0 amps
Discharge Current: 0.1~8.0 amps
Cell Balancing: Yes
Current Drain for LiPo Balance: 200mA per cell
Weight: 14.3 oz
Dimensions: 3.6 x 4.4 x 2.0″
Cell count Ni-MH: 1-15
Cell count Lipo: 1-6S
USB: Micro for Firmware upgrades only
Fan: Yes
Temp probe: Available, not included
Part #: 44215
Warranty: One year limited
Street Price: $85
ePowerBox 17A Specs:
Input Voltage Range: 100~240 Volts AC
Output Voltage: 13.8 Volts DC ± 0.2V
USB Output Voltage/Current: 5V / 2.1A
Power Efficiency: 91%
Cooling Method: Temperature Controlled Fan
Dimensions: 5.0 x 3.6 x 2.0″
Net Weight: 21 oz.
Part #: 44216
Street Price: $99
Primary Competition: High current single output balance chargers.
What's In The Box: Charger, balance board, balance adapter, DC input cable, 18 gauge charging wires, and 2S hardcase charging lead.
Build Quality: We liked what we saw with the X1 Pro. It features an all metal case, nice display, and quality wiring.
Testers: Cubby, Tim, Iron Mike, and Sam The Noob.
Set-up Notes: We ditched the included XT60 connector and used Traxxas units instead. We only used the Hitec ePowerBox 17A to power the X1 Pro. We charged a variety of packs from a 4S TrakPower Lipo, to a MaxAmps 2S Lipo, to an ARRMA RTR NiMH pack.
Ease of Use: We had a split decision among our testing crew. Some found it easy to use while others struggled and needed to read the manual. For those that needed it, the manual was clearly written and easy to understand. While the menus aren't that much different than most chargers, the joystick interface took some of our testers a while to get used to. Overall, if you've used other battery chargers before, or are at least a bit tech savvy, you won't have any problems getting the Hitec to do what you need it to.
Power: 16 amps isn't the most of the market, but wayyyy more than the vast majority of chargers on the market. The 16 amp maximum charge rate allows you to charge a whole lot of commonly used packs at 2 to 3C, which is great for all you "need a pack quick" type of guys.
On the Track: Ok, so the "reference" charger that we compared the X1 Pro to was the very highly regarded iCharger 308. When we hit the track we would sometimes charge up the packs on the Hitec, sometimes on the iCharger, and we didn't let the drivers know which charger was being used (blind testing). Could our drivers tell a difference on the track? No, not reliably. After dozens of packs, none of our testers could accurately tell a difference in the on-track performance of a pack charged on the Hitec compared to the iCharger.
Speed of 2C Normal Charge Vs Reference (time to charge a pack):
Reference Charger: Run #1- 29 minutes 39 seconds, Run #3- 29 minutes 27 seconds
Hitec X1 Pro: Run #2- 39 minutes 02 seconds, Run #4- 39 minutes 16 seconds
Output voltage at 45 amps after 2C Charge Vs Reference:
Reference Charger (run #1, tested 5893 mah, 7:53 runtime)
2 minutes- 7.299 volts
4 minutes- 7.084 v
6 minutes- 6.958 v
7 minutes- 6.862 v
Hitec X1 Pro (run #2, tested 6068 mah, 8:07 runtime)
2 minutes- 7.327 volts
4 minutes- 7.100 v
6 minutes- 6.970 v
7 minutes- 6.890 v
Reference Charger (run #3, tested 5906 mah, 7:54 runtime)
2 minutes- 7.322 volts
4 minutes- 7.096 v
6 minutes- 6.964 v
7 minutes- 6.867 v
Hitec X1 Pro (run #4, tested 6056 mah, 8:06 runtime)
2 minutes- 7.318 volts
4 minutes- 7.094 v
6 minutes- 6.965 v
7 minutes- 6.887 v
Conclusions From Bench Testing:
For our bench testing we used a high quality 2S 6500mAh LiPo battery. Both chargers were used in "normal" charge modes at 2C (13 amps). A trial run was conducted and discarded, then testing began. The four runs/discharges were run back-to-back with only enough time between charges for the pack to cool. Run 1 was our reference, then the Hitec, then the reference, and the Hitec was again used for the fourth run.
It is pretty easy to see from the graph and numbers listed above that the Hitec X1 Pro produced a higher quality of charge than our reference. After being charged on the Hitec, our LiPo battery had more runtime (a bit over 10 seconds more) and provided slightly higher output voltage. Doing normal LiPo charges at 2C, the Hitec simply provided a better quality of charge than our reference. There was a downside though, on average, the Hitec took roughly ten minutes longer to perform a "normal" charge than our reference. Still, at 39 minutes for a 2C "normal" charge, the Hitec would not be considered a "slow" charger.
Misc Notes:
The fan on the X1 Pro (and the ePowerBox) were fairly quiet. You could hear them come on, but they weren't so loud that you couldn't easily talk to the guy next to you.
The end of charge alert is a non-obtrusive series of tones that only go off once. They are polite and non-irritating, which is great for quiet settings, but are a bit hard to hear at a bustling indoor track.
The footprint of the X1 Pro is small, like incredibly small. Seriously, it takes up almost no space on your pit table or in your pit bag.
Some of our testers liked the single "joystick", while others took a while to warm up to it. We've been programmed over the years to use multiple buttons to get a charge going, for some it took some adjustment to use the joystick.
The display is back-lit, bright and easily seen in various types of lighting.
---
Summary:
A = Outstanding/Best in Class, B = Above Average, C = Average, D = Below Average, F = Horrific
Time To Bash: C The X1 Pro comes with a somewhat uncommon connector (and no adapters), for some this will mean having to solder on a new connector being using.
Car Show Rating: A The BigSquidRC Bash Crew really liked the X1 Pro's all metal shell, modern looking joystick, and ultra-small footprint.
Bash-A-Bility: A Various members of the Bash Crew took turns abusing the X1 Pro and it still lives today. It was dropped and pushed to its limits on multiple occasions and didn't break, kudos to the Hitec crew on this one.
Power: B Most "average" chargers have a maximum charge rate of around 6 amps, the X1 Pro does 16. It is certainly above average for power output.
Value: B If you've already got a power supply, the X1 Pro is a fantastic value. It is street priced at $85, has a LOT of power for that price point, and does a great quality charge. If you don't have a power supply, most likely you'll want to drop an extra C-note on the Hitec ePowerBox, which is a perfect mate for the X1 Pro.
BigSquid Rating: B+ We are big fans of the X1 Pro from Hitec. It's tiny, provides great quality charges, has loads of features, and doesn't break the bank. Pick one up, we highly recommend it.