Review – Hitec X1 Touch AC/DC Battery Charger
THE Hitec X1 Touch AC/DC Battery Charger Review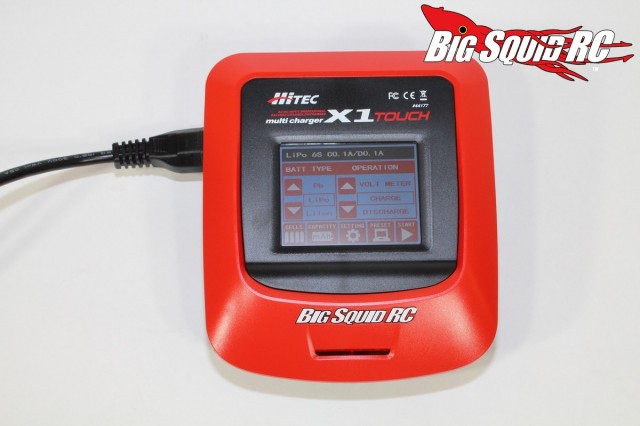 We learned several months ago during our iMax X200 review that adding a touch screen to a battery charger can be a good thing. Today we'll be taking a closer look at one of Hitec's newest products, the X1 Touch AC/DC Charger. It features a big color touch screen and pumps out 7 amps of power on both AC and DC. Let's find out what it's like using one shall we? Hit the "Read More" button to read the scoop…
From: Hitec
Direct Link: X1 Touch AC/DC
Review By: Cubby
Pics By: Tim
Specs:
AC Input Voltage: 110-240VAC
DC Input Voltage: 11-18VDC
Screen: 3.2″ color touch screen
Max Charge Wattage: 55 watts
Max Discharge Wattage: 5 watts
Charge Current: .1-7 amps
Discharge Current: .1-2 amps
Cell Balancing: Yes
Current Drain for LiPo Balance: 200 mAh
Weight: 1.2 lbs
Dimensions: 5.5 x 6.5 x 2.3″
Cell counts Ni-MH: 1-15
Cell counts Lipo: 1-6S
USB output: No
Fan: Yes
Temp probe: Yes, but not included
Part #: 44177
Warranty: Limited 1 year
Street Price: $99
Primary Competition: There aren't too many other touch screen chargers on the market. With that in mind, I think the touch screen chargers from Orion and iMax RC would be its closest competitors.
What's In The Box: X1 Touch charger, AC power cord, DC power cord, wiring with T-type battery connector (Deans), universal Lipo balancing adapter, and instruction manual.
Build Quality: All plastic construction but looked and felt fine.
Testers: Cubby, Tim, and Iron Mike
Set-up Notes: We used the X1 on both DC and AC power. We only charged Lipo batteries with the X1. We didn't use the included Dean's plug, we used alligator clips and a Traxxas connector for charging.
Ease of Use: Exceptional. The touch screen makes it extra easy to change settings and it took just seconds to learn/understand. Want to change the charge rate? Simply tap the screen. Want to change from Lipo to Ni-MH? Just one tap away. Even Iron Mike, who really doesn't get along with modern electronics, could easily operate the Hitec.
Power: 7 amps/55 watts is pretty average now days. It has much greater power than the wall charger that came with your RTR, but uber top-of-the-line chargers go upwards of 40 amps now days.
On track: Using blind testing, we attempted to feel a difference in the charge quality between the Hitec and our reference charger, a Hyperion 720 iNet3. After careful deliberation, we came to the conclusion that no, we couldn't really feel a difference. Both chargers provided strong charges and we simply couldn't tell which charger was used when driving on the track.
Bench Test- Quality of Charge:
All performance bench testing was done with a Pro-Match 2S 5000 mah Lipo on a West Mountain discharger. We compared the Hitec against our "reference" charger, a Hyperion 720iNet3. We did 5 cycles in a row to see how well the output voltage of a Lipo charged with the Hitec compared to it being charged on the Hyperion. The first cycle was a "warm up" of sorts and not counted. Run #1 we charged our test pack at 7 amps on the Hyperion, then discharged it at 30 amps to see how it performed. We then charged with the Hitec for run #2, then back to the Hyperion for run #3, then once again the Hitec on run #4. We allowed the test pack to cool to room temp between cycles, otherwise all five runs were back-to-back. All charging was done in "normal/quality" mode, not in fast charge mode.
Speed of 7 amp Quality Charge (time to charge up a pack):
Reference Charger: Run #1- 50 minutes 54 seconds, Run #3- 51 minutes 11 seconds
Hitec X1 Touch: Run #2- 59 minutes 55 seconds, Run #4- 60 minutes 34 seconds
Output voltage after charging at 7 amps:
Reference Charger (run #1, tested 4827 mah, 9:25 runtime)
2 minutes- 7.348 volts
4 minutes- 7.123 v
6 minutes- 6.981 v
8 minutes- 6.854 v
Hitec X1 Touch (run #2, tested 4578 mah, 9:12 runtime)
2 minutes- 7.348 volts
4 minutes- 7.129 v
6 minutes- 6.991 v
8 minutes- 6.841 v
Reference Charger (run #3, tested 4595 mah, 9:14 runtime)
2 minutes- 7.374 volts
4 minutes- 7.152 v
6 minutes- 7.013 v
8 minutes- 6.866 v
Hitec X1 Touch (run #4, tested 4561 mah, 9:10 runtime)
2 minutes- 7.371 volts
4 minutes- 7.150 v
6 minutes- 7.012 v
8 minutes- 6.857 v
Conclusions 7 amp Quality Charge- As I always note, our sample size is extremely small and therefore not scientific. From our limited amount of data it would appear that the Hitec takes longer to do a quality 7 amp charge than our reference charger. Output voltages appeared very, very, close, there was virtually no difference. Our test pack yielded slightly longer discharges/runtimes after being charged with the Hyperion. Overall- our test Lipo produced solid numbers compared to our reference when charged by the Hitec.
Misc Notes:
All the cords that come with the Hitec are nice and long. Kudos. The AC cord is plenty long, as was the balance board wires.
The Hitec doesn't come with a USB output. While not "really" needed, we've become accustomed to plugging in our cell phones at the track. This isn't a big deal to most people.
The "your charge is done" chimes are very pleasant to the ear on the Hitec. Not too loud, nor too irritating. The Hitec has what I would like to call a "polite" chime to alert you when the charge is done.
Loud fans are very irritating in the pits, thankfully the two on the Hitec are relatively quiet.
Seeing the measured IR (internal resistance) while charging your Lipo is just a tap of the screen away. Very handy for those people that live or die by a pack's IR.
The Hitec only comes with one connector, a Deans. Some other chargers come with several connectors. Deans are quite popular of course, but we would like to have seen more connectors or a simple set of alligator clips in the box.
The touch action on the screen works very well. No need to tap a half dozen times, it works pretty much as well as the cell phone in your pocket.
The screen on the X1 is easily readable in all in lighting conditions, even outdoors on a bright day.
The X1 comes with feet to raise the angle of the charger, thus making it easier to see and use. However, the feet aren't quite as tall as we would of liked. We found ourselves propping up the charger even higher to make it easier to use.
---
Summary:
A = Outstanding/Best in Class, B = Above Average, C = Average, D = Below Average, F = Horrific
Time To Bash: C The Hitec is super easy to use, but you might spend extra time soldering up your style of connector.
Car Show Rating: B The Bash Crew liked the looks, and especially the screen, of the X1 Touch.
Bash-A-Bility: A We dropped it off our pit table a half dozen times, we stood on top of it, we basically treated it like any good basher would, and today it works just fine. We had no issues of any type with the X1.
Power: C The Hitec comes in at 7 amps, about average for power now days.
Value: B A high quality touch screen, plus being super easy to use, make the $99 price point a good value in our eyes.
BigSquid Rating: B- We really liked the Hitec X1 Touch. The X1 provided quality battery charges, and we really enjoyed using its touch screen. Take one home, we think you'll enjoy it.