Review – IceStar XD drift tire and wheel set by FIRE Brand RC
From:Fire Brand RC
Direct Link: ICESTAR XD
Fire Brand RC is a new name on the market that specializes in RC accessories for the Basher/Scaler/Drifter crowd. The first thing that struck me about their products is how well everything is packaged and presented. These guys aren't some fly by night here today –  gone tomorrow type of operation, It's clear from looking at their product line up they are very serious about the image they project. They sent over some goodies to the BigSquidRC offices for us to check out and the first thing up on my list is the ICESTAR XD drift tire and wheel combo. Will these live up to my high expectations in quality drift tires and wheels? Read on and find out.
Review by – Evol
Pics by – Evol
Specs – 52x26mm, 12mm Hex, 3mm offset Wheel. Beveled Plastic "Blade" drift tires MSRP: $38.00
What's Needed To Complete Install: A drift car obviously. But they will bolt on just about anything with a 12mm hex.
Build Quality: the Icestars are a plastic wheel and plastic tire combo that come pre-mounted. The finish on the molding looks very nice. There are no burrs or flaws in the molding and the finish is uniform. The wheel offset is clearly printed inside the hex portion of the wheel which is nice for easy identification. The tire design called "Blades" are a medium soft ABS plastic. This product has a very premium feel to it.
Test Venues:
Kansas City RC Drift Movement club track. Very highly polished and sealed concrete.
Random parking lot with smooth black asphalt.
My private top secret drift facility (aka my garage) a rough dusty cement.
Set-up Notes: The Blade tire features a beveled inner and outer edge. This is a design that is very popular in modern drift tires. The beveled edge allows you to have better clearance on your body so you can get that flush look without the tire contacting the body. It also allows for better clearance on the front wheels while turning. The wheels I received are 3mm offset. I checked their website to see what other offsets are available and there is no information listed at all. It would be nice to be able pick and choose your offset to suit your body shell. Not all drift cars are the same width and it's having the proper offset that really makes or breaks the look of a build. General bashers probably won't be too concerned with this detail though and 3mm is probably the safest bet when fitting most drift cars out there.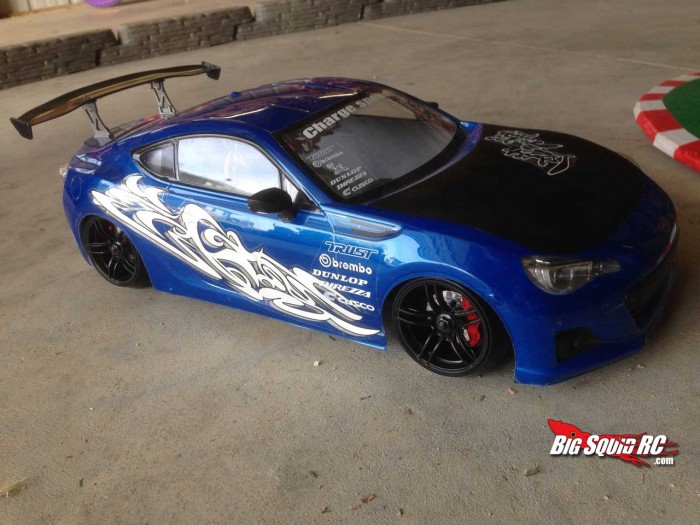 Appearance – This is a big one in drift wheels. The Icestars have a 5 spoke design that is very pleasing to look at. Our test units were in black but product notes state that they are receptive to polycarbonate paint. However I feel a few color choices would be nice out of the box. Most buyers who would pick up a pre-mounted drift tire and wheel combo probably would not be up to painting their own wheels as it would require dismounting the tire. That being said black goes with everything doesn't it?
Performance– It took me a little bit to get comfortable on the tires. A few warm up laps to scrub them in and I was able to hold long consistent drifts. The tire compound was a little bit hard for the surfaces I was driving on because it was very easy for me to oversteer and spin out on transitions. It took a little more care on corner entry to put the car where I wanted it. With more time I'm sure I could get used to them though as stated earlier they are very consistent. I'd place this tire somewhere between MST's medium and soft compounds. Post drift session wear was minimal. I'm certain these tires would last a long while on smooth surfaces.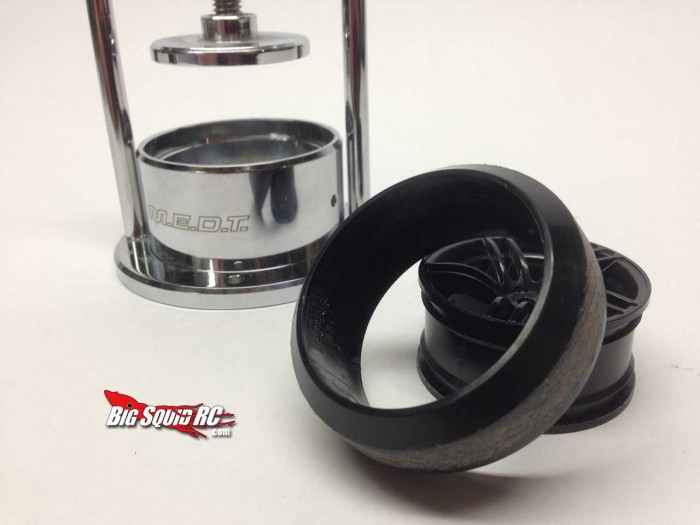 Summary:
A = Outstanding/Best in Class, B = Above Average, C = Average, D = Below Average, F = Horrific
Time to Bash: A
It doesn't get much better than pre-mounted. No boiling water here, pop them on your car and go.
Bash-A-Bility: B
Drift cars aren't notoriously fast so high impact crash breakage isn't common. It's usually more about the tire compound holding up and and actually keeping the tire on the rim. Everything held up well during testing with no issues to report. I quickly dismounted one of the wheels to see if there was any retention system such as o rings or foam to hold the tire on. The Icestars rely only on the close tolerance of the tire to the rim to hold them in place. The fit was very snug and I had no problems with them coming off of the rims during testing.
Performance: B
Consistent and durable. The compound may not be ideal for all conditions, but for the casual drifter I think they will perform just fine. They lack features of some of the other high end brands, but i'm not sure that is the market they are aiming for with these.
Value: C
MSRP on this setup is $38.00. Your average pro level drift tire and wheel setup from MST or Speedline will cost in the ballpark of 30 dollars, A bit more expensive than other high end brands.
BigSquid Rating: B
I like the quality of this product, The design is solid and they perform well. I'd like to see more offsets, colors and compound choices, but the company is very new. I have a feeling their catalog will be expanding quickly. I'll be watching with interest to see what they do next.