I'm no stranger to R/C upgrades, especially those for my collection of crawlers and trail rigs. While I try to experiment with different brands and upgrade options, there are times when I find an upgrade that just works, and I end up using it over and over (and over) again.
Injora's array of upgrade options for the Axial SCX24 is nothing short of amazing. On each of my five Axial SCX24s you'll find at least one Injora item…if not more. When they released their 1.0″ 9-spoke Deep Dish Stamped Steel Beadlock Wheels, I knew I had to get a set for at least one of my 1/24-scale machines. Thankfully, they were gracious enough to hook me up with a set for one of my SCX24 Broncos. If you're looking for a rugged, old-school wheel option for your tiny truck, here is my experience with these wheels.
Injora 1.0″ 0-spoke Deep Dish Stamped Steel Beadlock Wheel Specs:
Material: Steel
Outer Diameter: 27mm / 1.06in
Width: 14mm / 0.55in
Wheel Hub: 7mm / 0.28in
Each Weight: 15g/pcs (0.53oz)
Price: $19.99 (set of four)
What's Included:
4 Injora 1.0″ 9-spoke Deep Dish Stamped Steel Beadlock Wheels
Installation Hardware
1 Injora Sticker/Decal Sheet
Sold in sets of four, these 1.0″ Stamped Steel Beadlock Wheels are available in six different colors (black, gray, white, chrome, rose gold, and gold). My Bronco overhaul called for black wheels, but the white option caught my eye as well. When the wheels arrived, I was happy to see how well they were packaged; nestled securely in a foam insert.
Out of the box, these wheels are held together with two screws that use a 1.3mm hex head. Once those are removed, the wheel separates into four separate pieces: the outer face, the inner ring, the inner face, and the wheel hub. The internal beadlock system forms a tight fit between the wheel and the tire, and the center hub setup should be familiar for those of you who've used SLW hubs on 1.9″ or 2.2″ wheels.
Mounting the wheels to your choice of tires should be a straightforward affair. I'll emphasize should because your mileage may vary. Thanks to BigSung Hobbies, I discovered a great hack for aligning any type of beadlock R/C wheel and speeding up the mounting process. Bend a paper clip or other piece of small wire into a "U" and poke one prong into a bolt/screw hole while sticking the other prong end through the hole on the opposite side of the wheel. This will keep everything lined up and allows you to fasten your beadlock screws easily.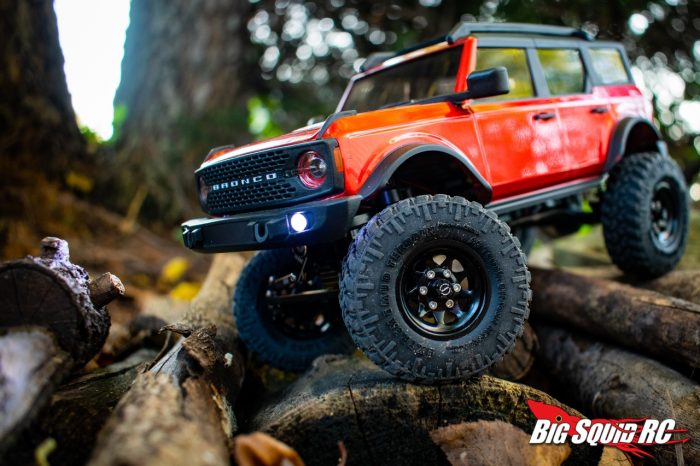 As I assembled each wheel, I paid close attention to any damage the wheel faces might have received, either from errant screwdriver pokes or other issues. Much to my surprise and delight, the powder coating on these wheels is quite thick and durable. I did see some light wear after backing a few of the fastener screws out, but this wasn't visible when all of the screws were tightened.
While the main aim of these wheels is appearance-based, they do offer a slight increase in weight as each wheel weighs 15g. If you're looking to add more weight to your small-scale rig, you could add Injora's 1.0″ 12g brass Inner Wheel Rings.
After getting my tires mounted and installed on my SCX24 Bronco, it was time to hit my front yard crawling spot and see how everything looked. It didn't take long before I found myself adding two more sets of these wheels to my shopping cart for other 1.24-scale upgrade projects.
What's the Verdict?
I'd be lying if I said I didn't love these wheels. They have a classic, rugged look that suits just about any type of small-scale R/C vehicle. From 1/24-scale crawlers to 1/18-scale trail roamers, you'll be hard-pressed to find a vehicle style that doesn't look good with these wheels.
The fit and finish is very good, and installation was quite quick. The fact that I have three sets of these wheels on various 1/24-scale machines should tell you something. Priced at $19.99 for a set of four wheels, you can pick up your own set of Injora's 1.0″ 9-spoke Deep Dish Stamped Steel Beadlock Wheels at injora.com.
Click Here for more Injora news on BigSquidRC.