Review – Kyosho AXXE Wireless LAN iReceiver Sand Buggy
THE Kyosho AXXE Wireless LAN iReceiver Sand Buggy Review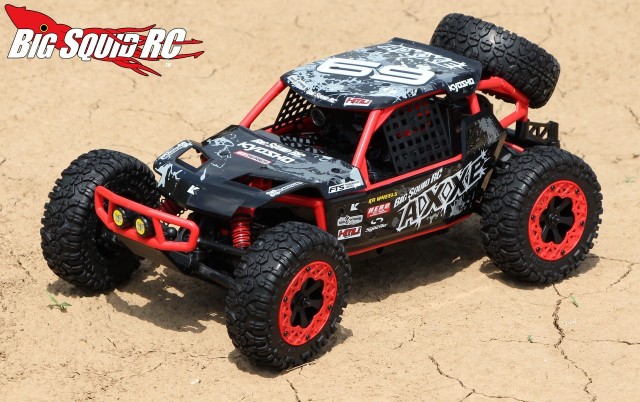 FPV, some say it's the future, some won't drive any other way, but most have little to no experience with it. Today we are taking a closer look at the Kyosho AXXE. The version of the AXXE we received is part of Kyosho's iReadyset series, it comes with their iReceiver and can be driven by a wide variety of Android and Apple devices. With the addition of an optional Kyosho camera, it is as close to a full out of the box FPV set-up that you can buy. Does the Kyosho deliver a good FPV experience? Is driving with your cell phone any fun? Hit the "Read More" button to find out…
From: Kyosho
Direct Link: AXXE Wireless LAN Version
Unboxing Pictures: BSRC Unboxes the AXXE
Review By: Cubby
Photography By: Tim Mohr
Specs:
RTR or Kit: RTR
Age: 14+
2wd or 4wd: 2wd
Electric or Gas: Electric
Waterproof: No (we tried and can confirm this, LOL)
Scale: 1/10
Length: 410mm
Width: 230mm
Wheelbase: 270mm
Motor: Brushed
Speed Controller: Kyosho
Low Voltage Cut-off: No
Radio: WiFi, Android and Apple devices
Differential: Gear type
Slipper Clutch: None
Driveshafts: Metal bones
Shocks: Plastic bodies, friction, includes oil upgrade kit
Servo Saver: Yes, at servo
Screws: Phillips
Spur/Pinion Pitch: 48 pitch
Tires: Kyosho Blackfire
Battery: Not included
Part Number: #30837T3WL-B
Top Speed (measured by BSRC): 21 mph on NiMH
Runtime: 7:45 on 1800mAh NiMH
Street Price: $159 ($248 w/ camera)
Primary Competition: Scale looking 10th scale 2wd buggies like the Pro-Line PRO-2 SCB and Associated SC10B
What's Needed To Complete: Apple or Android device, battery, and charger.
Build Quality: We found our AXXE to be properly assembled. We didn't find anything binding or leaking. Screws were tight but not stripped.
Test Drivers: Iron Mike, Sam The Noob, Hawaiian Chris, Tim Mohr, and yours truly.
Test Venues: RC Outlaws 8th scale outdoor off-road track in Collinsville Illinois, St Louis Dirtbuners 8th scale off-road track, a Costco parking lot, Minnie Ha Ha Park in Fenton Missouri, and St Joe State Park in Park Hills Missouri.
Set-up Notes: Friction shocks are standard on the AXXE, but inside the box was an oil upgrade kit. We promptly installed the upgrade and never drove the buggy with friction shocks. We used a wide variety of devices to control the AXXE. We used a half dozen different Android devices and one Apple 5 series phone. For charging duties we used a Hitec X1 Pro. We used a wide variety of batteries while testing the AXXE from an 1800mAh ECX NiMH, to an ARRMA 5000mAh NiMH, to a 6500mAh 2S MaxAmps LiPo.
Turning: We found the AXXE tended to push/understeer in corners. The rear would generally stay planted, while the front had some push at corner entry. At the apex and corner exit, the front end of the AXXE was more planted, but it took a stabbing of the brakes to get the front end to set for tight 180s.
Jumping: Because of a soft power system you won't be catching a whole lot of air with the AXXE, but when it does get airborne, it tended to jump relatively flat. The AXXE isn't the most stable on take-off and it tended to bounce a bit upon landing. Still, the AXXE is a suitable machine for learning how to jump.
Bumps/Whoops: We don't want to think what the AXXE would have been like with friction shocks, luckily we only drove it with the benefit of oil damping. That being said, the front shocks are right in the ballpark, both spring and damping wise, but the rear was underdamped, making the rear want to swap around in the rough.
On-Road: The AXXE has some push on-road which not only made it easy to drive, but also kept it from traction rolling. The AXXE wasn't fast, but it got around just fine on pavement.
Grass: We were able to cruise around in short grass with no issues. The tires hooked up well on grass, but limited ground clearance and power kept the AXXE from pounding through even moderately tall grass.
Tires: We liked the included Kyosho Blackfire tires. They have a nice off-road look and provided good traction on dirt, grass, and pavement.
Power: The power plant in the AXXE is soft and controllable. Power right off the bottom is weak which rolls into a modest mid-range hit that signs off early at a 21 mph top end. It is so soft off the bottom that it is hard to throw roost on dirt, but there is enough power available to make smaller jumps at the track. Noobies will be perfectly at home with the power, experienced hobbyists will be looking to upgrade ASAP.
Radio: Rarely is the "radio" portion of a review the most important, but that is the case here. The big news with the iReadset/iReceiver/Wireless LAN version of the AXXE is how you control it, via your cell phone/tablet. This is a "neat/hi tech/cutting edge" feature, but how did it work in the real world? Cell phones are great for making phone calls, great for sending text messages, and great for checking email, but they are not a great rc car controller. While the controls were easy enough to use, because of them being on a touch sensitive screen, you just didn't have the fine control over the buggy that you would have with a normal pistol type controller. The first few minutes using a cell phone as a controller feel especially alien, but even after a dozen packs you still can't control it like you would with a pistol. We found that the Kyosho iReceiver set-up worked as it was intended, but was held back by the cell phone screens that we used it on.
However, there is a big upside to using cell phones as a controller, everybody has one. We found it exceptionally easy to download the iReceiver App and get it up and working. Then it was quite nice for everyone that wanted to drive the AXXE to simply walk up, latch their wireless network to the AXXE, and simply start driving.
To boil all down- the iReceiver set-up is different, it works ok, but is harder to drive with than a normal transmitter.
Broken Parts: We did not break any big parts on the AXXE, but we did have trouble with the drivetrain. We stripped out the stock pinion under moderate use, then ended up blowing something inside the tranny after we installed a Robinson pinion.
Misc Notes:
The tires are well clamped down on the outside bead, but not on the inside. All four of the tires on our test unit came out on the inside bead. We would recommend gluing all the beads before driving the vehicle.
With this being an EZ Series machine, it is intended for new hobbyists. Still, that is no excuse for the large amounts of slop found pretty much everywhere on the buggy.
We mounted up the optional Kyosho camera to our AXXE, how did it work? It worked ok. On some devices the video feed was too clunky to allow for FPV (first person view) driving, but on others the video feed was fine. On the better end of the spectrum the feed was clear with very little lag, on the worse, it could take a second or two for the video feed to update, making it undrivable via FPV. Is the camera worth it? Well the camera isn't that expensive ($89), and if you've never driven FPV, it can give you a real taste of what it feels like.
What was the funnest thing about our AXXE? Driving around with our camera equipped model and taking various pictures and videos. We took loads of "selfies" (as seen in gallery 3, picture #1), and loads of video of various obstacles from the first person perspective. Our camera equipped model gave a whole new dimension to driving, which of course was a LOT of fun.
Also on the note of FPV driving, the steering and throttle controls are right in the way of camera feed, making it difficult to see where you are driving. We may have preferred that the steering/throttle buttons have been left off the screen completely, using only the tilt functions on the phone to control buggy, thus leaving the entire screen for the video feed.
Just FYI, the iReceiver set-up works off the wireless network part of your phone, not Bluetooth.
We walked off range at a 180 foot radius while using one of our Android devices. 180 feet isn't a huge number, but it is more than enough for "normal" bashing.
The body doesn't come off with body clips, in fact it takes 6 screws to get the body off. Thankfully that is not often required because of the bottom load battery tray.
The AXXE is not stated to be waterproof and we found out that indeed it is not. We are so used to most vehicles being waterproof that we didn't even think to avoid water holes, we pounded through them. This lead to an early death of some electronics. The moral of the story is, keep your AXXE out of the water.
The hood on our buggy kept falling off, even under light use. It isn't mounted on very tight and liked to go flying off all the time. It just takes a second to pop it back on, but still, it needs a better mounting system.
The AXXE comes with the number "69" on the roof, nice to see someone at Kyosho has a sense of humor.
We are generally not fans of bottom mount battery trays, but the one on the Kyosho worked ok. It made battery changes super fast and had enough room to use every "normal" sized pack we had in our pit bag.
We found the steering did not like to center well. On one pass down the straight it would pull to the left, on the next it would pull to the right (without making any "radio" changes).
---
Best Mod Under $5: The stock plastic pinion is for the birds, buy a Robinson to eliminate a sure problem.
Best Mod Over $5: A good battery. The stock motor doesn't have a lot of yank, a battery that holds decent voltage will feel a lot faster than some Joe Blow low mAh pack.
---
Summary:
A = Outstanding/Best in Class, B = Above Average, C = Average, D = Below Average, F = Horrific
Time To Bash: B It didn't take long to download the iReceiver App to our phones, nor did it take long to get the AXXE up and running in general.
Workability: C It takes 6 screws to get the body off and we were not fans of all the Phillips hardware.
Car Show Rating: B All of test crew liked the looks of the AXXE. While not perfectly scale authentic, it had a cool off-road look that all our reviewers liked.
Bash-A-Bility: C It didn't take much bashing to trash the stock pinion on the AXXE.
Fun Factor: B We talk about this more in the "misc" area above, but to boil it down we had a total blast taking selfies and various videos with the AXXE. Because of the iReceiver and camera set-up, the AXXE was different than any other vehicle we've ever tested, and in a fun way.
Handling: C The AXXE isn't stellar in the handling department, but it isn't terrible either.
Value: B This is a tough category to score because there is really no other machine like it. Did we have fun? Yes. Was it affordable? Yes. Therefore we gave it a good score for value.
Parts Availability: C Kyosho parts, especially for the EZ Series, aren't on the pegs at most local hobby shops. However, the base platform has been out for a long time and parts are easily available on-line.
BigSquid Rating: B- The Wireless LAN equipped Kyosho AXXE is like nothing else we've ever driven. On the upside, it brings a whole new type of fun to the plate with its new age control system and FPV capability. On the downside, all the new age tech is latched to an old school noobie platform. Using a cell phone as a controller can be frustrating, but if you are the type that prides yourself on being an early adopter, or just want an affordable taste of FPV, the AXXE should be considered a buy. If you are looking for a truly refined FPV experience, you'll want to look to the aftermarket or wait for future offerings.