Review – Kyosho Rage VE 4WD RTR Buggy
THE Kyosho Rage VE 4WD RTR Buggy Review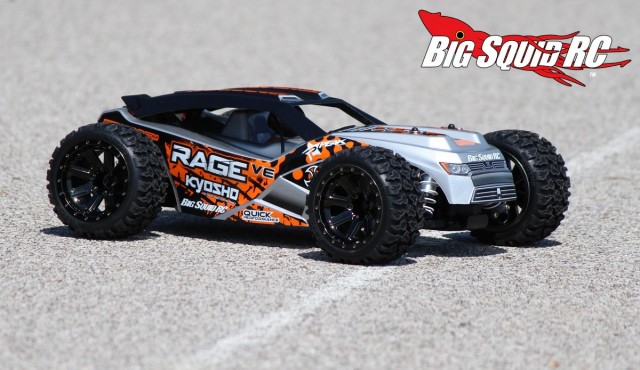 The Kyosho Rage VE is one outrageous looking machine. Part moon buggy, part bash machine, the Kyosho Rage has sparked a lot of interest within the bashing community. Today we'll be taking a look at the Kyosho Rage and really putting it through its paces. It is intended to be an introductory level hobby grade machine, is it a good buggy to get started in the hobby with? Does it break easily? How does it drive? Hit the "Read More" and lets find out…
From: Kyosho
Direct Link: Rage VE
Unboxing Pics: BSRC Unboxing The Rage VE
Review By: Cubby
Pics By: Cubby
Specs:
RTR or Kit: RTR
Age: 14+
Waterproof: Yes
2wd or 4wd: Shaft 4wd
Chassis: Plastic
Electric or Gas: Electric
Scale/Size: 1/10th
Radio: 2.4 GHz KT200
Speedo: Orion R10 One
Motor: Orion brushless, non-sensored 2400kv
Driveshafts: Metal bones to wheels, plastic center shaft
Shocks: Big bore, aluminum, oil filled
Screws: Phillips
Length: 395mm
Width: 280mm
Wheelbase: 272mm
Tires/Wheels: Kyosho All Terrain
Battery: Not included
Part Number: #30992T1B
Top Speed (measured by BSRC): 26 mph on 2S Lipo
Street Price: $299
Primary Competition: Good question, there just aren't many 10th scale 4wd moon buggies on the market. After some thought, we would compared the Rage to other 4wd bashers around the $299 price point like the Traxxas Telluride and Helion Invictus, or to other 10th scale bash buggies like the ECX Boost or ARRMA Raider.
What's Needed To Complete: Four AA sized batteries for the transmitter, 2S Lipo or 6 cell Ni-MH for the car, and a battery charger.
Build Quality: Plastic quality looked good, shocks were filled and not leaking. Gear mesh was spot on.
Test Drivers: Cubby, Brian, Tim, and "Iron" Mike
Test Venues: RC Outlaws in Collinsville Illinois, City Park in Belleville Illinois, a CostCo parking lot and a local cul-de-sac.
Set-up Notes: We cut off the stock Tamiya connector and soldered up a Traxxas. We popped in four AA Venom batteries into the transmitter. As the main power source we used a ProTek 2S 7000 mah Lipo battery. For charging duties we use a Hitec X1 touch screen charger.
Turning: The Rage had a bit of oversteer, not so much as to make it hard to drive, but just enough that the rear gave out before the front did.
Jumping: There is no center diff in the Rage, just a slipper clutch, thus the Rage was quite sensitive to throttle or brake input while in the air. The light damping and low ride height made for some hard landings, but overall, it flew fine. It tended to jump fairly neutral, not nose high, nor nose low, requiring minimal corrections in the air. The biggest drawback was the lack of over-rev, if you did go into a major endo there wasn't enough rpm on tap to pull out of it.
Bumps/Whoops: The Rage comes with larger tires than a typical 10th scale buggy and this helped it get through the rough.
On-Road: The Rage didn't traction roll and seemed to behave in a decent manner when driven on the paved stuff.
Grass: Compared to other 10th scale buggies it had decent ground clearance, compared to other bash machines at its price point, not so much. The tires gave good traction in the green stuff, but if you do most of your running grass you might want to look at more of a monster truck.
Off-Road: The best place the Rage handled was in soft loamy dirt, there it seemed to be in its element. It wasn't spectacular at anything, but it didn't have any major downfalls either. If anything, its low center of gravity made it easy to drive, there were no worries about traction rolling.
Tires: The tires on the Rage wore slowly and gave decent grip on a wide variety of surfaces. The tires were molded out of a somewhat hard compound, so don't expect a lot of mechanical grip, but their intermediate type tread worked decent on most any surface.
Power: The Orion non-sensored speedo came programmed quite soft on the low end, with a noticeable hit in the early mid-range that tapered off to a short lived top-end. Did it have good power? Yes, enough for big roost and getting up to it's top speed quickly. It even had enough power to huck some decent sized jumps. But… with the soft low end and not much top speed, it wasn't the kind of power we are used to from a brushless power-plant.
Radio: We had good luck with the included 2.4 GHz radio system. We experienced no glitching and the range proved quite long. The radio was quite light in hand, and the balance felt fine. We weren't fans of the distance of the wheel from the trigger, it is a long ways away, sort of like a Traxxas TQ, but it's something you can live with.
Broken Parts:
The pinion came off on the second pack. Putting it back on wasn't hard, but setting mesh was no cake walk. The pinion/spur area is nearly completely enclosed in plastic, thus making it hard to see.
The first and only plastic part we broke was the front battery bar post. The post is not only the mount for the battery bar, but it's also what keeps the battery from slamming towards the front of the chassis on endo landings or when hitting things. We endo'ed a couple of small jumps and broke the post off at the chassis, after that we had to use zip-ties to keep the battery in place.
We had a hinge pin at one of the rear wheels that backed out from time to time.
Misc Notes:
We recorded 36 minutes of run-time on the Rage when using a ProTek 2S 7000 mah Lipo battery. That is the longest we've ever recorded on a test vehicle.
The head on our driver figure came backwards. We left it that way, we figured he didn't want to see what we had in store for him anyways.
The Rage had some slop in the front end but tracked ok in a straight line.
We were a bit skeptical when we saw the Rage uses a plastic center driveshaft. During testing the shaft did get twisted, and it had wear marks on it from rubbing on the end of the brushless motor during hard landings.
The stock body pins are less than optimal. We lost ours as quickly as possible and went to larger units that were easier to use and easier on the fingers.
Best Mod:
We would recommend going to a higher quality steering servo. The stocker works ok but a higher performance Hitec will be faster and have more power to throw around the front wheels.
---
Summary:
A = Outstanding/Best in Class, B = Above Average, C = Average, D = Below Average, F = Horrific
Time To Bash: B There isn't much in the way of set-up time, and we preferred the fact that it didn't come with some low end battery and wall charger that we would never use.
Workability: C We were not a fan of the Phillips head screws, and the motor mount/enclosure made it harder than it needed to be to adjust gear mesh.
Car Show Rating: B The graphics were sharply done on the outside of the body and the wheels and tires both looked sharp. However, the Rage VE is a love it or hate it kind of deal. After talking with the Bash Crew most of us really liked its futuristic look.
Bash-A-Bility: C We broke one plastic part on the Rage and our pinion came off, but otherwise it took a pretty good beating without many issues.
Fun Factor: B The Rage was a decent bash machine that drove well but didn't do anything flashy.
Handling: C The Rage VE doesn't do anything horribly bad or extremely well, just a solid driving machine.
Value: B It is brushless, it has a 2.4 GHz radio system, and bashes pretty good for the money.
Parts Availability: C Some LHS owners do carry a decent inventory of Kyosho parts but many do not. Kyosho parts aren't too hard to get on-line.
BigSquid Rating: B- The Rage has unique looks and was fun to blast around with.
Want to see the Kyosho Rage in Action? Check out this quick video we shot during some of the testing..