Review: Little Guy Racing Parts TORQ Series 101 1.1" Beadlock Wheels
Making a radio-controlled rig your own, no matter the size is always fun. Whether it's a new set of tires, wheels, a body, or accessories, there's no shortage of ways you can make a machine your own. When it comes to smaller-scale R/C trail trucks, the booming aftermarket scene has provided a seemingly endless array of options. One of the newer names on the small-scale aftermarket scene is Little Guy Racing Products. Known for their high-performing tires and chassis conversion kits, they also offer a variety of wheels, including their latest creation; the TORQ Series 101 1.1″ Beadlock Wheel.
With its modern styling, this is a great wheel option for many 1/24 and 1/18-scale R/C models. From the moment I saw the release announcement for them, I knew I had to pick up a set to throw onto one of my rigs.
Installation
Beadlock wheel installations can be a bit tricky, but I'm happy to report that LGRP's TORQ Series 101 Wheels might be some of the easiest I've had the pleasure to work with. Six screws hold the inner and outer wheel faces together and they align and assemble quite easily. After the first tire and wheel pairing was complete, I wasted no time in mounting the remaining three wheels and tires.
The TORQ Series 101 Wheels include brass inner rings and brass wheel nuts that double as wheel nut caps. Depending on the size of your vehicle's axle shafts, you may not be able to utilize LGRP's brass wheel nuts.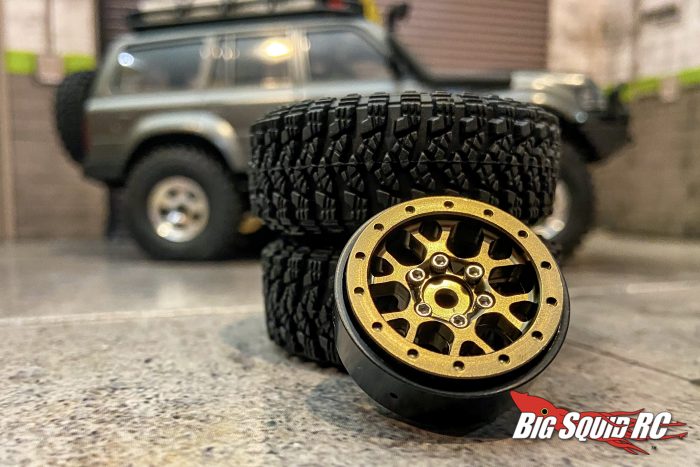 Appearance and Performance
I paired these wheels with a set of Injora's 1.0″ crawler tires, which would then be mounted to a 1/18-scale ROCHobby Katana V2. Weighing 23.56g each, these wheels are a great way to add weight to your small-scale trail machine. Even the Katana V2, which I wouldn't describe as being a lightweight machine in stock form, benefits from a little added weight. Especially down low.
While the design of these wheels is quite modern, they would look great on just about any trail truck. The LC80-inspired body of the Katana V2 is no exception, and the gun metal wheels look amazing against this rig's gray exterior.
On the performance front, these wheels help keep my rig grounded, and I didn't experience the number of rollovers or near-rollovers that I had in the past. Added performance and amazing looks…what's not to love?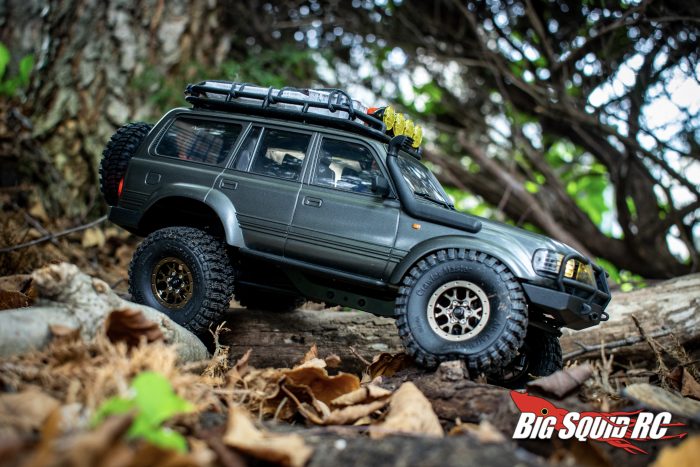 The Final Verdict
Having had experience with several small-scale R/C crawler wheels, I can safely say that Little Guy Racing Parts' TORQ Series 101 Wheels are one of if not my number one, favorite. The style is eye-catching, and the fit and finish is flawless.
From the aluminum exteriors to the internal brass ring, these wheels bring a strong style and performance boost to just about any small-scale R/C crawler or trail truck model. Since ordering my first set, I've been waiting for them to be restocked so I can buy another set…or two. They're that good.
Priced at $39.99 for a set of four, the TORQ Series 101 Beadlock Wheels are available for purchase at littleguyracingparts.com.
Click Here for more Little Guy Racing Parts news on BigSquidRC.