THE Losi 1/5th Desert Buggy XL Review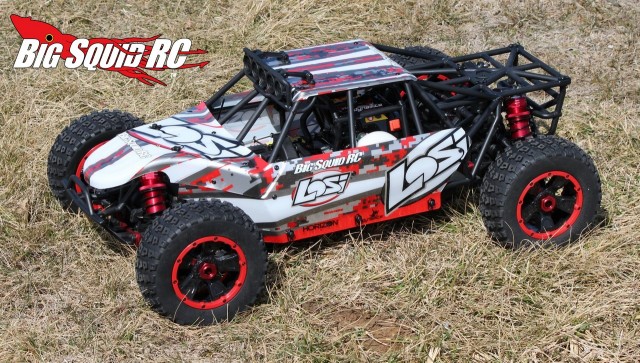 5th scale was once only popular overseas, but now, thanks to companies like Losi and HPI, it has blown up here in the states. Today we'll be taking a closer look at Losi's latest 5th scaler, the Desert Buggy XL. Powered by a 23cc gas engine and using 4wd for better traction, the big Losi should be a great bash machine, but is it? Hit the "Read More" button to read what we found out about the DBXL…
From: Losi, Horizon Hobby.
Direct Link: Desert Buggy XL
Review By: Cubby
Pictures By: Tim Mohr
Specs:
RTR or Kit: RTR
Age: 14+
2wd or 4wd: 4wd
Shaft or Belt: Shafts
Electric or Gas: Gas
Waterproof: The servos are not waterproof.
Scale: 1/5th
Length: 30.75″
Width: 19.1″
Wheelbase: 22.0″
Motor: Gas, 23cc pull start
Radio: Spektrum DX2E
Differential: Gear
Slipper Clutch: No
Driveshafts: CVD
Shocks: Oil filled, aluminum bodies
Servo Saver: In rack
Screws: Metric hex
Bearings: Yes
Battery: Receiver pack, 5 cell, 1700mAh
Weight (measured by BSRC): 29 lbs dry
Part Number: #LOS05001
Runtime: Long… LOL
Warranty: "free from defects in materials and workmanship at the date of purchase"
Street Price: $999
Primary Competition: Losi 5IVE-T, HPI Baja 5B
What's Needed To Complete: Not much, Losi includes pretty much everything except for a battery charger for the receiver pack, gasoline, and a fuel can. Two stroke oil is included, as is a receiver pack for the buggy and 4 AA cells for the transmitter.
Build Quality: We gave the Desert Buggy XL the twice over and didn't find anything loose or missing. The suspension seemed to have some binding, but that appeared to be more of a design problem than a construction flaw.
Test Drivers: Hawaiian Chris, Iron Mike, Tim Mohr, Sam The Noob, and yours truly.
Test Venues: RC Outlaws in Collinsville Illinois, CostCo parking lot, and a local cul-de-sac.
Set-up Notes: We used the included oil pre-mixed to the recommended 25:1 with 89 octane pump gas. To charge the receiver pack we used an iCharger 308 at 1.5 amps.
Turning: The big Losi exhibited some push when cornering. It didn't matter the surface, it lightly understeered on grass, gravel, and on dirt. If anything, the understeer made it easy to drive, but made it hard to make tight corners. Our testers felt the stock servo was a bit underpowered, but did a good enough job that it did not need immediate replacement. Also, when cornering in soft conditions the DBXL would often times traction roll when aggressively turned at speed. The tall sidewalls of the tires tended to fold over at speed, which then allowing the wheels to dig into terra firma, thus causing a traction roll.
Jumping: Our test buggy got a lot of airtime, it's in our DNA. We hit various rigged up ramps, dirt piles, etc, and for its girth the Losi did ok in the air. Jumping was much like you would expect from a big, heavy 4wd 5th scale- it wasn't agile in the air, but tended to fly flat and responded well to trigger input for corrections. Landing the beast went better than expected, the stock suspension soaked up big landings without issue.
Bumps/Whoops: The DBXL exhibited some huck-a-buck in rough sections, meaning the rear end tended to hop around. While the front seemed well behaved in the nasties, the rear would often pop upwards and sometimes kick to the side. Yes, it can pound through some huge whoops, but it can get hairy when hitting them WFO.
On-Road: The Desert Buggy is a beast when run on-road. It does fine, but isn't exactly quick, it is what it is, a 29 pound monster. Acceleration and braking were a bit soft. You can get it to traction roll when catching edges, but otherwise it goes where you point it.
Grass: While the DBXL was conservative on-road, it was an animal in grass. If grass is your thing, the Desert Buggy XL is one of the best vehicles you can buy. Those big tires, a respectable amount of ground clearance, and decent power makes it a freak'n animal in grass. The most fun we had with the DBXL was simply ripping back and forth in a big, bumpy grass field.
Tires: As mentioned above, the sidewalls are a bit soft for hard cornering, but they offer good all-around grip. They work decent just about everywhere- pavement, grass, gravel and dirt. Plus, they have more of a scale look than some of the other tires on the market.
Power: There has been a lot of talk on the internet that the stock 23cc powerplant just isn't up to the job. Well, here is the scoop. Unlike some other gas engines, the Losi unit needs to be treated a bit like a nitro engine, meaning you need to actually spend the time to make sure it is tuned properly. Once tuned properly we found it had more than enough power to be fun. No, it's not as fast as what comes with other 5th scale vehicles, but it's not so slow that it needs immediate replacement. Also, we got great gas mileage from the DBXL. We intended to do a runtime test, but we drove it forever and it still had a half tank left, so we simply gave up.
Radio: A Spektrum DX2E comes standard with the DBXL and we noticed it gives better range than older Spektrum units. The range was good, which is a MUST on a 5th scale, and we experienced no glitching. The ergonomics are ok, we just wish it would come with foam on the wheel for the money.
Broken Parts: We drove the Desert Buggy XL like we stole it from the get-go, and had very, very little breakage. We flipped, rolled, and had many a cringe worthy moment with the DBXL without any breakage at all. So then ya, we had to up the ante. Getting the 29 lb DBXL up on a roof wasn't easy, but had to be done for testing reasons (ya right!!! LOL). Hawaiian Chris ended up doing two roof jumps, both times landing on all four wheels and driving away without even a hint of an issue with the buggy. Finally, it took a full speed run into a vertical piece of pavement to break the DBXL. We happened to slam an 8″ tall slab of pavement with the front right wheel, breaking the CVD at that corner. Surprising, that was all that was broken. Seriously, the DBXL can take some abuse.
Misc Notes:
The entire roll cage comes off by removing a dozen body clips, allowing easy access to all the running gear and engine. This rocks, major kudos to the Losi crew on this.
We noticed a lot of binding in the suspension. We didn't dig into investigate, mainly because the suspension worked fine when driven.
The DBXL comes with weird body clips. They are big, and don't come off (or go on) easily.
We came across a couple of issues with our test buggy, the biggest being it did not want to start out of the box. First we found our fuel lines were reversed from the factory. The "yellow" fuel line with the clunk in the tank was attached to the top of the carb, when it needed to be on the bottom. This was quick and easy to fix, no biggie. Next, while the outer air filter was dry, the inner was over saturated with oil. Once again, that was an easy fix, we cleaned the inner filter and lightly re-oiled it. Lastly, our carb was set way, wayyyyyyyyyyy too rich. The ultra-rich carb was flooding out the engine. We leaned it out significantly before it would even attempt to start. Once started, we had to lean it even more before it would produce enough power to actually move. If you are an experienced hobbyist, you can most likely get the engine started, if you are a noob to the 5th scale game, chances are you will need some assistance.
After break-in we ended up with our carb set at- 1 1/8 turns out on the low end, and 1 3/16 out on the high speed (60F, 30% humidity, 400 feet above sea level). Once the issues were taken care of the Losi started right up without issue.
The second "issue" with our test unit was weak brakes. The brakes are quite weak out of the box, and the more you drove it, the more they faded away. At around the 10 minute mark in a run our test buggy had virtually no brakes, not a good thing on a 5th scaler. However, we were having so much fun we never let that keep us from driving, we just had to pay extra attention to not hit anything/anyone.
Best Mod Under $5: The stock "box" exhaust blows goo all over the inside of the body, an exhaust tip that extends past the body would be our recommendation for a $5 hop-up.
Best Mod Over $5: A more powerful throttle/brake servo. While we haven't tested it, our guess is that a more powerful servo will give the buggy more brakes which it desperately needs.
---
Summary:
A = Outstanding/Best in Class, B = Above Average, C = Average, D = Below Average, F = Horrific
Time To Bash: C Getting the buggy started for the first time isn't as fast as it should be, otherwise it just takes charging up the receiver pack and installing the AAs in the transmitter.
Workability: A The DBXL is one of the easiest to work on 5th scalers that we've tested. The cage comes off easily for fantastic access to the running gear, all of which is well laid out for wrenching.
Car Show Rating: B The BSRC Bash Crew like the sharp graphics and tire/wheel combo on the Desert Buggy.
Bash-A-Bility: B Yes, we broke one part on the Desert Buggy, but we had to get extreme to do so.
Fun Factor: B The large size and decent power made the DBXL a blast to drive, had it come with better brakes it would have scored even higher.
Handling: B The DBXL might not be the very best handling 5th scaler out there, but it is easy to drive and its 4wd helps it get through some insanely rough terrain.
Value: B The Losi comes at a reasonable price point for a 4wd 5th scaler, $999, and had it not coming with starting issues it would have been an A in the category.
Parts Availability: C Not many hobby shops stock Losi 5th scale parts, but they are easily available on-line.
BigSquid Rating: B The Losi Desert Buggy XL is tough, fun to drive, and worth the cash if you are experienced with tuning gas engines.