The solid axle monster truck scene has really heated up in recent years, and now Losi is throwing their hat in the ring with an ambitious new vehicle- the 1/10 LMT RTR Monster Truck, fully licensed by Monster Jam. How does this replica of the infamous Son Uva Digger full-sized rig hold up? Is this truck a revolution for this expanding niche of the hobby, or it is just an average truck wrapped up with a pretty paint job? Read on to find out…
From: Losi
Direct Link: Losi LMT RTR Monster Truck
Unboxing Video: Big Squid RC Unboxes the Losi LMT
Video Review: Trigger King R/C Losi LMT Review
Review By: Doug Welker
Video/Photography By: Danny Maass (Maass Media), Bob C. Chandler & Doug Welker
Specs:
RTR or Kit: RTR
Age: 14+
2wd or 4wd: 4WD
Shaft or Belt: Shaft
Electric or Gas: Electric
Waterproof: Electronics are rated as WP.
Scale: 1/10
Length: 22″
Width: 15.4″
Wheelbase: 13.5″
Wheel Hex Size: 17mm
Weight: 10.9 lbs without battery
Motor: Spektrum Firma 3150kv 4-Pole Brushless Motor
Speed Controller: Spektrum Firma Smart 130 AMP
Low Voltage Cut-off: Yes
Radio: Spektrum DX3 2.4 ghz
Differential: Gear, fluid filled
Driveshafts: Plastic
Shocks: Oil-filled
Servo Saver: Yes
Screws: Hex
Bearings: Yes
Tires: Licensed BKT Monster Truck Tires
Battery: Not Included
Part Number: LOS04021T2
Bashing Specs:
Wheelie on demand: Yep, on 3S it does quite easily on high bite.
Backflip off ramps: Yep, on 3S very easily. You can on 2S as well if you have the right lip.
Stability Control: No
Sound Module: No
Self-Righting: No
FPV: No
Top Speed: 34 mph as recorded by us on 3S
Runtime: About 15 mins on a 5000 mah pack.
Street Price: $599
What's Needed To Complete: You'll need a 2 or 3S Lipo battery as well as 4 AA batteries for the transmitter. Reckon you'll need a charger as well.
Build Quality: Our early release unit that we have had in our mitts for about two weeks now came out of the box the right way. All the hardware was cinched tight, good gear mesh, and the diffs were full of fluid. Shocks felt smooth. It was set up nicely.
Test Drivers: Danny Maass, Bob C. Chandler, Claude Buster (aka Chris Blank) and yours truly.
Test Venues: St. Louis Dirtburners in Kirkwood, MO, as well as various parking lots and yards.
Set-up Notes: The LMT was run completely stock with no additional changes made to anything. We used both 2S and 3S batteries.
Turning: There is no doubt about it, this is the best in class handling solid axle monster truck that's ever been released. In some ways this is major praise, but given how poor some of the previous releases in this segment handle in stock form, maybe not, LOL.
Seriously though, the weight of this truck coupled with a good servo, great steering angles and beefy front and rear sway bars keep this machine PLANTED. If you are wanting to drive an r/c vehicle that handles in the way a full size monster truck does, look no further.
The knuckles allow for a large amount of turning radius. You also don't run into issues with the tires knocking the four link bars like on something like the Axial SMT10.
Our testers all liked the stock servo as well. Another shocker. We found the truck pretty responsive and the servo saver also did its job well.
Grass: The Losi LMT and its tall stance plow through grass with absolutely no problem. We tested the truck in early November and the grass was full of freshly fallen leaves. The Losi mulched them just the same. It's an animal in grass.
Bumps/Whoops: The LMT can pound whoops and soak up bumps with ease. The sway bars keep it pointed where you wanted to go and it has a plush enough suspension to not get knocked off-camber during rough stuff. Most of testing was done on a 1/8 scale off-road track and it had no issues with it, whatsoever.
On-Road: On-Road isn't usually the most fun for any kind of monster truck, but if you want to do it up on cement you'll find the Losi is pretty equipped for it thanks to the aggressive stance and low center of gravity. Thanks to the limited slip-style capabilities of the fluid filled diffs, you can get some nice full-scale drifts going on on the pavement. Be aware that black body isn't gonna like roll-overs on pavement, though!
Jumping: The LMT launches and lands just like a full size monster. We found that when launching moon-shot style that it can be a bit heavy on the rear, but the brakes are VERY responsive and once you get the brake/throttle rhythm down, you'll have a freaking blast. Again, it's authentic to a real Monster Jam truck.
The landings are really impressive. The tires and foams do a remarkable job of letting the suspension do it's work with minimal bouncing. The truck settles quickly so you can be on throttle again.
Tires: The licensed BKT tires were really nice on a variety of terrain, and the included foams coupled with the short course style smaller OD/ larger ID combo made for a truck that landed great! The compound, while not really comparable to Pro-Line R8 or JConcepts Blue, both the standards for high performance solid axle trucks, these were still pretty good.
We also found out that they resisted ballooning even as we were making mid 30 mph road passes on 3S.
Power: Ah yes. This is a fun part of the review. The long can Spektrum 3150kv motor is a mill fit for a monster truck. It ran cool for us on both 2 and 3S. The truck has a ton of low end grunt to get it moving, and enough high end to carry some speed. More on the 2 vs 3S in the Misc Notes below.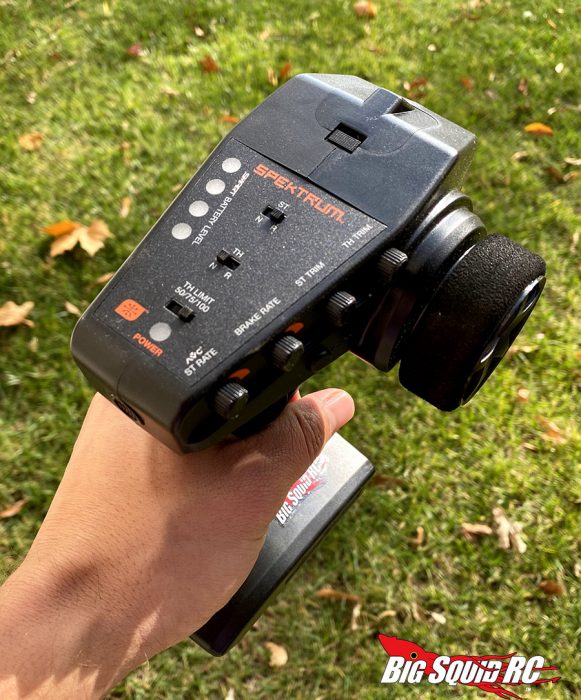 Radio: The Spektrum DX3 Radio is a good RTR option with a variety of tuning options and it comes with a foam wheel. The receiver is a Spektrum 3 channel 315 that will bind up to various other Spektrum systems, so if you run one of those radios you can get it set to it pretty quickly.
Broken Parts: We didn't break anything which is really impressive. One of the wheels now rotates slightly off center so something appears to be slightly tweaked, but the truck still runs fine. You can watch the video review and see the hard landings this thing took. It's a freakin' tank and the durability of the LMT is extremely impressive.
Misc Notes:
Our testers preferred driving the LMT on 2S versus 3S because of the remarkably scale experience. The truck becomes overpowered on 3S which many bashers will surely love, but 2S still had plenty of power but allowed it handle damn near like a full sized rig. The power distribution and ability to perform tricks this way just seemed dead nuts.
That wheelie bar on the back isn't just for show- it's functional, tough and completely needed. This truck likes to spend time on the bar!
In talking about jumping the big Losi, it's remarkable how your trigger finger will start to mimic the foot pedal of a full sized Monster Jam driver. Due to the weight and power on tap, the truck works great when you continually stay up on the throttle and burp it. You definitely need to do this when jumping. Once you get the hang of it, it's a very zen like experience to this hardcore monster truck fan. You develop throttle rhythm which is crucial to how the big boys do it. Given that this is a replica of Ryan Anderson's Son Uva Digger, it's fitting. The Anderson clan is well known for having arguably the best throttle control in the history of professional monster truck racing, and you can live and learn it on the LMT. This is really, really cool.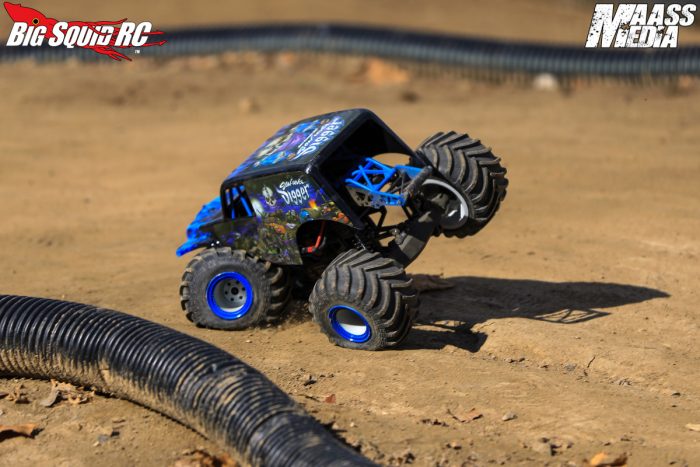 The Son Uva Digger body looks great, but the sides had slightly faded looking decals when in the sun. We were told this is being corrected in later batches. Was a minor thing, but worth pointing out.
Some in the scale community may complain that this is a twin vertical plate design versus something tubular like the big boys. However, we think this design was absolutely the way to go for all out performance. The way the body has cage features built into it gives it the look of a full size rig when sitting on the track, but you get the benefit of the plates. Good compromise, in our opinion.
We didn't get to mess with swapping bodies or wheels/tires much to see how the popular available items from Pro-Line/JConcepts/RC4WD will fit the Losi, but look for that soon in another article.
The LED headlights are legit! They are very bright. A very cool touch!
We didn't want this review to be all roses, but when we discussed at length the pros and cons of this truck, there really weren't any glaring cons. They may show up over time, but we flogged the LMT and it just kept coming back for more. It also remained fun to pull trigger on from first hit to last. There just isn't much for us to complain about. It's a very well engineered product and it shows.
Best Upgrade: Our testers all talked about this one for awhile as it's tough. The truck doesn't really have any glaring flaws or needs right out of the box. I suppose an ultra-high torque servo would probably be where you'd want to spend any additional money, but if you want to go cheap just make sure you have various bottles of differential fluid to better tune to your liking.
---
Summary:
A = Outstanding/Best in Class, B = Above Average, C = Average, D = Below Average, F = Horrific
Time To Bash: A  We put in batteries in the truck and transmitter and went to town. That's about as simple as it gets.
Workability: B  The Losi is an easy truck to work on. The modular chassis means you can disassemble parts of the truck for where you to need to get into without taking apart the entire thing. The pinion is also easy to access due to the side mounting. It's well designed to go wrenching.
Car Show Rating: A The LMT Sonuva Digger is an absolute head turner. This is Ryan Anderson's famous monster truck in 1/10 scale form. The blue LED lights on the front really set it over the edge. When the LMT shows up at a bash, it's gonna be the truck everyone wants to see and wants a turn with.
Bash-A-Bility: A  The LMT is a freaking beast of a vehicle. We broke nothing in our testing, and you can see in the video how big we went. The axles are very tough, especially those knuckles. The electronics also ran cool, even when doing high speed testing, something that monster trucks typically DO NOT like.
Fun Factor: A  It's extremely hard to take a rip on this monster and not break out into an instant smile. Our review crew was made up of seasoned solid axle monster truckers and we had a freakin' blast the entire time. And this is from a group that is used to driving this kind of vehicle; if you are noob to solid axle monsters you are in for an absolute treat.
Handling: A  It's the best handling solid axle monster truck out of the box that's ever been released, and it's not even close. Fantastic suspension geometry, a hefty curb weight, a good servo, nice shocks and beefy sway bars make the LMT a real beast out on the track. All of our testers have spent hours and hours tuning solid axle monsters, and we were all astounded with how well this thing handled as soon as it hit the ground.
Value: A At a price of $599, that's not exactly cheap. However, for the price you are getting a vehicle that needs absolutely nothing, save for a good battery, to scream. If you want to compare it to other similarly specced vehicles in its price range, be-it modified Axial SMT10's, Tamiya Clod Busters or other similar vehicles, you are probably hitting the dirt with a cost of anywhere between $600 to over $1k, and you need to source the parts and do the work to get it there. With this, it's already there. We feel it's a great value.
Parts Availability: B Losi is one of the most popular r/c brands and many hobby shops readily stock their parts. However, the LMT is new. We've been told that parts support is going to be immediate and we know several aftermarket companies already have releases lined up. That's nothing to say of the wild custom, one-off stuff the monster truck community will surely do as well.
BigSquid Rating: A
The Team Losi LMT is quite simply the finest r/c solid axle monster truck that's ever been released to the mainstream. Yeah, those are big words. As a 30 year veteran that's built, ran and raced damn near every vehicle that's existed in this category, the LMT sits in a league of it's own.
There has always been a caveat when talking about solid axle monster trucks – yes, start with this BUT you have to add that and that and that. It always has required not only additional cash, but tribal knowledge on how to get these things to work right. I know this, as I regularly answer YouTube comments and reader e-mails with these same questions.
That barrier to entry comes crashing down with the release of the LMT.
If you can pay the admission fee, what you'll find in the box is a turn-key solid axle monster truck that's ready to absolutely throw-down. It's authentic in how it handles, looks, is a blast to drive and is tough as nails. The LMT comes highly recommended.