Review – Losi LST XXL-2 4WD Gasoline Monster Truck
THE Losi LST XXL-2 4WD Gasoline Monster Truck Review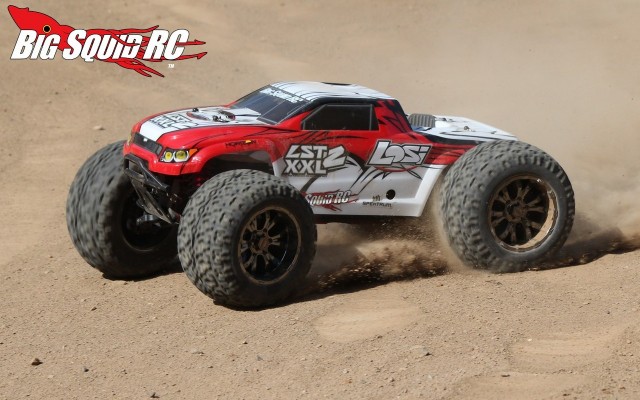 Hype, hype, and more hype, that has been the name of the gas game so far. The first offering, the HPI Octane, seemed to come up a bit short of all the promises. Hit the "Read More" button below to read our review of the second gas burner to hit the market, the Losi LST XXL-2 Monster Truck. Does it have enough power to be fun? Does it easily start every single time? Do you have to constantly tune it? Is it worth your hard earned cash? Make the jump to find out…
From: Losi RC
Direct Link: LST XXL-2
Unboxing Pictures: BSRC Unboxes the LST XXL-2
Review By: Cubby
Pictures By: Tim Mohr
Specs:
RTR or Kit: RTR
Age: 14+
2wd or 4wd: 4wd
Shaft or Belt: Shaft
Electric or Gas: Gasoline
Waterproof: Yes, electronics
Scale: 1/8
Length: 23″
Width: 18.5″
Wheelbase: 15.3″
Engine: Dynamite 2 stroke .31 cubic inch gasoline
Radio: Spektrum DX2E 2.4GHz featuring AVC (Active Vehicle Control)
Differential: Front & rear gear diffs
Slipper Clutch: Yes
Driveshafts: CVD type
Shocks: Huge, oil filled
Servo Saver: On servo output gear
Screws: Hex, standard not metric
Bearings: Complete set
Tires: Losi 420 ATX
Battery: Comes with 2S 2000mAh LiPo receiver pack
Part Number: #LOS04002
Weight (measured dry by BSRC): 13 lb
Top Speed: 35 mph
Warranty: "free from defects… at date of purchase"
Street Price: $799
Primary Competition: HPI Savage Octane
What's Needed To Complete: Charger for receiver pack, 91 octane or higher gasoline, gasoline-approved container, and a 6 cell NiMH for spin-starter.
Build Quality: Everything looked and felt in order when we pulled the LST out of the box. Shocks felt good and were not leaking, we didn't find any loose screws, etc. The only assembly issue we did find was the brake linkage was not set properly.
Test Drivers: Hawaiian Chris, Iron Mike, Tim-ster, Sam The Noobie, and yours truly.
Test Venues: St Joe State Park in Park Hills Missouri, CostCo parking lot, Arnold City park in Arnold Missouri, and Dirtburners 8th scale off-road track in St Louis Missouri.
Set-up Notes: We ran the LST bone stock. We used 91 octane gas from a local station and an iCharger 308 to charge the receiver pack.
Turning: On high-bite surfaces the front of the Losi likes to dig in hard at corner entry, sometimes resulting in a traction roll. On looser surfaces it had plenty of steering without having too much. There is a lot of chassis roll, this can be beneficial for finding traction on slick surfaces, but can make it hard to drive at higher speeds on grippy surfaces.
Jumping: Like most trucks with a lot of rotating mass (read- big, heavy tires) and no center diff, the Losi is very sensitive to trigger input while airborne. We found the LST ignored blown out jump faces, soaked up landings nearly perfectly, but we had to go light on the trigger while in the air.
Bumps/Whoops: The huge tires and shocks (which come well damped out of the box) make short work out of all sorts of ugly. Over "normal" rough spots you barely even know they are there. It takes the roughest of the rough to get out of shape with the LST.
On-Road: The big Losi can be a handful to drive on-road. Its suspension is set-up for off-road and its tires tend to fold over and cause it to traction roll. If all you drive is on-road you'll want to make a few changes to keep it from traction rolling.
Grass: The LST is a beast in grass. Big tires, 4wd, and ample horsepower all allow it to chew through some seriously tall grass.
Tires: The stock tires are an "all terrain" style tread that do a respectable job on a wide variety of surfaces. Grip was decent on loose dirt, they provided good traction on grass, and their mechanical grip on pavement was also commendable.
Power/Engine: Overall the LST XXL-2 had decent power. It roughly had the same amount of power you would find in a nitro powered monster truck of this size. It had enough power to have fun, enough to make big jumps, and enough to throw decent sized roost. Our test unit didn't have a lot of low-end power. We couldn't get our truck to wheelie from a dead stop, nor did it have the low-end yank needed to power up hills from a dead stop. It did however come on like gangbusters in the mid-range. This is where the Dynamite gas engine really excelled, whenever you hit the mid-range the truck really started to haul. For a gas engine, the top-end had good yank and revved out higher than expected.
So what's the scoop on the engine? Does it start and run as reliably as a 5th scale gas unit? Well… the engine in our LST started every time for us, which is a huge plus. However, it did not keep running as reliably as a 5th scale normally does. Our test unit died multiple times, and we had various troubles keeping it running properly. The gasoline engine in the LST shows a lot of promise, but no, it did not run as trouble free as its 5th scale cousins.
Radio: The DX2E is one of the "new" generation of Spektrum units with better range than older models. Range was more than enough for our bashing purposes and we did not experience any glitching. Ergonomics are decent, but we would really like to see it come with foam on the wheel. LST comes equipped with the AVC (active vehicle control) system. You already know how we feel about that from our Spektrum DX4S Transmitter Review.
Our LST was already driving like it was glued to the ground and didn't spend much time sliding around so we set it for minimal effect since we didn't really need it. But come winter, and when we get this thing on the ice, you can bet the AVC will be on and dialed in. If you are going to be out bashing on some slippery surfaces, the AVC will be a big help.
Broken Parts: Pretty much from the first tank after break-in we ran the LST like we stole it. We didn't hesitate to slam pipes, curbs, trees, etc. When it was all said and done our test LST held up well. We did manage to bust a #B2104 front spindle carrier after slamming a curb at speed. The LST platform is known for being quite tough and we found the gas XXL-2 version to be able to take beating.
Misc Notes:
Our Losi fired up every single time, even when we were way off on carb settings. It might not have always run well, but at least it started easily.
The LST comes with some seriously powerful steering servos. They have more than enough power to yank the wheels around, even at a dead stop.
The throttle/brake servo is no joke either. When you shove the trigger forward the LST has enough brakes to pull a nose wheelie.
Have we mentioned how nice it is to pay less than $4 for a gallon of fuel? Or how nice it is to not have to search out our favorite blend of nitro at an LHS to keep running? Yes, we dig the cost savings and convenience of running gasoline.
Getting to the wheel hexes is kind of a pain. You have to remove several screws before pulling off the center cap to access the wheel nut.
The LST doesn't need an old school nitro glow igniter and that is sweet. It is one less thing you have to charge and keep track of. Also awesome is the fact you don't have to change out glow plugs every few tanks.
The included spin-start has good power and its shaft is easily stored inside the case when not in use.
The LST comes with multiple red anodized parts, they look sweet and perform well.
The body, and the way the tank is set up, makes it super easy to add fuel with the body on. Very handy.
We were not big fans of the way the LiPo receiver pack was mounted. To remove the pack you have to take out 4 screws, and it is located on the under side of the chassis but is not fully encased in protective plastic. If a LiPo receiver pack is going to be mounted on the under side of the chassis it needs to be fully protected.
Our LST came with the carb set at 18 hours on the bottom and 13 on the top. The recommended settings we were told to use from Losi was 26 hours on the bottom and 15 on the top. On our test truck we found it was best tuned at 30 hours on the bottom and 15 on the top.
Unlike the HPI Octane, the LST uses only one receiver pack and one on/off switch. Btw, we really liked the on/off switch. The switch made it a lot easier to kill the truck than by putting a finger over the exhaust or trying to tap the flywheel (like on an old school nitro).
The brakes on our test unit were dragging a bit out of the box so we had to adjust the linkage to get it to free wheel at neutral.
The two speed shifts very smoothly. Do not expect it to "kick in" to the next gear, instead it engages so smoothly it is barely noticeable. While the smooth shifting was nice, it does make the 2 speed hard to tune. We ended up adjusting ours about 4 turns out on both screws. It was shifting at roughly the ten foot mark with that setting.
Every time our test truck ended up on its lid, it died instantly. We also noticed our truck had problems running properly when it was at an angle.
Some manufacturers will tell you that small changes on the carb make a big difference. Most of the time that isn't the case. However, when Losi says it on the LST they mean it. A one hour change on the LST can make the difference from it running awesome to not running at all. We also found the high speed needle seemed to affect the entire rpm range of the engine.
Best Mod: Better than any money you can spend on hop-ups is to read the manual, break the engine in properly, and take your time tuning the engine properly.
---
Summary:
A = Outstanding/Best in Class, B = Above Average, C = Average, D = Below Average, F = Horrific
Time To Bash: C Several tanks of break-in, plus dialing in the engine and 2 speed, can eat up some serious time before you are ready to bash.
Workability: B We found everything on the Losi easy to wrench on, however we would rather have seen metric instead of standard hex hardware.
Car Show Rating: B The wheels are gorgeous, they are a dark chrome and have a tough appearance. The body has bright colors, sharp graphics and a cool paint scheme, but in this day and age we would liked to have seen a more scale realistic appearance.
Bash-A-Bility: B The LST takes a solid beating with minimal broken parts.
Fun Factor: C When the LST is dialed-in and running full bore, it is a blast to bash with. When you are left tuning on the engine, not so much.
Handling: B
Value: C The street price isn't cheap, but the truck features some of the latest/greatest tech and can be a blast to drive.
Parts Availability: C You won't find parts for the LST on the pegs at every local hobby shop, but the part we broke on our test truck was readily available on-line.
BigSquid Rating: B- The LST XXL-2 isn't perfect, but it is a good first effort that at times shows how promising a gasoline powered monster truck can be. Should you cut the check for one? Ours did not give us the "no-issue" running of a 5th scale gasser, but if you want to be one of the early adopters of the new tech do not hesitate to make the purchase. Also, if you are the type of hobbyist that likes doing some tuning, by all means go for it. However, if you are looking for a gasoline machine that requires little to no tuning, you will want to check into a 5th scale.