Review – Losi XXX-SCB Brushless RTR with AVC
THE Losi XXX-SCB Brushless RTR Review from Horizon Hobby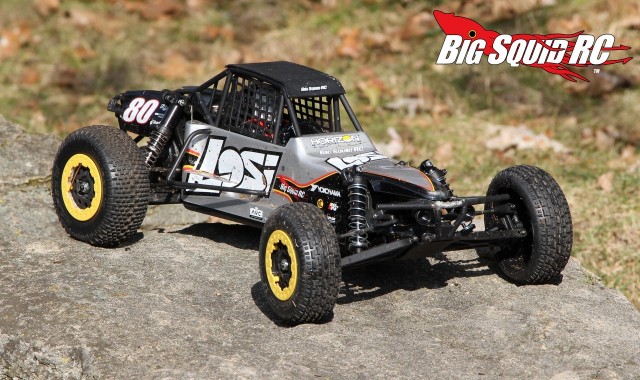 Back in 2011 Losi introduced the first RTR XXX-SCB. It looked like nothing else on the market and was a solid RTR. Now Losi has added brushless power and their AVC Stabilty Control. Is the new XXX-SCB a good basher? Does it have enough power to keep your interest? Is it worth your hard earned cash? Hit the "Read More" to see what we found out during our testing of the brushless XXX-SCB…
From: Losi
Direct Link: Brushless XXX-SCB
Unboxing Pictures: BSRC Unboxes the Brushless SCB
Review By: Cubby
Pictures By: Tim Mohr
Specs:
RTR or Kit: RTR
Age: 14+
2wd or 4wd: 2wd
Electric or Gas: Electric
Waterproof: Yes
Scale: 1/10th
Length: 20.08″
Width: 11.42″
Wheelbase: 12.95″
Motor: Dynamite 3300kV non-sensored brushless
Speed Controller: Dynamite 45 amp brushless
Low Voltage Cut-off: Yes
Radio: Spektrum DX2E with AVC
Differential: Gear diff
Slipper Clutch: Yes
Driveshafts: CVD style
Gear Ratio: 2.43:1
Shocks: Oil filled, pre-load clamps, metal bodies
Servo Saver: In rack
Screws: Hex
Spur/Pinion Pitch: 48 pitch
Bearings: Yes
Tires: Losi Eclipse
Battery: 4 AAs for transmitter, 2S 3000 for buggy w/ charger
Part Number: LOS03003
Top Speed (measured by BSRC): 36 mph on included battery
Runtime: 9 minutes on included battery
Warranty: "free from defects in materials and workmanship at the date of purchase"
Street Price: $349
Primary Competition: Associated SC10B, Pro-Line PRO-2 SCB
What's Needed To Complete: Nothing, nada, zero, everything comes in the box.
Build Quality: After giving the SCB the once, then twice, then three times over, we didn't find any issues with its build quality.
Test Drivers: Iron Mike, Sam The Noob, Robbie G, Tim M, and yours truly.
Test Venues: The weather during the duration of our testing was pretty terrible, hence the reason we didn't get to drive it in as many places as normal. We did get in a very muddy session at the St Louis Dirtburners off-road track, a few packs in at two different local city parks, and of course some high speed running at the mandatory CostCo parking lot.
Set-up Notes: The SCB came with everything needed to get it running so we drove it pretty much bone stock. We did lower the ride height slightly (both front and rear) and used a Hitec X1 Pro to charge the included LiPO battery.
Turning: Unfortunately we never saw ambient temps above 45 degrees Fahrenheit during our testing, so the tires never got warm/soft enough to really provide a lot of grip. Our SCB exhibited some push going into corners, but could still make an inside line by tapping the brakes.
Jumping: The low stiction shocks make take-offs and landings a true pleasure with the SCB, and jumping in general is quite good. There is good rpm on tap for bringing up the nose during an endo, but we found the brakes didn't kick in quite hard enough to bring the nose down as quickly as we would have liked. The heavy/high body on the SCB can cause it to flip when landed sideways.
Bumps/Whoops: Oh ya, you gotta love those Losi shocks and long wheelbase, the SCB can pound through some pretty rough areas without becoming discombobulated. From sharp road joints to big dirt clods, the SCB soaks up the nasty in good form.
On-Road: While we had a lot of fun driving the SCB on-road (because of its solid power), it did tend to traction roll, making for many "walks of shame".
Grass: The stock Eclipse tires are good on light loamy dirt, but they don't have an aggressive enough tread for good traction in grass. Otherwise, the SCB got around ok, but once again it traction rolled quite a bit. Some simple changes can make it a whole lot better, but out of the box the SCB isn't a great performer in grass.
Tires: We really liked the look of the new Eclipse ribs on the front, and the rear Eclipses have proven to be a solid performer on dirt. They are both middle-of-the-road tires, they aren't the best on high bite, nor the best in loam, but they are solid performers between those extremes.
Power: There are RTR brushless systems, then there are RTR BRUSHLESS systems. The SCB comes with a very strong system. It has loads of yank from a dead stop, a nice mid-range rip, and keeps on pulling like a freight train up to 36 mph. There is plenty of power for wheelies, big rooster tails, and plenty on tap to overjump the triple on your local track. And… that is with the included 2S 3000 LiPO. We were very impressed, and if you are looking for a serious taste of brushless power, you will find it with the SCB.
Radio: It seems the DX2E is everywhere now days and our test unit worked fine. The ergos are fine for a wide variety of hands and our unit had good range with no glitching. Now if we can just get them to put foam on the wheel…
Broken Parts: Straight up, our SCB didn't get a fair shake. The highest ambient temp we tested in was 45 degrees, while most of it took place around 25. Cold plastic is not durable plastic. We have driven multiple SCBs on a weekly basis since they came out in 2011 and have found they can take a good beating. Unfortunately, the first time Iron Mike tagged a curb at 25 degrees we broke a lot of parts. We were towards the end of testing and Mike was "let'n it eat", he got squirrelly during a wheelie and hit a curb around 20 mph. This resulted in a broken front bulkhead, broken shocks ends on both front shocks, and a broken front arm. Is the SCB weak? Not from what we've seen in warmer testing, but if you plan on doing some low temp bashing stay away from the curbs.
Misc Notes:
If you would stab the transmitter in reverse the buggy would not go. You could stab it once, twice, a half dozen times and it would refuse to go to reverse. However, if you would ease into it, it would go into reverse every time.
While the stock servo is usable, it is on the weak and slow side.
The brushless XXX-SCB is a wheelie machine! We didn't experience any cogging from a dead stop, just holy-cow power. If you have the traction, it will wheelie at any time up to around 20 mph.
Most of the vehicles Horizon has put AVC stability control on have been 4wd, the AVC system truly shines in the 2wd SCB. We found that the AVC came in incredibly handy in low traction conditions. When we were having problems spinning out we would simply turn the AVC knob on the transmitter and it was dialed. While "racer types" want to crucify stability control every chance they get, it is awesome to use, especially on the 2wd SCB.
Best Mod: Slap in a faster/higher torque steering servo to get the most out of the handling.
---
Summary:
A = Outstanding/Best in Class, B = Above Average, C = Average, D = Below Average, F = Horrific
Time To Bash: B Everything comes in the box, just charge up the pack and you are ready to bash.
Workability: C Hex hardware and a simple layout makes it easy to wrench on, but the cage around the motor can get in the way at times.
Car Show Rating: B Our bash crew liked the looks of the cage and of the SCB in general.
Bash-A-Bility: C Low temps during testing left our SCB with several broken parts.
Fun Factor: B Great shocks and a potent brushless system left many a smile on our tester's faces.
Handling: C The XXX platform isn't a spring chicken, but it still handles quite well.
Value: B Good power, AVC, and no need to buy anything extra make its $349 price point a good value in our opinion.
Parts Availability: B Very rarely do we give any car better than a "C" (Traxxas is the golden standard at an "A"), but there are a lot of hobby shops that still have XXX parts on the pegs.
BigSquid Rating: B- If you are looking for a fast RTR that has cool scale looks and comes with everything you need right in the box, we highly recommend the brushless XXX-SCB to you.