Not since Tamiya was duking it out with Kyosho during the late 80's/early 90's have solid axle monster trucks ever been as popular as they are now. Slowly but surely the aftermarket has started to come around and unlike years past, it's now relatively easy for the average hobbyist to get one together.
However, for the longest time a good wheel has been hard to find.  Current brushless systems and suspension/chassis packages are pushing these trucks to do things Tamiya surely never thought possible all those years ago when putting together the stock Clod wheel. Despite this, it had been the only easy to get option on the market for seemingly forever. To compound the issue, they required wheel wideners if you wanted a turning radius any better than that of an 18 wheeler. If you had an Axial based truck then the wideners were mandatory as you couldn't even mount the wheels without them.
Yes, there have been some attempts at solutions – Tamiya TXT-1 Wheels are nice and durable, but hard to get from Japan and require the aforementioned wheel wideners. Other companies have attempted aluminum or delrin styled wheels but the added weight caused all sorts of axle breakage.
Enter the Pro-Line Brawler. Available in two different offsets, both stock and with 17.5mm offset (like we used for the review), they are attempting to do it all – look great, perform well, and eliminate the need for wideners.
Specs – 
Model: Pro-Line Brawler 2.6″ +17.5mm Offset Clod Buster Wheel
Part: 2760-03
Construction: 2 piece wheel, bolts together with included screws
Material: Grey Nylon
Hex: 12mm
Width: 3.97″ (101mm)
Height (OD): 2.95″ (75mm)
Rim: 2.6″ (152mm)
Test Drivers – Lonny "Missouri Wild Thing" Childress, former Team Bigfoot monster truck driver and myself (Doug).
Test Platform – Both of us were wielding highly modified, twin brushless equipped Tamiya Clodbusters with Absolute Chaos R/C race chassis. Lonny was driving the Bigfoot Racer, I was wheeling Green Monster.
Test Location – Trigger King R/C Monster Truck Series event at SmacTrac in St. Charles, MO (both on the dirt track and concrete floor) and my front yard.
The first thing that jumped out at me upon receiving the wheels is how great they looked. The two piece bolt together design is very realistic in relation to most full size monster wheels which are the same…just with slightly bigger bolts.
They go together quickly and require glue for the tire as the beadlock on the outer rim is purely for looks. They mounted up easy to our clods and the trick looking planetary cover goes on with two screws and covers the wheel nut. Note that you do not need to run the cover, but it definitely adds major scale appeal if you do.
Lonny left his wheels the stock color but I hit mine with several coats of white plastic Krylon and then colored the individual beadlock bolts with a green paint pen. They took the paint just fine.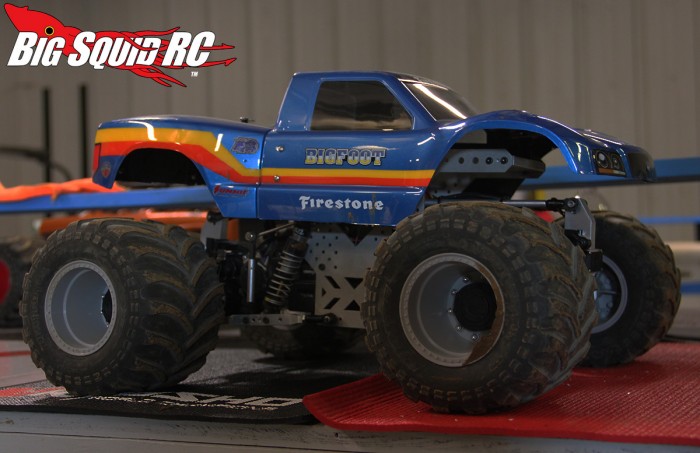 Upsides – These things are tanks. They held up fine while racing on concrete and dirt, but the real test was freestyle. I beat on my truck well past the point of stupidity to see how they would hold up. I hit multiple walls head on. I hit jumps, obstacles, and piping from all different angles (and landings) until my battery ejected from the truck after shearing the mount zipties.
Lonny even got so wacky he took out a poor camera man. FYI, while not necessarily important to the review I was informed that "These things hurt like a ************." Noted.  Anyways, afterwards we took our wheels off for inspection and there was no damage or hex stripping. It was impressive.
The other big positive is that the amount of offset is about perfect. It was great being able to shed the PITA wheel wideners!
Downsides – If you plan to mount these on an Axial based rig, you'll want to make sure you swap to a 12mm hex without the large flange protruding from the center as these will not fit the wheels correctly. Other than that, I got nothing.
Final Verdict –
Monster truckers definitely like to bicker about what tire, motor, or shock combo to run, but as of right now I don't see how anyone could argue against the Brawlers. They look fantastic, take a beating, and don't break the bank.
Just like the Destroyer tires that came out last year, these are as easy a recommendation as we can make.