When it comes to r/c tires, Pro-Line Racing has long been an industry leader. Whether you are a basher or racer they've always had the goods. That being said, it's been many moons since they offered anything for the scale monster truck crowd. That changed a few weeks ago with the announcement of the Pro-Line Destroyer (part # 10114-02 street priced at $33.99 a pair, more information here).
I had been chomping at the bit to get my hands on a set of Destroyers and, as luck would have it, mine came in just a few days before a scale monster truck event that I was attending. The mailman was also kind to my friend Bryan, another monster fanatic that I run with. So how are they?
Specs
* Fits 2.6″ wheel designed for Tamiya Clodbuster sized tires.
* Height: 5.70″ (145mm)
* Width: 4.26″ (108mm)
* Made in Pro-Line's M3 race compound rubber
* Lightweight soft white inserts
Test Drivers– Bryan Heitz aka the Boss Hawg, myself (Doug), and Danny Maass who helped snap a few of the action shots while I was wheelin' and freestylin'.
Test Platform – We ran them on our high end race monsters. The truck I used is "Green Monster", my heavily modified Tamiya Clodbuster sporting a CPE Terminator chassis and twin Castle 4600 systems. Helping to get another perspective on the rubber is friend and fellow junkie Bryan Heitz, wheeling his shaft driven "Boss Hawg" Axial Racing / CPE Barbarian.
Test Location: The Trigger King R/C monster truck arena located inside the BIGFOOT 4×4 shop in Hazelwood, Missouri. Also, my yard and cul-de-sac.
Upsides
Let's start with the cosmetics. Modeled after full size BKT monster truck tires, the scale looks are outstanding and best in class. Swapping a set of stock Tamiya tires for these will dramatically alter the appearance of your monster. These look very aggressive.
Most importantly though, they work fantastic. The M3 compound combined with the shallow tread depth and rounded corners allow for maximum traction and consistent on track behavior. The racing and freestyling that we did was on a very smooth and dusty shop floor. Despite this, the trucks still had plenty of bite.
Special mention goes to the included foams. They helped both of our trucks land super smooth and with little rebound, a big plus considering the velocity at which these heavy rigs come crashing down off a jump.
Did I mention they work right out of the box? In the nearly 20 years that I've been into scale monsters, if you wanted a race tire to really work well you had bust out the dremel, scissors, xacto knife, and/or bench grinder to cut the tread. Even recent popular aftermarket options like the RC4WD Rumble tires require a bit of shaving for optimal use. The Destroyers come out of the package as a fully prepped race tire.
They also appear to be very durable. I ran them in the street to no noticeable wear and we pounded on them during the freestyle portion of the event with similar results. While our trucks didn't hold up to the beating, the tires had no problem.
Downsides
 The only downside I could potentially see with these is too much grip if you primarily run on a super high bite surface like carpet (popular with some scale monster clubs). Other than that, I got nothing.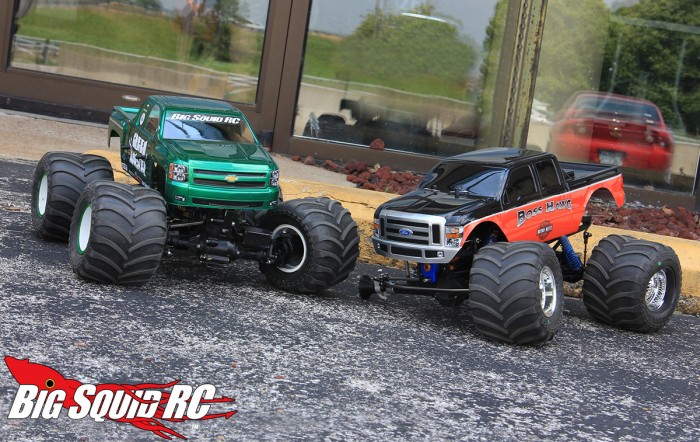 Final Verdict
Pro-Line really did their homework in creating the Destroyer.  It's the best clod sized monster truck tire I've used, and I have experience with a lot of them. Fantastic grip, great foam, and sharp looks make these an easy recommendation.
Want to read more reviews? Check out This Link on BigSquidRC.