THE Pro-Line PRO-2 Short Course Truck Kit Review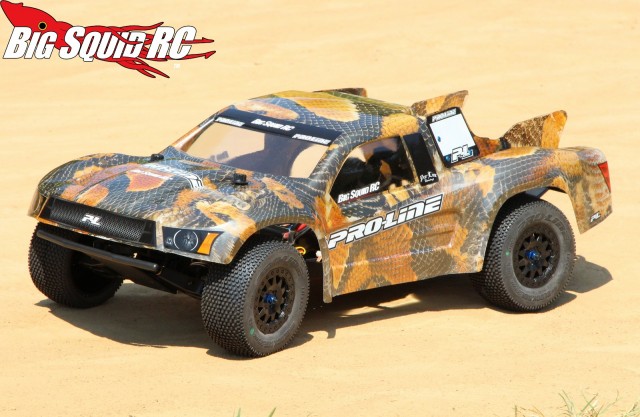 After 30 long years the crew over at Pro-Line decided to try their hand at the full on kit game. The PRO-2 Kit is the culmination of a series of hop-up parts that ended up turning into an entire 2wd short course truck. Is the PRO-2 a racer or a basher? Is it just a bunch of parts thrown together or does it stand alone as a separate truck? Was it worth the 30 year wait? We've been driving the tar out of the PRO-2 attempting to learn every upside and downside it possesses, how does it stack up? Click the "Read More" and find out, and check out the video!
From: Pro-Line Racing
Direct Link: Not available yet.
Unboxing Pics: BSRC Unboxing the PRO-2
Review By: Cubby
Pics By: Cubby
Specs:
RTR or Kit: Partially Assembled Kit
Age: 14+
2wd or 4wd: 2wd
Chassis: Aluminum
Electric or Gas: Electric
Scale/Size: 1/10th
Differential: Fluid filled, gear type
Driveshafts: CVD
Shocks: Aluminum, oil filled
Screws: Hex
Bearings: Yes, full set
Tires/Wheels: PL Blockade SC on PL F-11 wheels
Battery: Not included
Part Number: #4001-00
Top Speed (measured by BSRC): 39 mph on 3S
Street Price: $389
Primary Competition: Traxxas Slash, Associated SC10, Losi 22SCT, HPI Blitz, ARRMA Fury, many others.
What's Needed To Complete: Paint, motor, speedo, servo, radio system, battery, battery charger, thread lock, and pinion gear.
Build Quality: The final quality of the truck build is up to you as the truck comes partially assembled. Quality of materials was typically top notch like those used in the chassis and tranny. Certain plastic pieces seemed a bit on the soft side (more on this later).
Test Drivers: Cubby, Brian, Tim, "Iron" Mike, and Hawaiian Chris
Test Venues: RC Outlaws in Collinsville Illinois, Cliff Cave Park in St Louis Missouri, a CostCo parking lot and a local cul-de-sac.
Set-up Notes: For power we chose a Dynamite 3S 5200 mah Lipo, Castle Sidewinder speedo and Castle 5700 kv brushless motor. We popped on various sizes of Robinson pinion gears but mainly used a 16. To vary direction we used a waterproof Hitec HS-646WP, and to control the show we used a Futaba 4PK Super R with R614HS receiver. Our friends over at RC Custom Lab Workz hooked us up with a sic snake skin hydro dip on the inside of the Flo-Tek body. We dialed in 1.5 degrees of negative camber front and rear and 1 degree of positive toe in the front. We set ride height at slightly above bones level in the rear and slightly above arms level in the front. We did the vast majority of our testing with the bone stock shock settings, but eventually went to Associated 50 weight oil in front with 40 in the back and stiffer "red dot" Pro-Line springs front and rear to soak up the big hucks to pavement.
Turning: The PRO-2 kit wasn't quite neutral, it tended to have a slight amount of over-steer. Whether it was pavement or a prepped dirt track the front wheels generally stuck where you pointed them. The predictable steering allowed you to carry some serious speed going into corners. The rear liked to rotate quickly making short work of tight 180s, but stuck well in fast sweepers.
Jumping: We have put some serious air miles on our review PRO-2 and for good reason, it jumped well for a 2wd SCT. Yes, there were times outdoors in the wind when the dreaded parachute effect would kick in, but compared to others in its class the PRO-2 jumped with the best of them. Also, it excelled against its competition in the take off and landing departments. Hitting bombed out jump faces didn't affect the PRO-2 as much as other trucks and you could land at some pretty extreme sideways angles without flipping. Hucking 30 or 40 feet (or 60..LOL) to pavement showed the true beauty of the ProTrac/PowerStroke suspension, it did an incredibly good job of soaking up the truly gnarly landings.
Bumps/Whoops: The ProTrac/PowerStroke combo works extremely well in the rough stuff. The PRO-2 soaked up everything from dirt clods, to road joints, to chunked out breaking bumps on an 8th scale track with the best in its class.
On-Road: The stock suspension settings are on the soft side for on-road, but the PRO-2 was still a blast on pavement. The low center of gravity and ample steering of the PRO-2 yielded a truck that stuck like it was on rails. The PRO-2 traction rolled when driven aggressively on pavement, but was great at soaking up pot holes and road joints.
Grass: The LCG chassis of the PRO-2 pays big dividends on dirt and on-road, but it creates more friction on grass than the non-LCG trucks in its class. The PRO-2 is fun on grass but doesn't breeze along in tall grass as easily as the non-LCG trucks in its class.
Off-Road: This is what the PRO-2 was designed for and this is where it excels. Is it the best handling 2wd SCT you can buy? That is impossible to tell without a full on shootout. Most trucks feel pretty good when driven alone, but when driven back-to-back it is easy to tell the differences. For our review we drove the PRO-2 back-to-back with a Traxxas Slash, HPI Blitz, and an Associated SC10. On a prepped track the PRO-2 owned the other three trucks. It had better steering, carried more corner speed, and generally felt easier to drive fast. At a bash spot in a local city park, a place that consisted of big mounds of dirt with large dirt clods, the Slash held an advantage over the other 3 simply due to its extra ground clearance.
Broken Parts: Ok, so our PRO-2 received a pretty epic beating. It breezed through our "normal" drive-it-like-we-stole-it portion, then we started smashing and hucking it to see what would break. Multiple one story roof jumps didn't break anything, nor did slamming a concrete wall a half dozen times about 25 mph. We then went to shooting baskets with the PRO-2, hitting a ramp and jumping into a basketball hoop. After a few hits and misses we ended up slamming the rear end of the truck to pavement from over 10 feet high moving the motor and stripping the spur gear. Since then we've inflicted other types of torture and it just keeps on proving to be an extremely tough vehicle, one you shouldn't have a problem handing off to one of the kids at the track to bash around with. One last note, we have broken one other part, the speedo mount. We don't know when or how it got broke, but it did.
Build Notes:
We received our kit with a printed manual that was spot on for directions and easy to read.
Thread lock isn't included with the kit, nor was it mentioned in the directions. Remember to use a dab on all metal to metal connections.
Our kit came with one tie-rod that had threading on one side but not the other, and one shock where the nut over the piston wasn't tightened down all the way. We popped on a stock Traxxas tie-rod that we had laying around and simply tightened up the nut on the loose shock piston.
During step 22 of the assembly process you install 4 screws to mount the rear shock tower. We couldn't get the two screws on the front side of the tower to tighten properly. We even put in somewhat longer screws and they still wouldn't tighten, they felt like they were stripped.
In step 23 we used a Dremel with a cut-off wheel to cut away some of the excessively long rear body mount.
We spent about 3 hours assembling what was included in the box. Add another hour to install electronics and however much time you want to spend getting the body painted/trimmed/stickered and that's how long it will take you to hit the street with the PRO-2. Overall, it was much faster than building a normal kit, and some of the parts that many builders hate, like building shocks and the diff, is already done for you. If you are a real noob, the hardest parts of the build are done at the factory making the PRO-2 a good way to get your feet wet.
Misc Notes:
The bumpers on the PRO-2 are soft and soak up some serious hits. However, they don't have a good "memory" and are often tweaked/not straight. This is a cosmetic thing only, they don't break and it doesn't seem to cause any other issues. Also lacking memory was the rear body mount. The rear mount would tweak downwards making it hard to get the rear body nuts on without bending the posts level again.
The stock servo saver works as good or better than any of its type. Ours came adjusted a bit loose from the factory and was hard to tighten down properly.
The stock tranny came adjusted perfectly. The diff action and slipper were spot on. It must also be noted the stock tranny is perhaps the best on the market, both performance and durability wise.
The PRO-2 comes stock with Blockade tires, some of the very best track tires you can buy. These work extremely well on prepped dirt surfaces and give good traction on pavement (careful, they wear quickly on pavement), but good bashing tires like Trenchers or Badlands will work better in grass and loamy dirt.
Best Mod: If you are a hardcore basher I'd go with the heavier shock oil and the heavier "red dot" Pro-Line springs. This is a cheap mod but goes a long way towards absorbing roof jumps and general big hits while bashing. If you've got a few more bucks to spend switching over to Badlands or your other favorite basher tire will yield more traction on loose surfaces.
Check it out in action as we put it to the test:

---
Summary:
A = Outstanding/Best in Class, B = Above Average, C = Average, D = Below Average, F = Horrific
Time To Bash: B Compared to other kits you'll save a lot of time, compared to a RTR you'll need to set aside a couple of evenings.
Workability: B The PRO-2 uses a simple layout where all the normal stuff is easy to get to and work on.
Car Show Rating: B The Flo-Tek, F-11 wheels, and Blockades were well liked by the staff. Under the hood the PRO-2 also looked great.
Bash-A-Bility: A The PRO-2 can take some serious beating with very little breakage. It is arguably the toughest truck in the 2wd SCT class.
Fun Factor: A The PRO-2 handles as good as the best in its class, yet you can huck it off the roof if you feel like it. Not having to worry about it breaking adds a lot to the fun factor.
Handling: A We have not driven a 2wd SCT that handles better overall (off-road, pavement, grass) than the Pro-Line PRO-2.
Value: B Is it worth its $389 price tag? The PRO-2 comes stock with all the upgrades you want, and they all work together in harmony to make a kick ass truck.
Parts Availability: C It's unlikely you'll find replacement parts at your LHS, but places like Tower Hobbies already stocks the spur gears and a-arms, and this list is certain to grow once the PRO-2 actually hits the market.
BigSquid Rating: B+ So just what is the Pro-Line PRO-2 truck, a racer or a basher? We couldn't wrestle the PRO-2 away from our pro driver guy, nor from our basher guys. The PRO-2 is this- a very trick, top of the line 2wd SCT. It can more than hold its own on a track against the best of the best, while also being able to be hardcore bashed without having to constantly worry about breakage. It is impossible to have the best of both worlds, racing and bashing, but the PRO-2 comes very close. The Pro-Line PRO-2 is a great all around machine, something that can be said of very few other vehicles on the market.