Review- Pro-Line Traxxas Slash Pro-2 Performance Parts
THE Pro-Line Pro-2 Performance Parts Review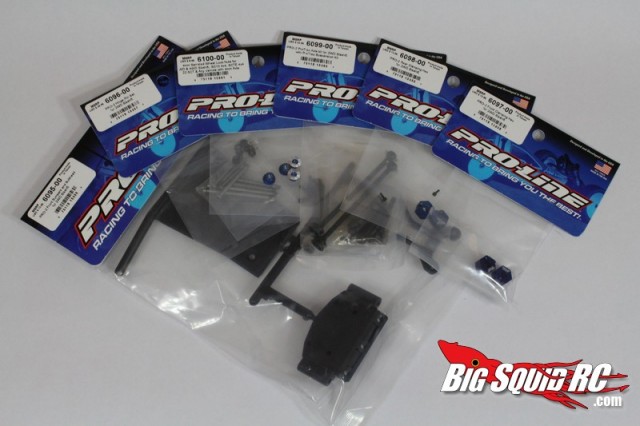 Pro-Line Racing keeps introducing more upgrade parts for the immensely popular Traxxas Slash platform. Today we'll be taking a look at some of their newest performance parts to determine if they live up to Pro-Line's legendary reputation and if they are worth your time and money. Come on, lets take a closer look…
From: Pro-Line Racing
Direct Link: Slash Pro-2 Performance Parts
Review By: Cubby
Pics By: Cubby
Parts Tested:
* 6095-00 Pro-2 front bumper and bulkhead ($9)
* 6096-00 Pro-2 hinge pin set ($22)
* 6100-00 4mm serrated wheel lock nuts ($8)
* 6099-00 Pro-2 ProTrak axle kit ($36)
* 6098-00 & 6097-00 Pro-2 clamping wheel hexes ($11 per pair)
Test Drivers: Cubby, Brian, Tim, Iron Mike
Test Venues: RC Outlaws in Collinsville IL, DirtBurners in St Louis Missouri, backyard and a city park
Review Platform: We used our Pro-Line modified Traxxas Slash for the review. Our Slash doesn't have many stock parts on it anymore- it sports the Pro-Line chassis kit, ProTrak suspension kit and Pro-Line shocks. A Castle brushless motor and speedo was used, the servo was from Hitec, a 3S Dynamite Lipo provided the juice, and a Futaba 4PK Super-R controlled the beast.
Installation: All the new Pro-Line gear bolted up without issue. There weren't many stock Traxxas parts left on our Pro-2, so we were mainly bolting up Pro-Line parts to other Pro-Line parts. We did not experience any binding or need to modify any parts for a proper fit. To bolt the right side outdrive on (the spur side) we drilled a small hole in the rear of the battery box to make for easier hex wrench access (shown in third picture of gallery 2). All in all it took around 2 hours to switch out all the parts.
Durability: The highest ambient temperature our Pro-2 saw during testing was 48 degrees Fahrenheit, the coldest test drive was conducted at 12 degrees. We did manage to break one of the few stock Traxxas parts that remained on our truck, but didn't break any of the new Pro-Line parts, even in the extra cold weather.
Issues: We did not come across any issues while testing the Pro-Line performance parts.
Misc Notes:
Pro-2 front bumper and bulkhead- The Pro-Line front bumper saved some weight and was smartly designed to absorb frontal impacts.
Pro-2 hinge pin set- Stock Traxxas hinge pins are made out of butter and like to work their way loose. The Pro-Line hinge pins are arguably the best $22 you can spend on your Slash and I can't recommend them highly enough.
4mm serrated wheel lock nuts- Yes, these look trick but they aren't just a bling part, their heavier serration makes them much harder to come off.
Pro-2 ProTrak axle kit- If you've never pretzel'ed out or ripped up a set of stock Traxxas drive-shafts then you've never put much power in your Slash. The Pro-Line units are nicely done, heavy duty, and felt exceptionally smooth when built. Oh and, they come with rings to keep the pins from backing out as well.
Pro-2 clamping wheel hexes- Bolted up to perfection and looked the part of a high-end after-market part.
---
Summary:
A = Outstanding/Best in Class, B = Above Average, C = Average, D = Below Average, F = Horrific
Time to Bash: A You are looking at a couple hours to bolt up all these option parts but the Pro-Line gear fits with perfection. No time was wasted trimming or mod'ing any of the parts to make them fit.
Car Show Rating: B Some of the Pro-Line parts (like the wheel hexes and nuts) are extremely bling'ish, while others (front bumper and CVD's) are better looking than stock but not all anodized out like a true bling part would be. Still, good looking stuff from PL.
Bash-A-Bility: A All our review parts held up to a good beating with no breakage. It must be noted all our testing occurred in cold weather, an even tougher test than usual.
Value: B Lets take a look at some numbers. A stock Traxxas front bumper is $9, an RPM front bumper is $12, and the Pro-Line goes for $10. MIP CVD's for the Slash go for $34, and the Pro-Line set goes for $38. Pricing for the Pro-Line gear is right in the mix and they offer arguably superior performance to anything else on the market.
BigSquidRC Rating: A- We found all the Pro-Line Pro-2 performance parts to be of excellent quality and well worth the cash to bash.