Review – ProTek 7.4v 2S 100C 5600 mah Lipo Battery Review
THE ProTek 2S 100C 5600 mah Lipo Battery Review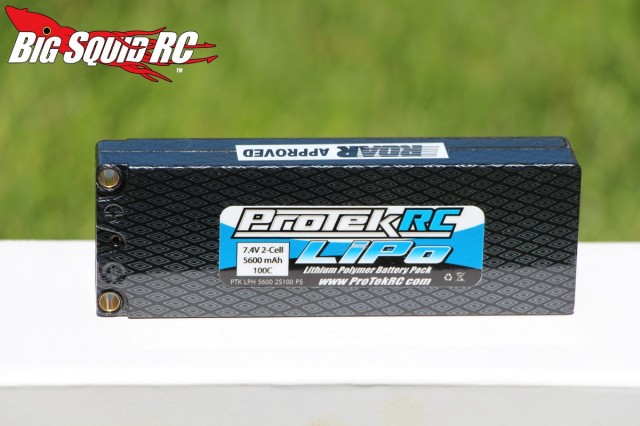 The rc world is still dominated by electric power and that doesn't look to be changing any time soon. That fact means that nearly every hobbyist is going to need a good battery pack for his truck. Today we'll be putting the hammer down on the latest Lipo battery from ProTek, a Supreme Power 2S 7.4v 100C 5600 mah pack. Does it have good power? Does it live when you jump it off the roof? Is it right for the basher crowd? Let's find out…
From: ProTek
Direct Link: 7.4v 100C 5600 mah Hard Case Lipo
Review By: Cubby
Pics By: Cubby
Specs:
Battery Type: Lithium Polymer
Stated Capacity: 5600 mah
Cell Configuration: 2S2P
Voltage- 7.4v (8.4 volt max, 6 volt min)
Discharge- 100C constant (560 amps)
Weight (measured by BSRC with Traxxas connector)- 315 grams
Dimensions (measured by BSRC)- 47 x 25 x 138 mm
Balance Plug Type- None
Stock Connector- Two 5mm bullets and one 2mm bullet
Stock Wiring- None
Max Charge Rate- 2C/11.2 amps
Street Price: $99
What's In The Box: You get the battery, stickers, two 5mm bullets and one 2mm bullet. The pack does not come with any wiring or balance plug.
Build Quality: Decent build quality, hard case seemed relatively thick and the bullet connectors were of a good quality.
Test Platforms: We used a Pro-Line Pro-2 tuned Traxxas Slash and a bone stock ECX Torment SCT. The Pro-Line truck used a Castle speedo and 5700kv brushless motor, a Hitec servo, and was controlled by a Futaba 4PK Super-R radio system.
Test Drivers: The usual suspects- Brian, Tim, Iron Mike, and myself.
Test Venues: DirtBurners rc track in St Louis Missouri, a state park, and various backyards and streets.
Driving Impressions: We got a lot of driving time in with the ProTek and it always proved to be an impressively quick pack. We went back-to-back with other "high end" packs of a similar capacity and "C" rating and the ProTek never failed to impress. The ProTek always seemed to have as much power, if not more, than every pack we compared it to.
While driving the ProTek in our ECX Torment it certainly made the stock brushed motor seem like it was the quickest it has ever been. In our Pro-Line Pro2 it supplied more than enough current to keep its brushless system pulling hard. The ProTek had intense punch off the bottom and seemed to keep on pulling forever on long stretches where you could leave it pinned. Overall the ProTek was arguably the fastest pack (of its class) that we've ever driven.
Downsides: The biggest downside was the lack of wiring and balance plug. Racer types can simply solder the included bullets on to the wires coming out of their speedo, but most basher types will want to add wire to the pack. That takes up more time to solder up and costs more money.
General Notes:
The ProTek had a perfect form factor and easily fit in normal sized battery trays.
The 5mm bullets are nice to have, they can handle a lot of juice for those crazy high current applications.
The first graph above shows the 1C discharge of the Protek, the next is how it performed under heavier loads, and the last shows how the ProTek stacks up against an Orion and a Gens Ace at 30 amps.
About The Graphs:
We used a West Mountain CBA discharger to performed a 1C/5.6 amp discharge to test capacity. Next we did a 30 amp discharge, then a 6C/32.4 amp discharge, and finally a 60 amp continuous discharge to see how well the ProTek held its voltage under a continuous load. The higher a battery can hold its voltage, the faster your car/truck will be. Ambient temp for all bench tests was 69 F, the pack was always charged on a Hyperion 720iNet3 at 2C/11.2 amps and voltage cut-off was always set at 3.0 volts per cell during discharges. We tested the ProTek wired with 10 gauge Castle wire and a Traxxas connector.
Discharge Notes:
ProTek lists 5600 mAh as its capacity, we measured 5695 which is 101.7% of stated. Being slightly high and less than 2% off of stated capacity is very impressive. Kudos to the ProTek crew on not over or under stating the capacity.
Overall the ProTek 100C 5600 was an impressive performer on the bench. It did not put out the highest voltage that we've ever tested, but it was right up there with the elite performers. Performance at 6C was quite strong and it was even more impressive under a 60 amp load. The ProTek put out some of the highest numbers we've seen for the first half of the discharge on a 60 amp load.
Measured Temps:
1C – 78 F
30 amps – 90 F
6C/32.4 amps – 91 F
60 amps – 99 F
Measured Capacities:
1C – 5695 mah
30 amps – 5578 mah
6C/32.4 amps – 5623 mah
60 amps – 5540 mah
Measured Run Times:
1C – 60:47
30 amps – 11:12
6C/32.4 amps – 10:05
60 amps – 5:34
---
Summary:
A = Outstanding/Best in Class, B = Above Average, C = Average, D = Below Average, F = Horrific
Time to Bash: D The ProTek doesn't come with wire or a balance port. It takes longer to get the ProTek ready for the road than many of its competitors.
Car Show Rating: B The black hard case features a silver diamond design. The BigSquid Bash Crew liked the look- clean and modern.
Bash-A-Bility: A We experienced no issues at all with the ProTek pack. We submerged it in water, hit it at 60 amps continuous, it suffered numerous high G impacts in vehicles getting hucked to pavement, and it came through without suffering any damage.
Power: B On track it felt exceptionally strong, on the bench it put out solid numbers at the upper end of any comparable pack we've tested.
Value: B The ProTek comes in at a $99 price point and packs some serious power. The Protek outperforms some packs costing more than it does, but there are a few less expensive packs that are right in its league.
BigSquid Rating: B- If the ProTek would have simply came with wire its overall "grade" would have been much better. While racers might prefer to use their own wiring, bashers want everything they need right in the box for a typical install. Otherwise the ProTek 5600 was a rock solid pack that will impress you with its performance. There are a lot of slow packs out there and a lot of packs that are middle of the road for power, but the ProTek runs with the elite packs, it's fast.