THE ProTek 7.4v 2S 100C 7000 mah Lipo Battery Review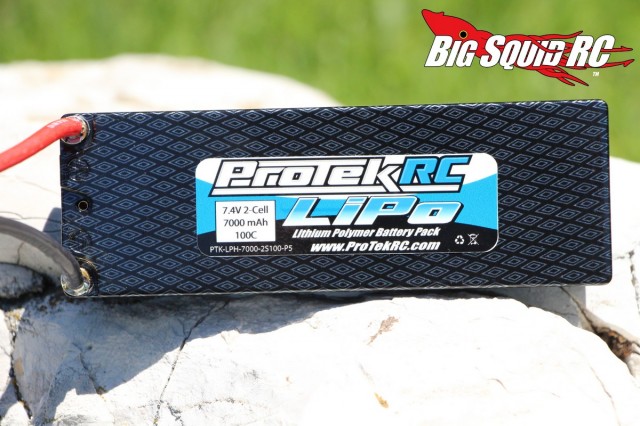 A few weeks ago we tested the ProTek 2S 5600 Lipo pack, today we are taking a look at its big, bad brother, the 2S 100C 7000. The ProTek 7000 comes in a sleek ROAR legal hard case, and comes with a premium price tag. Is it worth the cash? Is it a "dyno king"? Is it just a run of the mill Lipo or is it something special? Click the "Read More" button and let's find out…
From: ProTek
Direct Link: 2S 100C 7000 mah Hard Case Lipo
Review By: Cubby
Pics By: Cubby
Specs:
Battery Type: Lithium Polymer
Stated Capacity: 7000 mah
Cell Configuration: 2S2P
Voltage- 7.4v (8.4 volt max, 6 volt min)
Discharge- 100C constant (700 amps)
Weight (measured by BSRC w/ 10 gauge wire & Traxxas connector)- 351 grams
Dimensions (measured by BSRC)- 47 x 25 x 138 mm
Balance Plug Type- None
Stock Connector- Two 5mm bullets and one 2mm bullet
Stock Wiring- None
Max Charge Rate- 2C/14 amps
Street Price: $129
What's In The Box: You get the battery, two 5mm bullets and one 2mm bullet, it does not come with any wiring or a balance plug.
Build Quality: The build quality was decent, the hard case seemed relatively thick. Supplied connectors were of good quality.
Test Platforms: Pro-Line Pro-2 Tuned Traxxas Slash with Castle 5700 kv brushless system, Hitec servo and Futaba 4PK Super R. A bone stock ECX Torment with brushed motor. Losi XXX-SCB with Spektrum radio system and Castle brushless power. MIP & STRC tuned Losi SCTE with Hitec servo, Castle Brushless power and Futaba 4PK Super R running the show.
Test Drivers: Cubby, Brian, Tim, and Iron Mike
Test Venues: DirtBurners rc track in St Louis Missouri, Leisure Hours in Joliet Illinois, RC Outlaws in Collinsville IL, and a friendly neighborhood CostCo parking lot.
Driving Impressions: Wow, just wow, I think that sums it up. If you are used to driving 2S packs, the ProTek 7000 will instantly impress you. Low end snap is superb, the mid-range is super strong, and it winds out on top like no other 2S pack we've ever driven, it just flat out RIPS from bottom to top. And it wasn't just slightly faster, or barely faster, it was noticeably faster than our top-of-the-line reference pack. Right now, with so many solid packs on the market, I didn't think it was possible to be quite noticeably faster, but the ProTek 7000 has proven me wrong.
When used in our full race MIP SCTE, the ProTek 7000 allowed us to rip crazy holeshots from third spot on the grid that we'd normally never pull off. It also allowed us to make those difficult no run doubles from the inside that we normally couldn't make without having to go wide. Finally, we were able to pull a couple truck lengths on the back straight over other trucks that we were normally dead even with.
Every single tester agreed the ProTek 7000 ripped harder than any other 2S Lipo they had ever driven. It made "Elite" packs seem mellow and soft from the bottom to the very top. Comparing the ProTek to "low-end" Lipo's and Ni-Mh's was simply laughable, it was that much superior in power and run-time.
Downsides:
The biggest downside was definitely the lack of wiring. Every pack should at least come with enough wire to get ya going, the ProTek comes with none.
The ProTek 7000 is no lightweight coming in at 351 grams (with 10 gauge wire and connector).
General Notes:
The ProTek had a perfect ROAR legal form factor and easily fit in normal sized battery trays. However, because of where the wires come out there are many vehicles it will be a tough fit.
The 5mm bullets can handle a lot of current without issue.
The first graph above shows the ProTek at 30 amps, 6C/42 amps, and at 60 amps. The second graph shows a measure of capacity at 1C/7 amps. The third graph shows how the ProTek stacked up to a Gens Ace, Orion, and a ProTek 5600 at 60 amps. The final graph shows the ProTek against a Gens Ace, an Orion, and the ProTek 5600 at 30 amps.
About The Graphs: We used a West Mountain CBA discharger to performed a 1C/7 amp discharge to test capacity. Next we did a 30 amp discharge, then a 6C/42 amp discharge, and finally a 60 amp continuous discharge to see how well the ProTek held its voltage under a continuous load. The higher a battery can hold its voltage, the faster your car/truck will be. Ambient temp for all bench tests was 74 F, the pack was always charged on a Hyperion 720iNet3 at 2C/14 amps and voltage cut-off was always set at 3.0 volts per cell during discharges. We tested the ProTek wired with 10 gauge Castle wire and a Traxxas connector. New connectors were used throughout the test along with Dr Martys conductive grease.
Discharge Notes:
ProTek lists 7000 mAh as its capacity, we measured 6981 which is 99.7% of stated. Being within .3% of stated capacity is absolutely impressive. Massive kudos to the ProTek crew for being nearly dead on with their stated capacity.
Overall – no, we haven't tested every 2S pack on the market, there are hundreds of them and we simply don't have the time or money to test them all. With that said, the ProTek 2S 100C 7000 put out the highest numbers for a 2S lipo that we've ever seen on our West Mountain CBA. It put out the highest voltage we've ever seen at both 30 and 60 amps, and the longest run-time numbers too. And, it does it from a ROAR legal form factor to boot.
The ProTek 7000's little brother, a 5600 that we tested a couple of months ago, put up great numbers for a 2S, but the 7000 crushes it. For example, the 7000 puts out roughly a full tenth of a volt more juice across the entire discharge at 60 amps, with a full minute more run-time. At 30 amps, the story is much the same, a full tenth of a volt more juice but with nearly 3 more minutes of run-time.
If you've ever raced stock class before, you know a full tenth of a volt is worth it's weight in gold. If you have raced mod, the same can be said of the added run-time. If you are bashing, the combination of both makes you the "fast" guy that can also run longer than your buddies. The chart busting voltage and run-time does come at the expense of added weight, but we would trade the extra 35'ish grams any day for the extra power.
Because of its bone crushing numbers, the ProTek 2S 7000 is our new reference 2S pack, the pack all others are compared to.
Measured Temps:
1C – 84 F
30 amps – 96 F
6C/42 amps – 103 F
60 amps – 111 F
Measured Capacities:
1C – 6981 mah
30 amps – 6912 mah
6C/42 amps – 6851 mah
60 amps – 6800 mah
Measured Run Times:
1C – 59:40
30 amps – 13:51
6C/42 amps – 9:47
60 amps – 6:49
---
A = Outstanding/Best in Class, B = Above Average, C = Average, D = Below Average, F = Horrific
Summary:
Time to Bash: D The ProTek gets a "D" because it does not come with any type of wire. Having to solder up all the connections takes time, having to run down some wire before you even start takes even longer.
Car Show Rating: B The ProTek has a nice modern look that was well liked around the office.
Bash-A-Bility: A Multiple vehicles received the second story roof jump treatment while being powered by the 7000 mah ProTek and we didn't experience any issues.
Power: A The ProTek 2S 100C 7000 is hands down the fastest 2S pack we've ever driven and it put out the highest numbers we've ever seen on the test bench.
Value: B+ Popping $129 isn't cheap, but that's the price for truly elite levels of power and run-time.
BigSquid Rating: B The ProTek 2S 100C 7000 is the new "King of the Hill" for 2S Lipo batteries. It is the fastest 2S we've ever tested and had the longest run-times too. If you are looking for serious performance, we can't recommend the ProTek 2S 7000 highly enough.