Review – Racers Edge Pro4 Enduro 4wd RTR Short Course Truck
THE Racers Edge Pro4 Enduro 4wd RTR SCT Review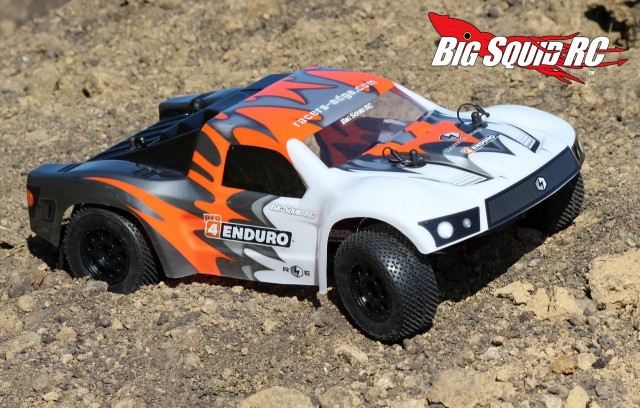 Racers Edge has typically been known for their accessories, but they've got a line-up of value priced off road machines too. Today we'll be taking an in depth look at their Pro4 Enduro 4wd brushless short course truck. It is just a race machine? Can you bash hard with it? Does its included brushless system have enough power to be fun? Click the "Read More" to find out…
From: Racers Edge
Direct Link: Pro4 Enduro SCT
Unboxing Pictures: BSRC Unboxes the Enduro
Review By: Cubby
Pictures By: Tim Mohr
Specs:
RTR or Kit: RTR
Age: 14+
2wd or 4wd: 4wd
Shaft or Belt: Shaft
Electric or Gas: Electric
Waterproof: Speedo yes
Scale: 1/10th
Length: 21 1/4″
Width: 11 5/8″
Wheelbase: 13″
Motor: 4 pole 4000kv brushless
Speed Controller: Waterproof, 80 amp
Radio: Racers Edge GLG20 2.4GHz
Differential: 3 fluid filled gear diffs
Slipper Clutch: No
Driveshafts: Bones rear, CVD front
Shocks: Metal body & caps, oil filled
Servo Saver: In steering rack
Screws: Hex
Bearings: Yes
Tires: Racers Edge racie tread
Battery: Not included
Part Number: RCEP2060
Top Speed (measured by BSRC w/ 2S 5000): 38 mph
Runtime (measured by BSRC w/ 2S 5000): 12 minutes
Street Price: $359
Primary Competition: Losi TEN-SCTE RTR, Associated SC10 4×4 RTR, Traxxas Slash 4×4 RTR
What's Needed To Complete: Four AA batteries for transmitter, a 6 cell Ni-MH or 2S Lipo for truck, and a battery charger.
Build Quality: A quick look around showed that build quality was good for the most part, although we found the servo saver to be too loose and the camber settings to be different at each wheel. Otherwise, gear mesh was good, shocks were filled properly and not leaking, and we didn't find excess flash on the plastic parts.
Test Drivers: Me, Myself & I (read- Cubby), Tim, and Iron Mike
Test Venues: RC Outlaws outdoor off-road track in Collinsville Illinois, Belleville Illinois city park, and a local CostCo parking lot
Set-up Notes: We ran the Enduro bone stock, used a Pro-Match 2S 5000 Lipo for juice, and charged with a Hitec X1 Touch.
Turning: The Enduro turns good, really good, the type of good that makes you feel like Superman out on the track. The front end sticks and feels well planted, while the rear rotates easily for the tight stuff, but plays follow the leader in fast corners. The Enduro is one of the top 5 turning vehicles we've ever tested.
Jumping: Like most 3 diff platforms, the Enduro proved very easy to jump. The center diff tames the truck when correcting mid-air with the throttle or brake. You can pound a big hit and easily level out the truck, without over correcting. If you suck at jumping, the Enduro is a good choice for you, it jumps fairly neutral and is easy to control. One little note though, as with any SCT, windy days can make the truck significantly harder to land flat, the body on the Enduro does have some parachute effect.
Bumps/Whoops: We pounded through some pretty gnarly sections with the Enduro and were impressed. It has a lot of suspension travel and comes properly damped right out of the box. The rear end can get a bit squirreling on square edge chop, but otherwise just point it and pound it.
On-Road: The relatively low slung Enduro hung tough on-road. It rarely traction rolled and generally was an animal on-road. One little note here- the stock tires don't live long when driven on pavement, you might want to switch'em for some street tread if you spend most of your time on-road.
Grass: With plenty of power, 4wd, and fairly aggressive tires, the Enduro also hauled butt in the grass. It couldn't plow through taller grass like a monster truck could, but for an SCT it did just fine on medium to short green stuff.
Tires: The stock tires look nearly the same as JConcepts Goose Bumps and they work decent in intermediate terrain. They aren't aggressive enough for loam, they are too aggressive for high bite surfaces, but do just fine for everything in-between. Side bite is good, forward bite is decent, and we found them to last quite well when driven on loose dirt.
Power: The Racers Edge non-sensored brushless system has more than enough yank to have fun. Stock, it is geared relatively tall, resulting in tons of power across the range. We experienced just a tiny amount of cogging in certain situations from a dead stop, after that the low end ripped, it blew through the mid-range, and the top end just seemed to keep on pulling forever (and that was on 2S). Some hardcore basher might want more power for speed runs or trying to set long jump records (accomplished by adding another cell), but if you aren't looking to do anything extreme that stock powerplant on 2S has plenty of yank.
Radio: The included radio worked well for us. We didn't experience any glitching, and we never ran it out of range. The ergos are decent- the wheel/trigger/handle relationship felt good and the foam covered wheel was nice. The trigger was usable but was a tiny bit large for some of our test drivers.
Broken Parts: Because the Enduro drives so well, it seems to constantly give you the confidence to drive-it-like-you-stole-it, so that's exactly what we did. We ended up slamming full speed into what amounted to dirt covered concrete block, breaking the front a-arm mount.
Misc Notes:
The stock plastic isn't as flexible as most RTR plastic that we've seen, yet it held up just fine.
The plastic was stiff and so was the chassis. Most chassis designers leave plenty of flex in this type of platform, but the Enduro was very stiff. A big part of that stiffness comes from its top deck that runs the entire length of the truck. In our opinion we like a truck with a stiff chassis that doesn't get taco'ed all the time. It's faster and cheaper to replace outer parts than to fix/replace the chassis itself.
The servo saver came a bit loose and tended to work itself that way while driving, keep an eye on yours.
The included Deans connector was nice, props.
The Enduro uses large body clips that won't hurt your fingers. Plus, they are attached to the body so you can't lose them. Super mad props on that one.
The battery tray doesn't have extra height for a 3 or 4S Lipo to be installed. If you plan on going to higher cell counts you'll have to find packs that are no taller than a standard 2S.
The Enduro comes with what might be perfect bumpers, they flex just the right amount to absorb forces, yet aren't so soft that they immediately deform/sag.
The 38 mph we measured on the Enduro is quite fast for an RTR SCT truck on 2S and it gets there in a hurry. The downside to the tall gearing is motor temp. We measured up to 140 F, which isn't bad, but our ambient temps were moderate (60 F) for the duration of our testing. On warmer days the motor temp is sure to soar higher.
Best Mod Under $5: This one is a freebie- take your time, properly adjust the servo saver, and put a bit of thread locking compound on its threads.
Best Mod Over $5: Stock the Enduro turns well, we popped in a Savox 1258 servo (around $70) and it turned even better.
---
Summary:
A = Outstanding/Best in Class, B = Above Average, C = Average, D = Below Average, F = Horrific
Time To Bash: B Set-up is fast and easy, pop in a battery and go.
Workability: B The Enduro uses a pretty standard 4wd SCT layout and is very easy to wrench on.
Car Show Rating: B With modern, flashy graphics, and nice scale wheels the Enduro was well liked around the BSRC offices. However, we would have liked to have seen more scale appropriate tires and more scale detailing in the body.
Bash-A-Bility: B The Enduro took some big hits before finally breaking.
Fun Factor: B With loads of power on tap and being one of the best turning vehicles we've tested, it's a lot of fun to wheel the Enduro around.
Handling: B It isn't the best overall handling 4wd SCT we've tested, but it just might be the best one in the corners.
Value: B Good performance with only a $359 price tag makes the Enduro a good value in our eyes.
Parts Availability: C Not many local hobby shops stock parts for the Enduro but they are readily available on-line.
BigSquid Rating: B The Racers Edge Enduro makes a good bash machine. It can take a good hit without breaking, while its powerful motor and great turning make it a blast to drive. Throw in a low price point and we can highly recommend the Enduro to anyone looking for a good RTR short course truck.
Check the quick video of it in action below: