Review- Radient Origin Ni-MH/NiCd AC/DC Battery Charger
THE Radient Origin AC/DC Battery Charger Review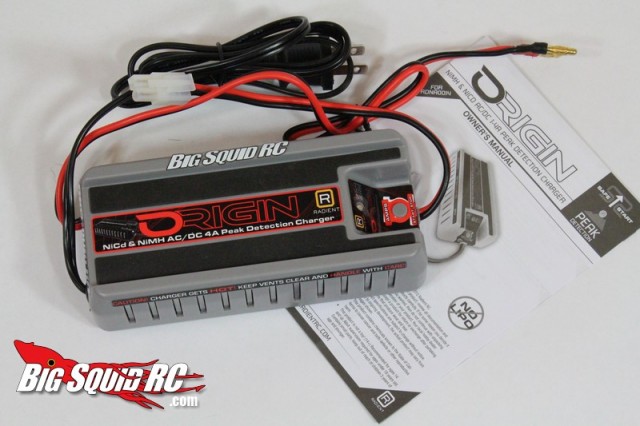 Every day more and more people make the jump into the wonderful world of hobby grade rc's. Most of these people end up walking out the hobby shop door with a RTR and low-end Ni-MH battery. New people to the hobby don't really need some high-zoot uber charger, they need a charger that is easy to use with enough power to get the job done. Today we are taking a closer look at such a charger, the Radient Origin. Is the Origin easy for a noob to use? Can it stand up to the day-to-day beating of a basher? Most importantly, is it worth the cash? Read on and find out…
From: Radient
Direct Link: Origin Battery Charger
Review By: Cubby
Pics By: Cubby
Specs-
AC Input: 100-240v
DC Input: 12-15v
Battery Type: Ni-MH and NiCd
Max charge rate: 4 amps
Charge rates: 1, 2, 3, or 4 amps
Maximum cell count: 8 cells
Interal Power Supply: 35 watts
Connectors: Tamiya, mini/micro adapter
Dimensions: 150x70x40mm
Weight: 300 grams
Street Price: $35
Primary Competition: Duratrax Onyx 100 and Dynamite Prophet Plus II
What's In The Box: The Charger, mini-micro adapter, and instruction manual.
Build Quality: The case is constructed entirely out of plastic but had a decent feel to it.
Testers: Cubby, Brian, Iron Mike
Set-up Notes: As we didn't have any packs laying around with Tamiya connectors still on them, we ended up using a Tamiya to Traxxas adapter. While the Origin can be run off AC power we elected to power it DC style off a TrakPower DPS 25 amp power supply.
Ease of Use: Exceptionally easy. None of our testers had to refer to the manual to perform a successful charge, however, if you are truly a noob I would highly recommend reading the instructions from front to back. The Origin has one light on the front and just one button. The instructions in brief are printed right by the button. Press once for a 1 amp charge, again for a 2 amp, etc. To start the charge simply hold the button down. The light is red while charging, green when finished, thus making it very easy to use.
Power: 4 amps is the maximum charge rate of the Origin. That might not sound like much at all, but when used in context that is a decent charge rate. For example, the only Ni-MH batteries we had laying around the office were some RTR batteries from ECX. These were 1800 mah 6 cell Ni-MH packs. A 2 amp charge rate was just above a 1C rate, giving us slightly under 1 hour charge times. Had we elected to turn up the charge rate to 4 amps that would have resulted in charge times of less than 30 minutes (just above 2C). I would not recommend you charging RTR Ni-MH packs faster than 1C, but the moral of the story is that Origin has more than enough power for most low-end RTR batteries.
Broken Parts/Issues: We put Iron Mike in charge of beating on the Origin and he did a great job. He dropped it from the drivers stand, stood on top of it (Mike weighs around 180 lbs) and would throw it at us when we least expected it, giving us no chance to actually catch it before it crashed to the ground. The Origin still lives today, working just fine. It looks much rougher around the edges, but proved quite durable for us.
Perhaps the biggest thing that kills chargers is time/heat. We have used the Origin for roughly 50 charges thus far with no issues.
Misc Notes:
The instruction manual was easy to understand and well written with the noob in mind.
The Origin has two foam strips on its top. The manual states this area can be used as a "storage tray" when the charger is not in use. We used it as rather handy parts tray all the time.
The Origin is quite small, which we REALLY like. It fits easy in a toolbox and takes up very little space on your table or tailgate.
Downsides:
We would like to have seen more options for connectors included in the box. Yes, the stock Tamiya connector is the best choice for this particular application, but having more choices in the box would be even better.
---
SUMMARY
A = Outstanding/Best in Class, B = Above Average, C = Average, D = Below Average, F = Horrific
Time To Bash: C If you are using Tamiya connectors you are dialed, if not get ready to do some soldering or to buy an adapter.
Car Show Rating: C Clean but very basic look.
Bash-A-Bility: A We went above and beyond to destroy the Origin and it still works fine today.
Power: C More than enough power to quickly charge low-end Ni-MH batteries, but the exact same power as its direct competition.
Value: B The Origin is a few bucks more than the Duratrax, a few bucks less than the Dynamite, and all have similar specs. It earns a B here because of its form factor and storage tray, offering a little bit more for the money.
Big Squid Rating: B- If you are looking for a reliable and simple to use Ni-MH charger the Radient Origin is a solid choice.