The crew at RC4WD have been on a tear the last couple of years, releasing a variety of rigs to please scale off-roading enthusiasts. They recently announced a new series of four 1/18 Gelande II RTR Crawlers, and we've been giving the business to one of them in particular -the Black Rock Edition. What's our verdict? Read on to find out…
From: RC4WD
Direct Link: RC4WD 1/18 GELANDE II RTR CRAWLER "Black Rock Edition"
Unboxing Link: UNBOXING – RC4WD 1/18 GELANDE II RTR CRAWLERS
Review By: Doug Welker
Photography By: Doug Welker
Specs:
RTR or Kit: RTR
Age: 14+
2wd or 4wd: 4wd
Shaft or Belt: Shaft
Electric or Gas: Electric
Waterproof: No
Scale: 1/18
Wheelbase: 130.71mm (5.15″)
Width: 108.19mm (4.26″)
Height: 110.57mm (4.35″)
Ground Clearance: 26.08mm (1.03″)
Final Drive Ratio: 112 : 1
Weight: 1.87lbs / 0.85kg
Total Gear Ratio: 5.5 : 1
Motor: Micro Motor
Speed Controller: 2-in-1 Micro ESC/Receiver
Low Voltage Cut-off: Yes
Radio: 2.4GHz XR2 Micro Radio
Differential: Locked
Driveshafts: Steel w/ steel universals
Shocks: Ultimate 40mm Scale Shocks – Can not be Oil Filled
Steering Servo: Analog Micro Servo
Screws: Metric
Spur/Pinion Pitch: 55p
Bearings: Yes
Tires: 1.0″ Rock Crusher in X3 Compound
Battery: RC4WD 7.4V 850mAh 2S LiPo Battery
Part Number: Z-RTR0037 (the blue D90 you will also see here is #Z-RTR0039)
Warranty: 30 Days
Bashing Specs:
Front wheel travel (vertical only, axles level): 1/2″
Rear wheel travel (vertical only, axles level): 1/2″
Wheelie on demand: No
Backflip off ramps: No
Stability Control: No
Sound Module: No
Self-Righting: No
FPV: No
Top Speed (measured by BSRC with included Lipo) >1mph
Runtime (measured by BSRC): About 20-25 minutes with a full pack and consistent on-throttle driving.
Street Price:$229
Primary Competition: Pro-Line Ambush, ECX Temper and other small scale crawlers.
What's Needed To Complete: Nothing, everything you need is in the box. Even the transmitter AA's.
Build Quality: Very good out-of-the-box setup. Both trucks had everything cinched tight.
Test Drivers: Claude Buster, Dynamo Dave, Lily the Explorer and yours truly.
Test Venues: Bangert Island State Park in St. Charles, MO, Quail Ridge Park in Wentzville, MO and various backyards/construction sites.
Setup Notes: While the main vehicle featured in this review is the Black Rock edition 1/18 G2, we also ran the D90 version as well. You'll see discussion on that truck interspersed here. Outside of body and tire differences, they are exactly the same.
Turning: The included micro servo offers plenty of yank to get the wheels turned, but the overall turning radius is a tad wide thanks to the locked diffs. If you intend to make tight corners, there will be some backing up first. When you are actually on an obstacle though, the truck feels ok. Sometimes small scaled vehicles can be ultra-touchy, but this one is not.
Jumping: There will be no jumping here. The truck just does not have the ground speed. If you drive off an elevated surface, which we did multiple times, it will just nose over and turn into a lawn dart.
Bumps/Whoops: "Pounding the whoops" isn't really an option due to the low top speed, but you can certainly crawl them with ease. Given the size of the vehicle, you'd be surprised at how well it navigates bumpy terrain. We had a lot of fun traversing bulldozer ruts in a local construction yard.
On-Road: What we just discussed in the Jumping portion of the review applies here as well – there just isn't any kind of top speed to make running in a strictly on-road scenario much fun.
Grass: The 1/18 Gelande 2 is really impressive in thick grass given its small size. While running through really tall stuff will bog it down, it easily handles run-of-the-mill lawn grass and even heavy leaves.
Tires: The Rock Crusher tires that come standard on the Black Rock both looked and performed great. The X3 compound isn't quite competition grade, but they are still nice. The D90's tires use the Dirt Grabber pattern, and they aren't nearly as capable as the Rock Crushers because of the thinner width and tighter tread pattern. The Rock Crushers have big, flexible lugs and work well. The classic stamped steel wheels also look very cool.
Rock Crawling: This rig feels very much like the bigger 1/10 Gelande II family of vehicles, on a much smaller scale. While you won't be able to tackle a lot of the terrain fit for a bigger truck, you can still run it comfortably in a typical crawling environment as long as you are smart about it.
The weight distribution of the chassis is very conducive for climbing steeper rock faces than the lil' guy probably has any right to, but off-camber sections can be a bit tricky as the suspension doesn't have much travel. It's four-linked, but the rear will still be affected by what the front is doing and vice versa. Again, very similar to how the bigger versions of this truck fare. It's an authentic scale crawling experience.
The Black Rock was a superior crawler to the D90 version for several reasons; the tire difference that we mentioned earlier and a better bumper that glided over obstacles much easier. The D90 has a flat bar bumper that wanted to hang up more. Just keep that in mind when you are deciding between models!
Power: The included motor has good torque for crawling and the drag brake is very nice. The problem is that getting from obstacle to obstacle could take a good while because of the slow top speed. This is a mini-truck so we do give it some slack here, however just know that this vehicle is best served being picked up and taken from hot spot to hot spot. Regular trail driving isn't really an option.
Radio: The radio feels similar to other RC4WD RTR set-ups, but it is noticeably smaller. The ergonomics were ok, but our testers with bigger paws said it felt a bit cramped. Our youngest tester REALLY liked it though, as she felt it was more her size than the normal stuff she has driven. The small size was a big positive for fitting it into a small backpack. If you plan on taking this truck around to get a quick fix here or there, you'll probably appreciate the radio's small footprint!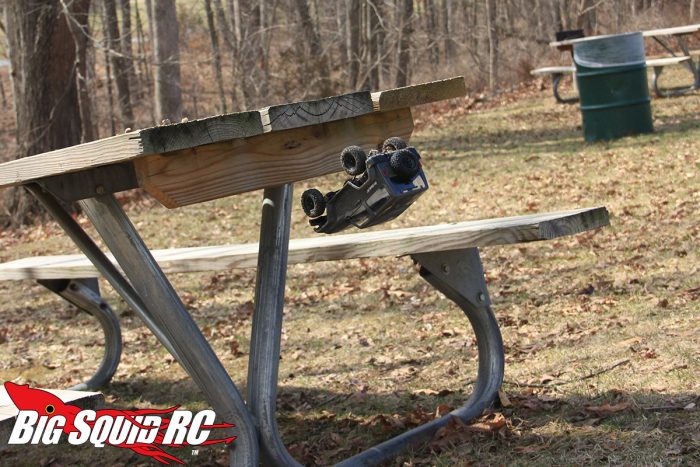 Broken Parts: No broken parts during typical testing. The metal construction of many components coupled with low wheel speed and a light weight makes for a truck that's quite tough. Near the end we started getting dumb and driving it off picnic tables and playground equipment but the worst we did was dent up the body in a few spots. As an FYI, the plastic body that this comes with is very tough. We should also note that the included driveshafts are very sturdy as this is a weak spot with some other vehicles in the mini/micro class.
Misc Notes:
The Black Rock is not a licensed body, but very much looks the part of a Jeep Wrangler. The same can be said of the D90 which looks like a Land Rover Defender. The details on both make for top notch looking vehicles. Out of the two we had, we'd give the nod to the D90 because of that sweet baby blue color.
The body is held on by four screws which are accessed by flipping the truck onto its roof. Two are up by the front bumper, two in the far rear area. While not quite as easy a setup as typical body posts, the screws had no issues lining up on either vehicle making it a relatively painless process. Once the battery is installed and body cinched down, you can just leave it installed for subsequent charges thanks to the long lead wires that will easily attach to the charger. You'll also just want to permanently leave the ESC in "on" mode. This way you can just attach the battery cable to the ESC underneath the side of the truck and you are ready to rock. This helps with the whole "grab-and-go" feel.
The shocks are not oil filled, but this does not feel like a bouncy vehicle. It feels very stable and there isn't any body roll.
Each truck comes with a variety of decal options for you to customize your rig. Given the fact we knew the Black Rock was going to be beat on pretty good, we opted to forgo those. Still though, we are fans of seeing a big ol' decal sheet.
These trucks are not listed as waterproof, but that never stopped us before! While we didn't completely drown the truck, the Black Rock saw some good ole fashioned mud bogging and puddle hopping and never so much as glitched. It was actually a lot of fun taking the little thing through the mud as clean-up was MUCH easier than a bigger truck.
The chassis and axles on this mo-chine are really impressive for the size. As was mentioned earlier in the review, the smaller that trucks get, the more details that typically get lost in translation. Not on the mini-G2. This is a REAL scale crawler.
Our testers all feel that this is the perfect scaler to travel with. Sometimes when you go on a road trip, an airplane or even just a jaunt up to the campground, bringing a 1/10 truck and the support equipment that it requires just won't work. With this guy you can pretty much just grab the truck, charger and radio (all of which don't take up much space) and you can have a nice companion for downtime, wherever you go.
Best Mod: A motor upgrade. This is a very capable truck that would be an amazing 1/18 scaler if it had more pep.
---
Summary:
A = Outstanding/Best in Class, B = Above Average, C = Average, D = Below Average, F = Horrific
Time To Bash: B  Take the truck out of the box, unscrew the body, mount and charge the battery, remount body and you are ready to go. You don't even have to remove the battery to charge it subsequent times, so this truck works great for a "play and store" rig.
Workability: B The Gelande 2 is small but the well laid out chassis and metric hardware made it very easy to turn wrenches on.
Car Show Rating: A  Both the Black Rock and D90 Gelande IIs look outstanding. Typically, the smaller vehicles get, the more detail that is lost. That really isn't the case here. Both feature hard plastic bodies with interiors and detail throughout that look outstanding. Even the wheels and tires look the part. They do the RC4WD heritage proud and feel like small scale models come to life!
Bash-A-Bility: B  The mini G2 didn't break any parts which is a big plus, but the lack of top speed makes for a truck that isn't really a basher.
Fun Factor: B  If you are wanting a mini-crawler to have fun with around your house, where maybe the terrain isn't spectacular enough for a bigger 1/10 model, the 1/18 Gelande II will be the cure for what ails you. It would also be a great platform to build a small indoor course around. However, we would of liked to have more top-end speed – at least enough to match the pace of walking for trail driving. Still though, it's a lot of fun in a small package.
Handling: C The mini-servo feels alright from a torque perspective but the vehicle has a wide-enough turning radius that makes it difficult to change directions sharply when you are navigating obstacles.
Value: B  It's hard to argue with the value that you are getting for just a shade over $200. You are getting a mini-crawler that looks great, is well engineered and that handles much like the real thing. You also get a nice Lipo battery and charger to boot. It's a great all-in-one package.
Parts Availability: B RC4WD already has a good number of hop-ups and replacement parts available on-line. You can also find some aftermarket goodies as well.
BigSquid Rating: B The RC4WD 1/18 Gelande II RTR Black Rock Edition looks great, handles realistically and has a no frills operation. Those looking for an all-in-one, portable mini-crawler need look no further than this platform.