What happens when RC4WD enters into a partnership with acclaimed full scale off-roader Marlin Czajkowski? The RC4WD Marlin Crawler Trail Finder 2 RTR is the result. How does this little 'yota perform? Read on to find out…
From: RC4WD
Direct Link: RC4WD Marlin Crawler Trail Finder 2 RTR
Review By: Doug Welker
Photography By: Doug Welker
Specs:
RTR or Kit: RTR
Age: 14+
2wd or 4wd: 4wd
Shaft or Belt: Shaft
Electric or Gas: Electric
Waterproof: Yes
Scale: 1/10
Wheelbase: 287mm (11.3″)
Width: 512mm (20″)
Height: 230mm (9″)
Ground Clearance: 72mm (2.83″)
Final Drive Ratio: 31.9:1
Weight: 6.45Lbs/
Motor: 540 Crawler Brushed Motor 45T
Speed Controller: Outcry II Waterproof ESC
Low Voltage Cut-off: Yes
Radio: 2.4GHz XR3 3-channel pistol grip
Differential: Locked
Driveshafts: Plastic w/ Steel Yokes
Shocks: Superlift Superide 80MM Shock Absorbers
Steering Servo: Twister high torque metal gear digital, 153oz/in @ 6V
Screws: Metric
Spur/Pinion Pitch: 32p
Bearings: Yes
Tires: 1.7″ IROK in X2SS Compound
Battery: 6-cell 3000mAh NiMH with Standard connector (for testing we used a 2S Pro-Match 5000 pack)
Part Number: Z-RTR0034
Warranty: 30 Days
Bashing Specs:
Front wheel travel (vertical only, axles level): 1.25″
Rear wheel travel (vertical only, axles level): 1.25″
Wheelie on demand: No
Backflip off ramps: No
Stability Control: No
Sound Module: No
Self-Righting: No
FPV: No
Top Speed (measured by BSRC on 2S LiPo): 3 mph
Runtime (measured by BSRC): Way too long to measure.
Street Price:$499
Primary Competition: Traxxas TRX-4, Axial SCX10 II, Vaterra Ascender, HPI Venture FJ, and various other scale crawlers.
What's Needed To Complete: Nothing. Everything is in the box, including a NIMH battery and charger. However, we recommended that you use a Lipo battery and aftermarket charger to truly see what this truck can do.
Build Quality: Spot on. Gear mesh was good, and all screws tight. We went over the axles with a fine toothed comb and everything was snug.
Test Drivers: THE Cub Reporter, Pro Racer Tim, Hawaiian Chris, Iron Mike, Lily the Explorer, Claude Buster and myself. Lots of folks got trigger time on the ol' Marlin.
Test Venues: Mark Twain Hobby Center comp crawling course and Bangert Island State Park in St. Charles, MO. Cliff Cave Park in St. Louis, MO. Creve Coeur Park in Maryland Heights, MO.
Setup Notes: We used a Pro-Match Racing 5000 mah 2S lipo for juice and a Tamiya-to-Deans battery connector to hook it up. A Duratrax Onyx was used for charging.
Turning: The included Twister servo has a very good amount of yank for a RTR get-up. It's rated at 153 oz of torque and we think this is legit. You will still experience some bump steer when crawling with the chassis mounted servo setup, but it still feels pretty good all things considered. The super grippy tires actually present the biggest problem though, as from a dead stop they are hard for the servo to turn. More on this in the tires section of the review. As for non-crawling turning, it handles similarly to other scalers with diffs locked i.e. it's not very limber. The leaf springs do limit body roll though, so that's nice.
Jumping: The Marlin TF2 is too slow with too stiff a suspension to be jumping things. This is a rig made for terra firma, not the air. Still, we did trying ramping it off a few things. It just fell straight down though.
Bumps/Whoops: So while the top speed limits it from truly "pounding the whoops", when you hit particularly bumpy terrain it's fun to watch the Marlin react similarly to how a 1:1 would. The truck bounces and hops like an old Toyota! It is noticeably smoother than previous iterations of the Trail Finder 2 though, most definitely because of the softer leafs and better shocks.
On-Road: Uh, yeah the Marlin is made to tackle trails and rocks so on-roading this vehicle is not much fun. 3 mph top speed isn't going to get your blood flowin'. If you like to crawl on concrete obstacles though, you are going to find this thing can climb almost anything because of the insane grip.
Grass: With low gearing, lots of torque and locked diffs, the Marlin is like an angry tortoise. It may not fly through the grass at high speeds but it has no problem going through it.
Tires: The best tires that any RTR crawler, of any size, comes with out of the box. Bar none. The Interco Irok 1.7 tires, in full X2SS comp compound, come mated to bead lock 1.7″ TRO wheels. They both look and perform great. Even in cold and wet conditions in which the truck was tested, they have superior grip and mud clean out well. We are huge fans. The tires did seem to put extra stress on the servo though, and thanks to the stickiness we had trouble turning on high grip surface. Still, that's a small price to pay for excellent rubber, in our opinion. Great, great tires.
Rock Crawling: So this is why you are here! Let's talk crawling.
Let's get the negatives out of the way before diving into a tank of superlatives. You have to know that leaf equipped trucks are at a major disadvantage compared to standard 4 linked trucks like an Axial SCX10 or Traxxas TRX-4. Trucks like the Marlin don't offer a ton of suspension flex and the front reacts much more sensitively to what the rear is doing and vice versa. You can also experience some axle wrap if you aren't careful. A truck like this just requires a driver to put more thought into the lines they take. Ok, with that said….
The Marlin Crawler is the king daddy of leaf equipped crawlers, and that includes previous iterations of the Trail Finder 2. The combination of the super soft leafs, shocks and amazing tires left us repeatedly shocked at the gnarly terrain it could take on…many times without breaking a sweat!
The low gearing and smoothness throughout the power band really helped to navigate off-camber rocks, especially when the truck starts getting bound up on tight rock formations. More wheel speed would've been nice in many situations but given that this vehicle, like all leafers, experiences axle hop, it wasn't missed as much as some other trucks in its class.
The metal bumper and rock sliders allow the the truck to slide over many obstacles and are of good design. The relatively light plastic body also helped keep the truck's weight down low.
The Marlin is an awesome crawling/trailing machine.
Power: The included brushed system has a ton of low end grunt, more than enough drag brake to keep the Marlin in place and is very smooth. What it does not have is wheel speed. This is a very nice system for traditional rock crawling but if you intend on doing a bunch of trailing, you may want to go with something that has a bit more zoot.
Radio: The included 3 channel radio feels more than adequate for a RTR system. It's also nice that the third channel is unused, so it's just waiting for something like a winch or LED lighting without needing to upgrade. Good ergonomics and it appears to go very easy on AA batteries.
Broken Parts: The truck held up great throughout the entire review. Even when we hooked it up to a pulling sled and let it make a few passes it held together. After the main testing was done, we got really stupid with it on the rocks in an attempt to break it. We then managed to pop the rear driveshaft. This is a well put together piece.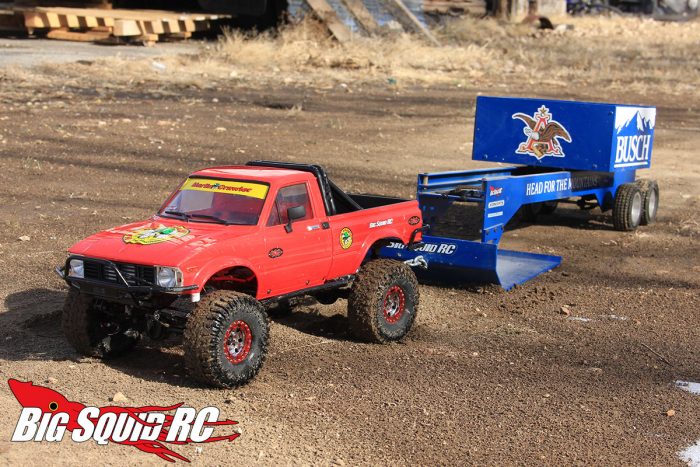 Misc Notes:
The included super soft flex leaf springs appear to have a lot of life in them as even though we have been hard on our test unit, they still remain "spring-y" with minimal sag. Bare in mind that if you plan to own a leaf truck, eventually replacing the springs is something you'll have to do. The included ones are awesome though.
The included body is the standard TF2 Mojave, but with a great looking Marlin Crawlers rear rollbar added. It has holes in it to add a light bar should you want to. While the body is hard plastic, there is no interior and it's relatively light. The mirrors are made of rubber and as such will not snap the first time you turn it on its side like plastic ones. It has a bobbed bed (meaning it has been shortened, like a custom truck bed) which is a cool look. The Marlin also has a completely new design for the front grill.
As you can see in one of the pictures, we did some crawling on a frozen waterfall. That's a crazy obstacle that we can all check off our bucket lists, LOL.
The truck proved to be waterproof as we went creek crawling several times and the Marlin had no problem in the cold Missouri drink.
Speaking of cold, we feel it should be known that this truck was driven in temps ranging from the 20's to 60's. Why bring it up? The truck is nearly entirely metal and as such, wildly changing temps can cause all sorts of wackiness. The truck worked fine throughout the spectrum of temps and the hardware stayed tight.
The way the body mounts is with standard posts in the bed and four 2mm screws, split two and two on each side of the cab. This looks great as there are no body posts showing, but it sure is a PITA to place/remove the body. We wish there was another solution.
We have been driving and reviewing RC4WD kits for awhile now, and all of our testers feel that they really "got it right" with this release. The Marlin is tough and proved to hang with some of the big boys in the category right out of the box, despite being a more scale oriented release with performance disadvantages. It can do work!
Best Mod: Probably steel driveshafts or a mega torque servo in the 300+ oz range.
---
Summary:
A = Outstanding/Best in Class, B = Above Average, C = Average, D = Below Average, F = Horrific
Time To Bash: C  The truck is ready to go once you pull it out of the box save for charging a battery, but if your pack doesn't have Tamiya connectors you'll need to solder something else or use an adapter like we did. It also takes a tad longer to swap out packs because of the four 2mm screws required to mount the body.
Workability: B  The Trail Finder 2 platform is very easy to work on and this one is no different. Most of the sub assemblies (transmission, transfer case) can be removed separately to get to where you gotta get without full disassembly.
Car Show Rating: A  The Marlin is one of the best looking trucks on the market. The scale suspension and details make this the kind of vehicle to show off to your buddies who aren't even into r/c.
Bash-A-Bility: B  The Marlin Crawler is extremely tough for a leaf spring truck and we didn't break anything until we got really stupid on the rocks. However, the slow speed definitely helps to keep it together, which is why we didn't give it an A.
Fun Factor: B  Final fun factor with the Marlin varied between testers, but all had a good time. Yes, it's a slow vehicle and not quite as capable as a 4-linked suspension equipped truck, but it can be a great time to wheel around and watch it handle realistically. If you are looking to tackle obstacles in a more thoughtful, meticulous way, you will have a lot of fun with this Trail Finder 2.
Handling: A  We wrestled with what final score to give for this section as (mentioned above) the leaf suspension definitely created specific limitations for the truck compared to other 1.9 crawlers. However, the good servo and amazing tires helped minimize those and let it tackle terrain that we thought it had no business driving through. Also, compared to other leaf trucks on the market there is nothing even close to how this thing drives out of the box.
Value: A  The $499 price is a bit steep, but we feel you are for sure getting your money's worth. This truck comes ready to rock right out of the box with hop-ups galore. It also proved to be very tough.
Parts Availability: B While not all hobby shops stock RC4WD parts, it's becoming more and more common for stores to have their wares on the shelves. Parts are also widely available online, be it through RC4WD direct or loads of other retailers. You can also find good aftermarket support for this platform.
BigSquid Rating: B+ The RC4WD Marlin Crawler Trail Finder 2 is extremely capable, tough and loaded with option parts. If you've ever wanted to try and experience what a super-scale, leaf spring-equipped r/c crawler has to offer, the Marlin is the one to get. We love ours!