THE RC4WD Trail Finder 2 Truck Kit w/ Mojave Body Review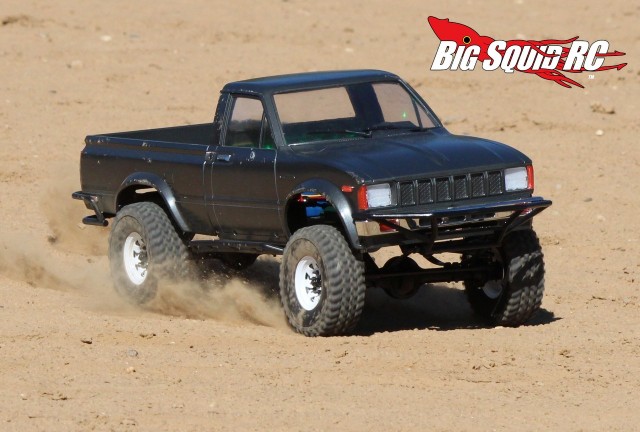 RC4WD has flown under a lot of peoples radar. On the crawling/scaler scene they are very well known, but a whole lot of normal bashers have not even heard of them, let alone know what kind of product they put out, or even that they put out entire kits. Today we'll be taking a closer look at the RC4WD Trail Finder 2 4wd off-road truck. Where does it fit into the market place? Is it bash worthy? What's the scoop? Click the "Read More" button to find out…
From: RC4WD
Direct Link: Trail Finder 2
Unboxing Pictures: BSRC TF2 Unboxing
Review By: Cubby
Pics By: Tim Mohr
Specs:
RTR or Kit: Kit
Age: 14+
2wd or 4wd: 4WD
Shaft or Belt: Shaft
Electric or Gas: Electric
Scale: 1/10
Length: Varies on bumper mount, 15.5" as built
Width: 8.5"
Wheelbase: 11.3″
Differential: None
Slipper Clutch: Yes
Driveshafts: Plastic slider
Tranny: R3 2 speed transmission w/ Hammer transfer case
Shocks: Internally sprung, friction dampers
Servo Saver: None
Screws: Metric Allen head
Spur/Pinion Pitch: 32p
Bearings: Yes
Tires: RC4WD 1.55"
Part Number: Z-K0042
Top Speed (measured by BSRC w/ 3S Lipo): 15 mph
Warranty: To be free of defects when new
Street Price: $400
Primary Competition: Axial SCX10
What's Needed To Complete: Speedo, motor, two servos, 4 channel radio, receiver, and battery.
Build Quality: All the chassis and drive train parts had good tolerances. The transfer case guard had one hole with a burr in the starter thread. Overall, good quality of parts included.
Test Drivers: Cubby, Tim, Iron Mike
Test Venues: iHobby Expo, local city parks, local streets, and a baseball diamond.
Set-up Notes: The Trail Finder 2 comes as a kit so we had to install a bunch of electronics. For power we used a Castle Mamba Max Pro with a Castle 1415 brushless motor. A Turnigy 3S 4000 Lipo made sure the TF2 had plenty of yank with 14/64 gearing. We used a Ko-Propo EX-1 KIY for the transmitter, a 4 channel KO receiver, and a pair of Hitec servos.
Turning: We didn't expect the Trail Finder 2 to steer very well. I mean it doesn't have working differentials and it is quite top heavy. We were surprised that even on a high grip surface like pavement it could indeed get turned around in a relatively small area. On dirt it pretty much steers where you point it. The exception being when trying to make tight hairpin corners, then it likes to push. The TF2 is no lightweight and most of that weight sits up high, thus making it want to flip when turned at speed.
Jumping: Ya, there aren't many vehicles that we honestly can't recommend you jump, but the Trail Finder 2 is one of them. At 11 pounds it has more girth than its suspension can handle. Jumping it, even small jumps, will damage parts.
Bumps/Whoops: Over small bumps/ruts it looks and handles a lot like the full scale equivalent. A bone stock full size pick-up truck bounces like crazy in the rough and that's how the TF2 handles. Don't even think about hitting bigger chop at speed, it blows right through its travel and ends up on its lid.
On-Road: You have to steer very gently, even at slower speeds, or the TF2 traction rolls on pavement. Sure, we did a lot of on-road driving with the TF2 and had a blast doing so, but there is a learning curve on how to initiate corners softly to keep it from tipping.
Grass: Soccer pitch grass did not slow our Trail Finder 2 at all. The TF2 really blows though grass like a beast.
Tires: Kit tires are good for general use and showed less wear than we expected.
Power: Ya, we wayyyy overpowered our TF2 with a Castle 1415 on 3S, but then we wanted a lion out in the field, not a kitten. The TF2 is geared super low out of the box, so even on 3S our top speed was only 15 mph. We were actually glad we went with such a beast of a motor, it never got hot, regardless of how much grass driving we did, and generally put out insane power. Powershifting between 1st and 2kd was tons of fun with this set-up, it popped the front wheels off the ground.
Crawling: On one hand the TF2 did a pretty good job of getting over some decent sized rock sections, all that weight can really help with traction. On the other hand, a run-of-the-mill 2.2 crawler can breeze through sections the TF2 struggles with. The stock tires on the TF2 are awesome for scale looks, but a lot smaller in size than a 2.2.
Broken Parts: We tested the Trail Finder 2 from a bashers prospective, meaning we drove it like we stole it on a wide variety of terrain. This lead to a bunch of broken parts, the majority coming from jumping it. We broke the front drive shaft while pulling some gnarly nose wheelies, which were quite fun I might add. The mirrors broke off while on display at the iHobby show by people handling the truck. Should you get a TF2 I highly recommend either bolting them on or leaving them off entirely (stock they are glued on). The rear cab wall on the body broke off after traction rolling in a grassy field. We bent two of the rims, not exactly sure where, and all the stock leaf springs were highly deformed after landing two jumps (the highest was 3′). Our TF2 now has about 3 degrees of negative camber in the front, quite a feat for a solid axle truck, from the front hubs being bent.
Misc Notes:
We were not big fans of the included manuals, one for the truck and the other for assembly of the body. We needed to download amended pages for both manuals and the diagrams were not detailed enough at times.
We went by the manual on the body assembly, but we would recommend that the bed be bolted to the cab when gluing in the rear cab wall, let the glue set, then unbolt and paint. Doing it the way the manual recommends resulted in some issues for us.
Assembling the stock wheels/tires was no easy task. The combo looks top notch and very scale, but it takes some work to get them together.
We didn't formally measure runtime on the TF2 because we ran the truck for over a half hour and it was still going strong. If you like long runtimes, most common power systems will yield plenty on the TF2.
Oh yes, the TF2 comes with a 2 speed transmission. Ours was bulletproof, even when power shifting with crazy power installed. Have I already mentioned how much fun a 2 speed is? Yes I have, but it is so much fun I had to mention it again.
The TF2 comes with a hard plastic body, which is somewhat rare in the hobby grade rc world. The included body is top notch for looks, the hard plastic allowing for loads of spot-on details. We did break and crack ours, but in retrospect it probably held up better than a normal lexan body would have on an 11 pound truck.
RC4WD is known for making parts out of metal instead of plastic. The vast majority of parts on the TF2 are made out of metal. All the metal parts make the truck quite heavy, but it's rare to be able to buy an rc truck that comes with so much metal out of the box. All the metal parts look scale and feel quite impressive.
Best Mod Under $5: Skip the stock mirrors or drill holes and bolt them on.
Best Mod Over $5: The TF2 comes with plastic driveshafts, replacing them with heavier duty units (read metal) will help bulletproof the truck.
---
Summary:
A = Outstanding/Best in Class, B = Above Average, C = Average, D = Below Average, F = Horrific
Time To Bash: C All kits take a while to build, we put 12 hours into the chassis and another 5 into the body.
Workability: B The layout of the TF2 allows for easy wrenching.
Car Show Rating: A The RC4WD Trail Finder 2 has incredible amounts of scale realism. In our opinion it is the best looking truck you can buy. That doesn't just apply to its very well done body, it has plenty of scale details under the hood too.
Bash-A-Bility: D To boil it down, you won't have issues if you take it easy with the Trail Finder 2, but expect lots of broken parts should you bash it hard.
Fun Factor: B Driving a concourse King like you stole it is a LOT of fun (insert evil grin here).
Handling: D The TF2 is really heavy for its size, this really hurts its handling attributes.
Value: B Why upgrade to metal parts when you can start there with the RC4WD? It costs $400 to have one of the most scale and best looking trucks of all time, it would cost way more to get there with another platform.
Parts Availability: C You won't typically find RC4WD parts on the shelf at your LHS but they are readily available on-line.
BigSquid Rating: C+ The RC4WD Trail Finder 2 is perhaps the most scale authentic truck you can buy. From a sweet looking body, to loads of scale detailing on the chassis, it is a marvel to look at. The first time you pick the truck up you are instantly amazed that nearly the entire truck is made with real metal parts. The TF2 looks and feels incredible in your hands. Unfortunately, all those cool metal parts really affect its reliability and handling.
Check out the video of the RC4WD Trail Finder 2 in action!