Review – Revell Dromida MT4.18 RTR Monster Truck
THE Revell Dromida MT4.18 Monster Truck Review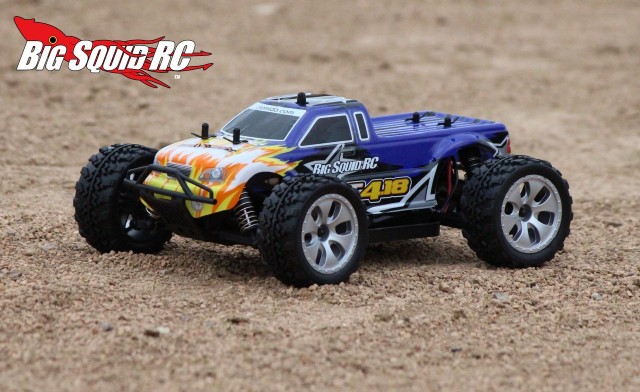 Dromida is the new line-up of affordable 18th scale bash machines from Revell. We reviewed the Dromida SC4.18 last week, this week its time for the MT4.18 mini monster truck. The MT4.18 uses the same base platform as the other Dromidas, how does it differ? Is it better for bashing? Is it worth your cash? Click the "Read More" to find out…
From: Dromida
Direct Link: MT4.18
Unboxing Pictures: BSRC Unboxes the Dromidas
Review By: Cubby
Pics By: Tim Mohr
Specs:
RTR or Kit: RTR
Age: 14+
2wd or 4wd: 4wd
Shaft or Belt: Plastic shaft
Electric or Gas: Electric
Waterproof: Yes
Scale: 1/18th
Length: 10.6″
Width: 7.5″
Wheelbase: 6.6″
Motor: Brushed 370
Speed Controller: Dromida RE18, esc/receiver combo
Radio: Dromida D100 2.4GHz
Differential: Gear diffs front and rear
Slipper Clutch: No
Driveshafts: Plastic bones
Shocks: Plastic bodies, oil filled
Servo Saver: On servo output shaft
Screws: Phillips
Bearings: Yes
Tires: Dromida intermediate tread
Battery: 6 cell 1300mAh Ni-MH
Part Number: DIDC0042
Top Speed (measured by BSRC): 16 mph
Runtime: 16 minutes
Warranty: 90 day limited
Street Price: $99
Primary Competition: ECX 1/18th Ruckus, Associated Mini Rival MT
What's Needed To Complete: Absolutely nothing, everything comes in the box.
Build Quality: We didn't find anything wrong with the assembly of the MT4.18. All the screws were tight, but not overly so, the shocks were properly filled, and nothing was binding.
Test Drivers: Tim Mohr, Iron Mike, Sam "The Noob", and yours truly
Test Venues: RC Outlaws 8th scale outdoor track in Collinsville Illinois, Cliff Cave park in St Louis Missouri, a city park in Belleville Illinois, and a CostCo parking lot.
Set-up Notes: We ran the MT4.18 bone stock, however we did not use the included wall charger. We instead opted to use a TrakPower VR-1 to handle the charging duties.
Turning: The MT4.18 had a lot of steering, but not so much that it was hard to drive. It instantly turned into corners and the rear followed suit without getting squirrelly. Due to the stock tires, it didn't have a lot of mechanical grip, but the grip the tires gave was consistent, resulting in an easy truck to get through the corners.
Jumping: The MT4.18 was a good jumper for an 18th scale machine. It tended to launch flat and landings were absorbed quite well. The stock powerplant didn't have a lot of rip to make mid-air corrects, thankfully they were not often needed.
Bumps/Whoops: Our review MT4.18 didn't seem to be as overly damped as the other models in the Dromida line-up, its wheels seemed to stick to the ground better and kick less on harsh bumps. The MT4.18 got through the rough stuff on par, or better, than anything else its size.
On-Road: The MT4.18 made a good little pavement machine. It didn't traction roll and generally was quite easy to drive.
Grass: Short grass was easily blown through with the MT4.18, but anything taller than that presented a real challenge to the truck. 18th scalers aren't known for being the best grass machines and the MT4.18 was no exception. If you do the majority of your bashing in grassy fields look for a larger scale vehicle.
Tires: The compound of the tires was in the ballpark, meaning they weren't rock hard, nor so soft that wear was an issue. The tread pattern was best suited to pavement where they gave their best traction.
Power: Our MT4.18 test sample was faster than the SC4.18 we just reviewed, not by a whole lot, but it had more punch off the bottom and another 2 mph on the top end. Still, the low end was quite soft leading to a non-climatic mid-range which wound out quickly on top. If you are noob it has enough power to be exciting, if you are a seasoned hobbyist you'll be looking for more power in all but the smallest of venues.
Radio: The ergonomics of the included radio worked fine for the wide variety of hand sizes. The foam covered wheel was much nicer than units that come with plastic wheels, and the trigger comes with ribs which we prefer. The grip was hard plastic, but felt fine in hand. The only downfall we found was range, we got about a 300 feet radius.
Broken Parts: Through the normal bashing process the MT4.18 held up well. The plastic parts are flexible without being overly so. We did end up breaking the MT4.18, but we were doing some extreme bashing to do so. We found a backstop at a local ball diamond and threw the MT4.18 up on top then decided to jump it back off. Upon landing from about 10 feet high we managed to break both front driveshafts. I must also note the temperature that day was 25 degrees Fahrenheit, which no doubt made the plastic bones easier to break.
Misc Notes:
The stock servo saver is weak and not adjustable. This results in a truck that doesn't center well when trying to drive in a straight line. A soft servo saver spring is great for keeping the servo from breaking, but a stiffer spring would immediately help the centering issue.
Yes, the MT4.18 does drive somewhat differently than its brothers the SC4.18 and the BX4.18. While its base platform is the same, the different wheels/tires and body make it handle slightly differently. The MT4.18 seemed to get through the rough stuff and jump slightly better than the other two vehicles, although the other two were slightly better at turning.
How waterproof was the MT4.18? We did some serious water bashing and experienced no issues, so we'd say it is waterproofed very well.
Best Mod Under $5: Stiffening the servo saver will go a long ways towards a better centering truck.
Best Mod Over $5: If you are a seasoned hobbyist, installing a power system with more rip will give more thrill to the ride.
---
Summary:
A = Outstanding/Best in Class, B = Above Average, C = Average, D = Below Average, F = Horrific
Time To Bash: B Charge up the included Ni-MH and hit the bash spot, the MT4.18 is quick and easy to go from box to dirt.
Workability: B The Dromida platform is well laid out and easy to work on, we just wish it came with hex hardware instead of Phillips.
Car Show Rating: B The graphics on the body are sharp and vibrant, the wheel/tire combo also looked good.
Bash-A-Bility: B We slammed the MT4.18 into plenty of hard objects at full tilt without breakage.
Fun Factor: C The MT4.18 handles well, but the soft noobie oriented power system held back its fun factor.
Handling: B The Dromida MT4.18 handles as well as the "big" names in 18th scale.
Value: B The MT4.18 is a fun little package for $99.
Parts Availability: C Dromida is such a new line of cars that parts are not sitting on the shelves of many hobby shops. The part we broke on the MT4.18, the front driveshafts, are shown to be available "late November" at a price of just $3 on Tower Hobbies. With the distribution power of Hobbico behind the Dromida line, parts availability should be good, but time will tell.
BigSquid Rating: B- We had loads of fun with the Dromida MT4.18. It's durable, handles well, and makes a good little bash machine.