Review – Revell Dromida SC4.18 RTR Short Course Truck
THE Revell Dromida SC4.18 Review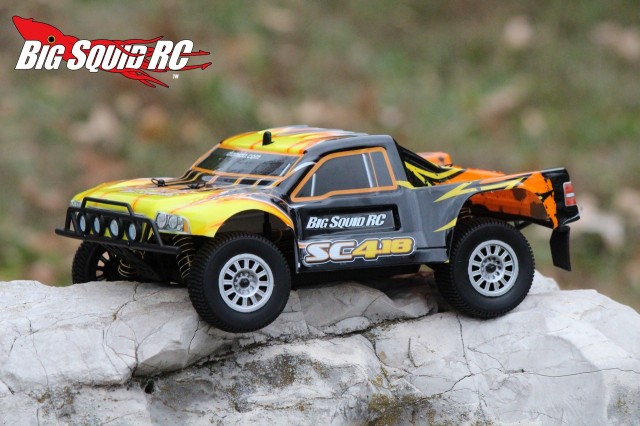 When Hobbico talks, people listen, and a whole bunch of ears perked up when they announced the Revell line-up of 18th scalers called Dromida. You and I might know Revell from their models, but now they have jumped into the rc world. The Dromida line-up is aimed right at the basher crowd, it was designed to be affordable, tough, and ready to run. Did Dromida hit the mark? Click the "Read More" button to find out what we thought of the Dromida SC4.18 ready to run short course truck.
From: Dromida
Direct Link: SC4.18 SCT
Unboxing Pictures: BSRC Dromida Unboxing
Review By: Cubby
Pics By: Tim Mohr
Specs:
RTR or Kit: RTR
Age: 14+
2wd or 4wd: 4wd
Shaft or Belt: Plastic shaft
Electric or Gas: Electric
Waterproof: Yes
Scale: 1/18th
Length: 11.4″
Width: 7.5″
Wheelbase: 6.6″
Motor: 370 brushed
Speed Controller: Dromida RE18, combined with receiver
Radio: Dromida D100 2.4GHz
Differential: Front & rear gear diffs
Slipper Clutch: None
Driveshafts: Plastic bones
Shocks: Plastic bodies, oil filled
Servo Saver: At servo
Screws: Phillips
Bearings: Yes
Tires: Dromida SCT tread
Battery: 6 cell 1300mAh Ni-MH
Part Number: DIDC0041
Top Speed (measured by BSRC): 14 mph
Runtime: 15 minutes
Warranty: 90 day limited
Street Price: $99
Primary Competition: ECX 1/18th Torment, Associated RC18T2
What's Needed To Complete: Nothing, absolutely everything you need comes in the box.
Build Quality: We found the screws holding the motor to the motor mount were not tight. Otherwise, the shocks were properly filled, we didn't find any unwanted binding, and we didn't find any other loose or over-tightened screws.
Test Drivers: Your all knowing Cub Reporter, Iron Mike, Tim Mohr, and Sam "The Noob"
Test Venues: Dirtburners 8th scale outdoor off-road track in St Louis Missouri, Cliff Cave Park in St Louis Missouri, and a CostCo parking lot.
Set-up Notes: We ran the SC4.18 bone stock, however we chose not to use the included wall charger. For charging duties we enlisted a Hitec X1 Touch.
Turning: If you are a fan of slight oversteer you'll like the SC4.18. The front tires always seemed to bite right in and the truck turns where you point it. The rear tended to be a bit loose which is great for rotating around a tight hairpin, but can get a bit hairy in the sweepers.
Jumping: The suspension on the Dromida SC4.18 works well on jump faces and on the landings. You can hit pretty much any jump and it takes off straight and flies fairly level. On those jumps that might kick you at an odd angle, the soft powerplant isn't much help for making mid-air corrections, and that big SCT body can parachute when jumping on windy days.
Bumps/Whoops: The stock suspension is set-up well for jumping, but it is a bit too heavily damped for general bumps/whoops/chop. The heavy damping tends to make the SC4.18 bounce over bumps instead of absorb them. The fix is easy and cheap by simply changing to a lighter shock oil.
On-Road: Is pavement your forte? If so, the Dromida is great fun driving on your favorite stretch of road. The tires on the Dromida offer good traction, yet the truck does not traction roll.
Grass: Grass is a tough venue for most 18th scalers and such is the case for the SC4.18. If the grass is very short the 4wd and good tires will pull you through, if the grass is a bit taller it just gets high centered.
Tires: We liked the stock tires, they offered decent grip and lasted a long time. The tread pattern is compact, making them work best on hard packed/high bite surfaces, but they get along fairly well in loam and grass too.
Power: The power on the SC4.18 is best described as soft with the stock battery. Power delivery is timid off the bottom, the mid-range is a steady pull, and it drops off fast at a 14 mph top end. Soft is great for a noob, we handed the Dromida to a first timer and it was plenty fast for them, but if you are an experienced hobbyist you'll be looking to put in a more powerful battery and/or a brushless system.
Radio: Several of the RTR vehicles under the Hobbico umbrella come with this radio and we've had good luck with them. Its ergos tend to work for a large variety of hands and we have experienced no glitching issues with them. The Dromida version was a bit different because it didn't have the range that we were used to seeing. We got about a 300 foot radius from the Dromida transmitter/receiver combo.
Broken Parts: We slammed our review SC4.18 into a concrete block full speed (ok, a half dozen times) without breaking anything. The combination of soft plastic, big bumpers, and low top speed, lend to a truck that is quite difficult to break. We did however manage to strip out a spur gear. This happened when we were hucking it off a vert ramp to pavement and the motor slid in its mount.
Misc Notes:
Changing camber makes a big difference in handling and the SC4.18 has adjustable camber links, but it does not come with adjustable toe.
The stock battery is stated to be 1300mAh, we tested it at over 1400.
The Dromida comes with small wheel hexes, this limits wheel selection from other trucks.
The SC4.18 comes with really wide bumpers front and rear. We like big bumpers, they help keep the truck in one piece when getting obnoxious.
One of our staffers, Tim Mohr, just happens to be a former multi-time 18th scale champion. He really liked the way the Dromida handled, saying it has the type of steering you want for busting out fast laps.
While the SC4.18 had a lot of steering, it did not center well. It seemed like even a minute adjustment to the trim was always too much.
The SC4.18 has too much up-travel on its suspension, this results in the tires rubbing on the body during full compression.
A full spur gear cover comes on the SC4.18 to keep rocks/sand/mud out of the gears.
Best Mod Under $5: We popped in Associated 30 weight shock oil front and rear making the truck handle much better when pounding through rough sections.
Best Mod Over $5: Pump up the power. An aftermarket brushless system and Lipo should turn the the SC4.18 from mild to wild.
---
Summary:
A = Outstanding/Best in Class, B = Above Average, C = Average, D = Below Average, F = Horrific
Time To Bash: B Once you have a charged battery pack, the Dromida is ready to hit the dirt right out of the box.
Workability: B The Dromida is well laid out and very easy to work on, but we would have liked to have seen hex hardware.
Car Show Rating: B The Bash Crew really liked the paint scheme on the SC4.18, the paint pops and the graphics are well executed. However, the truck is too wide for a truly scale look. The wheels and tires did have a nice scale appearance to them.
Bash-A-Bility: B You can ram the Dromida into pretty much anything (full speed) without worry of it breaking. We put a good old fashioned beating on it with very few issues.
Fun Factor: C The SC4.18 drives well but needs a bit more power to make it interesting for experienced hobbyists.
Handling: B The Dromida drove well on a variety of different surfaces.
Value: B For $99 the Dromida comes with everything you need and can take quite a beating.
Parts Availability: C As the entire Dromida line is quite new, you will not find many parts on LHS shelves, but parts are readily available on-line.
BigSquid Rating: B- This being the first Dromida vehicle we have ever tested we didn't know what to expect, but we found the SC4.18 to be a solid 18th scaler. The Dromida drove well, and in true basher fashion, was quite tough to break.