When it comes to scale realism in the R/C world, some brands come to mind more than others. While you can rely on names like RC4WD, Axial, Traxxas, and others to bring their best, names like FMS and ROCHobby have been upping their game and raising the bar for realistic detail.
One of ROCHobby's latest creations is a unique throwback to WWII-era machines. The 1/12-scale Type 82 Kübelwagen is a stunning recreation of Germany's wartime answer to the Willys Jeep. If you don't mind a quick history lesson, the 1:1 Type 82 Kübelwagen was manufactured by Volkswagen and featured four doors, an air-cooled flat 4 engine, and two-wheel drive.
Direct Link ROCHobby 1:12 Kubel Wagon
ROCHobby's R/C counterpart does a fantastic job in recreating this machine for radio-control and history fanatics alike. Let's take a closer look at this replica German World War II transporter.
ROCHobby 1/12 Type 82 Kübelwagen Specs:
Length: 317mm
Width: 135mm
Height: 129mm
Weight: 635g (without battery)
Wheelbase: 202mm
Ground Clearance: 30mm
Price: $299.99
Unboxing the 1/12 ROCHobby Type 82 Kübelwagen

The Body & Scale Details
As soon as you pull this model out of its packaging, you can see and feel the amazing level of detail that's been packed into this mid-size R/C machine. With an ABS hard-body, the ROCHobby Type 82 Kübelwagen has a premium appearance and plenty of heft which gives it a solid stance. There are several opening doors and compartments on this model, allowing for plenty of scale accessories to be added for enhanced realism. Removing the hood reveals the ESC/receiver and battery, which are packed into the "frunk" section of the Kübelwagen in a nice and neat manner.
All four doors open and feature latching/unlatching door handles for a true scale experience. The rear seat of ROCHobby's Kübelwagen can fold down and the top of the rear storage area can lift up for scale accessory storage. Speaking of the seats, both the front and rear seats are fabric-covered and feature slight cushioning. It's a subtle feature, but it's one that I appreciate. The engine compartment of this model can also open up to reveal the detailed 1/12-scale engine, complete with a functioning fan and fan belt. Activated by the throttle controls, this is another unique offering that should delight scale enthusiasts.
Other body details include a flip-down windshield, molded plastic flooring (made to look like wood), a rear seat gun rack, and multi-function LED lights. The headlights can be operated in off, low, and high modes and the taillights light up and blinker lights illuminate while turning the steering wheel. The steering wheel itself will also turn when the steering servo is activated. A third "camouflage" light will also illuminate, giving another option for nighttime missions.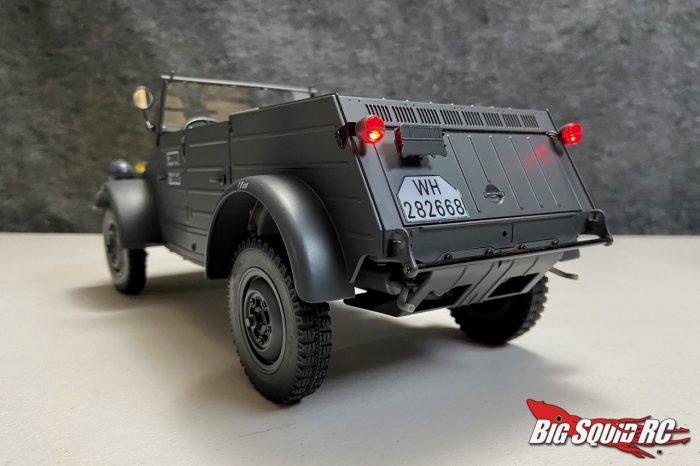 The Chassis and Electronics
The Type 82 Kübelwagen features a solid chassis platform with rear-and-four-wheel drive, portal axles, and independent front and rear suspension. The wheels and tires are modeled after their 1:1 counterpart and feature soft rubber and a narrow width that can handle a variety of off-road terrain. This model is powered by a LiPo battery and features a 130-size motor with three speed ranges. Low and mid-range are almost indistinguishable from one another while the top gear is capable of cruising at a solid clip.
Driving Performance
Let's get this out of the way; ROCHobby's Type 82 Kübelwagen isn't a rock crawler. If you have visions of conquering towering piles of rock with this rig…you're out of luck. That said, this is a fun trail machine that is plenty capable of trekking through a wooded forest in search of adventure. During my review testing, I drove the Kübelwagen through a variety of conditions including grass, a wooded trail, and gravel. The gravel driving consisted of mainly high gear and I was able to have some fun cutting sharp turns without any handling issues.
The grass and woodland adventures were performed in low and middle gear, with the ROCHobby Kübelwagen performing quite well on both types of terrain. This model can get hung up and stuck on twigs and small holes, but overall, it held its own.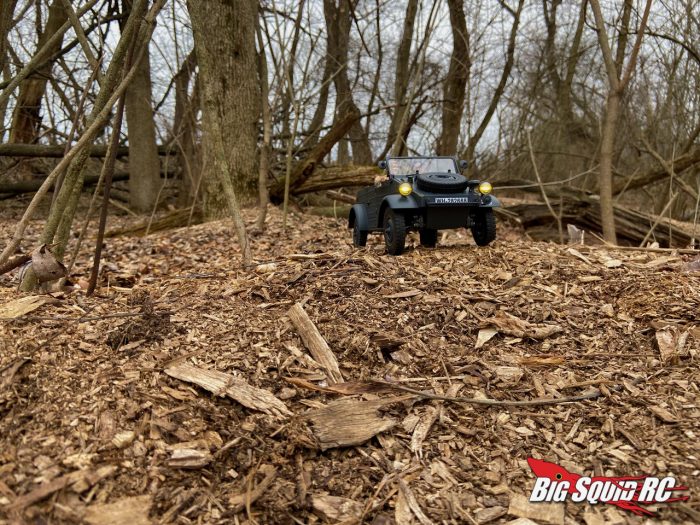 The Final Verdict
If you're looking for a super-niche R/C model, this is it. Not only does it serve the scale R/C side of the hobby, but it also serves as a great historical piece for World War II aficionados. The amount of scale detail that ROCHobby has poured into its 1/12-scale Type 82 Kübelwagen is mind-blowing. In fact, this machine would make an amazing static model, perfect for anyone's bookshelf display. The fact that it's also a capable trail machine is just icing on the cake.
With a solid chassis, durable construction, and variable speeds, you can run this model just about anywhere you'd like. As a fan of scale radio-controlled models, I'd say ROCHobby's 1/12 Type 82 Kübelwagen is a definite must-have.
The ROCHobby 1:12 Kubel Wagon is street priced at $299 and can be ordered at that link.
Click Here for more ROCHobby news on BigSquidRC.