Review: Simplecopter Mini Tricopter 250mm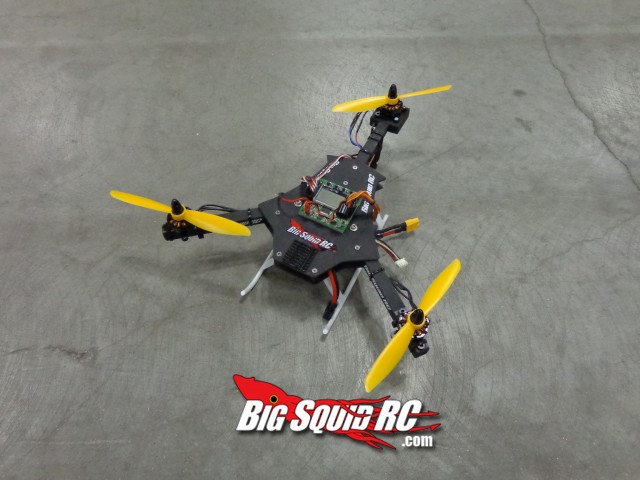 Hey guys, 3DBill here with another fun multirotor kit to review!  This year the mini quad class really exploded but this isn't another quad from the average consumer hobby brand: it's the Simplecopter Mini Tricopter. See my setup as well as my impressions of this small class aircraft after the jump…
From: SimpleCopter
Direct Link: Simplecopter 255mm Mini Tricopter
Unboxing Pictures: BigSquidRC Unboxes the Simplecopter Mini Tricopter
Review By: 3DBill
Pics By: 3DBill
Specs:
Weight: 3.5 oz (100grams) without landing gear, and 4.5 oz (130grams) with gear installed.
10 inch (254mm) from motor to motor.
Arms can fold for portability or to help on emergency landings
RTF or Kit: Kit (Frame Only, no electronics provided)
Electric or Gas: Electric
Flight Controller: KK 2.0 Multicontroller Board
Motor: SunnySky 2204, 2300kv from BuddyRC
Speed Controller: 12A ESC from ReadyToFlyQuads
Servo: New Power digital servo XLD-17HM
Props: 6×4.5
Radio: Spektrum DX7
Battery: 3s 1300mah 45c and 3s 2200mah 35c LiPo Batteries used in testing
Total Aircraft Weight: 15.6oz including the  3s 1300mah LiPo
Runtime:6-8 minutes with 1300mah 3s LiPo, 10 minutes+ with 2200mah Capacity
Street Price: $34.99(frame only)
Primary Competition: Its a tricopter in a size and power class dominated by quads currently. There isnt another tricopter to comapare to that is In the same size class (i.e. 250mm size,2204 outrunners,12amp escs,5-6" props).
What's Needed To Complete: Simplecopter's website has just about everything you need to complete this kit. Here is the laundry list of  to get this kit flying if you were to start completly from scratch: 4Channel Radio with Receiver, LiPo Battery and accompanying charger, servo for the tail, servo to rear yaw block connector,2mm bullet connectors for motors and ESC's, 5/32 allen wrench. 1.5mm allen wrench, phillips screw driver,utility cutter or Xacto, paint, velcro, soldering iron, solder,heat shrink, lighter or heat gun, 14 guage wire and battery connector, zip ties, small self tapping phillips screws or servo screws, side cutters,double sided tape, outrunner motors, ESCs, props, flight controller board(KK2, MultiWii, etc), and male-to-ale servo connectors. Don't forget: BigSquidRC stickers are important to every build (they make your multirotor fly better and add 20% more power, too). (Disclaimer: BigSquidRC stickers have not been proven to increase power or improve flight abilities. Please consult your Doctor before using BigSquidRC stickers.)
Build Quality: The frame is cnc cut 3mm birch and uses 1/2" square pine for the arms, It comes pre assembled. Fit and finish is good and the front arms swing back to prevent damage during a crash. Blind nuts,phillips head machine screws,and allen screws are used to secure the landing gear and hold the frame together. It takes about an evening or two to build this one. Letting the paint dry and a little soldering are the most time consuming parts of the build.
Test Pilots:3DBill(everyone was really busy during iHobby but the rest of the guys will get to take it for a spin soon)
Test Venues: My front room (don't try that at home, kids), my backyard, the local flying field, a nearby subdivision field, and the iHobby flying cage
Set-up Notes: I used my baseline set up for tricopters to start. During the first flight I lowered the gyro gains for pitch and roll slightly on the flight controller. After that I increased the control rates and flew it in the yard to dial it in more. All the simplecopter kits have complete build and set up videos to help those new to multirotors get it set up and flying.
Flying: The tricopter as I set it up is very quick and nimble, and still shows excellent stability for such a small machine. I enjoyed flying around the yard with it flipping and rolling and dodging pesky trees. With a 3s 2200mah LiPo and a GoPro it makes a really nice little camera ship to and was easy to fly and get into position quickly to film Tim and Wrench skying off the ramps warming up for the demos at iHobby. Without a GoPro onboard its an ACROBATIC MONSTER in a tiny package that tracks well and can rip across the sky with lightning speed.
Power: The SunnySky 2204s 2300kv outrunners from BuddyRC performed really well. These are the go-to motors for most flying mini multirotors and I can see why. I highly suggest not skimping on motors and using these: they are well priced and really nice quality and pack plenty of punch. The ReadyToFlyQuad's 12 amp ESCs worked great and throttle response was very smooth for camera flying yet quick enough for acrobatic flying. The 6×4.5 props performed well; it took a few crashes and tumbles before I eventually broke one in the grass or stressed them enough near the hub to replace them with a new set.
Broken Parts: Nothing broke on the frame during testing. Broke a prop and replaced two more that had stress marks near the hubs. Tricopters use a servo for yaw/rudder control; it still works but has some gear slop and a chipped tooth or two in the gear train.
Misc Notes: Any metal to metal nuts, screws, etc. should have a bit of Loctite added to the threads as a precaution. Check the set screws on your motors; mine were just slightly snug from the factory and I added Loctite to them to be safe, and do the same for the screws and blind nuts for the frame while you're at it.
Best Mod Under $5: Paint or bright props to jazz it up and to assist in knowing orientation at long distance. I went with the stealth look.
Best Mod Over $5: Plenty of props.. A multirotor pilot can never have too many props.
---
Summary:
A = Outstanding/Best in Class, B = Above Average, C = Average, D = Below Average, F= Horrific
Time To Bash: C Painting and soldering take a little time
Workability: B Frame plates and everything else is easy to disassemble if needed for repairs.
Air Show Rating: A I really dig the looks
Bash-A-Bility: B+ Smaller and lighter these mini aircraft can take more abuse
Fun Factor: A Packed full of power for acro and a fun little camera ship
Value: A Simplecopters are a lot of fun to fly and build and you can't put a price on that. They wont break the bank either at $34.99 for this one
Parts Availability: C Currently parts for this one are not listed on the Simplecopter site but its their newest kit at this time
BigSquid Rating: B+ Compact,tons of fun for acrobatic flight. Makes a great little camera platform for a GoPro or Mobius camera