Review – Speed Passion LM-1 Le Mans Spec Racer
THE Speed Passion LM-1 Le Mans Spec Racer Review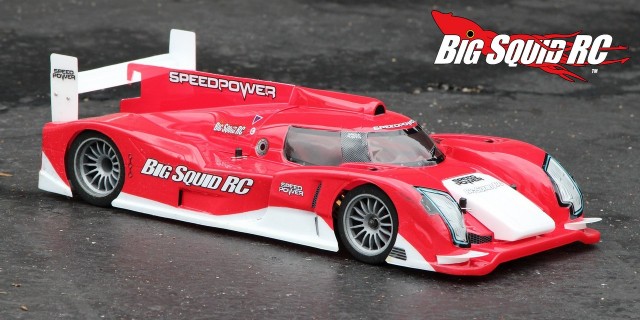 Ya, you've probably heard of Speed Passion ESCs and motors before, but you might not be aware that they sell cars too (or that they have an office right here in Chicago). When we first saw the product announcement for their new LM-1 Le Mans Spec Racer we immediately made the call, we had to have one for review. The LM-1 is a 2wd 10th scale pan car that looks very scale realistic. Here we are a few weeks later and our review is all done. Is the LM-1 fast? Can you slam the pipes without it falling to pieces? Is it worth the cash? Hit the "Read More" to find out…
From: Speed Passion
Direct Link/ Buy It Here: LM-1 Le Mans
Unboxing Pictures: BSRC LM-1 Unboxing
Review By: Cubby
Pics By: Tim Mohr
Specs:
RTR or Kit: Kit
Age: 14+
2wd or 4wd: 2wd
Electric or Gas: Electric
Scale: 1/10th
Length: 370mm
Width: Front 195-200, rear 200-205mm
Wheelbase: 275-280mm
Weight (chassis only): 450 grams
Differential: Ball diff
Slipper Clutch: No
Driveshafts: Solid axle
Shocks: Springs only front, one oil shock rear
Screws: Metric, hex
Spur/Pinion Pitch: 48 pitch
Bearings: Full set
Tires: Speed Passion, foam front & rear
Part Number: #SP001062 kit, #SF000173 body
Top Speed (measured by BSRC): 29 mph
Runtime: 15 minutes
Street Price: $169 kit, $45 body
Primary Competition: Affordable 10th scale pan cars
What's Needed To Complete: This is a kit so you'll need paint, speedo, motor, radio system, servo, battery, battery charger, and assembly tools.
Build Quality: The build quality of the car depends entirely on you. The quality of the parts supplied was good, we had no issues with any of the parts.
Test Drivers: Hawaiian Chris, Iron Mike, Tim Mohr, Sam "The Noobie", and your friendly, lovable Cub Reporter
Test Venues: Jake's Race Place in Fairmont City Illinois, CostCo parking lot, and a local cul-de-sac
Set-up Notes: To get our Speed Passion LM-1 up and kick'n we used a Speed Passion Revention S speedo, a Speed Passion V3.0 17.5R motor, a Hitec waterproof servo, a TrakPower 2S 6800 Lipo, a Hitec X1 Touch handled the charging duties, and a Futaba 4PK Super R ran the show.
Turning: On carpet, the LM-1 has a lot of steering right out of the box, which is a good thing on a pan car. We would rather be forced to tune out of a bit of steering instead of trying to find more on a pan car. On carpet the front end turns in hard, both at high and low speed, and the front tires stick well through the apex. At exit there isn't as much steering, but it still felt planted. At low speeds the rear end can feel a bit loose, but as speeds raise the aero starts to kick in and the rear end sticks well.
Jumping: Yes, we jump everything, that's what we do (so you don't have to). And yes, the LM-1 jumps pretty much like any other pan car, it ricochets off the face and becomes a kite the moment the tires hit air. If you want to jump, look for something other than a pan car.
Bumps/Whoops: Yes, this category exists in all our reviews. And no, we actually did not hit an 8th scale buggy track and attempt to see just how well the LM-1 handled the whoops. However, we can say that the low sitting LM-1 does handle ripples in carpet quite well, but when driven on pavement it was not a fan of big road joints or rocks.
On-Road: This is the forte of the LM-1, especially on carpet. The LM-1 is low, lightweight, and a freak'n animal on carpet. The low center of gravity, combined with its low overall weight, combined with foam tires, produce a car that can absolutely rocket around a carpet track. It is nimble and it is quick, even when being driven on "stock" class 17.5 power. The box stock set-up wasn't far off either, you can literally take it to the track box stock and bust out some impressive laps.
Grass: Ummm…. yes we tried, and no you don't want to. Foam tired pans cars are not the hot set-up on grass.
Tires: The stock wheels look the part while the stock foam tires worked well on carpet. On pavement they did not provide optimal traction, but had enough for a good time.
Power: A power system does not come with the LM-1, but we'll mention that the Speed Passion 17.5 system we used had plenty of rip for the carpet track we tested at. Mated to a TrakPower 6800 Lipo it definitely had more than enough power for indoor track use. Outdoors in a bashing setting, the limited power of the 17.5 was a bit more telling, but still felt quick thanks to the light weight of the LM-1.
Broken Parts: We slammed the LM-1 off the boards, into other cars, and even did some jumping with it. In the end, like most pan cars, we suffered very few issues. We managed to strip out the stock steering horn early in testing, but we should have been running a Kimbrough servo saver anyways. We also managed to break the front sway-bar/strut when picking the car up, and a few pieces of the body ended up coming off after big hits.
Misc Notes:
The LM-1 chassis, before electronics and body, weighs less than a pound (less than a POUND!). Yes, pan cars are light, just one of the reasons they are so quick on-road.
Pan cars are very simple to build, so it took us just two evenings to build the LM-1. The body was another story. It had multiple pieces, and simply takes a while to get painted up and put together. In fact, I think it took us longer to finish the body than it took to build the car.
Some of the body parts are held on with double sided tape. As you would expect, double sided tape doesn't work that well. We highly recommend using small bolts to hold on the pieces you want to actually stay on the car after a big hit.
The rod ends rub against the inside of the front wheels. About 5 seconds with a hobby knife fixes that issue just fine.
The manual isn't overly detailed, but it gives you enough information to successfully build the car.
The LM-1 is another one of those kits where you have to open three bags to do the first step. If you are an experienced builder you are used to it, but optimally we would like to see one bag per step.
The Speed Passion had an exceptionally free steering rack, very nice.
Best Mod Under $5: Use some small bolts/nuts to secure the various body panels instead of double sided tape. Also, another cheap mod is to either use a Kimbrough servo saver or a quality servo arm instead of the stock unit.
Best Mod Over $5: I am going to say… the body is a work of art, so once you get it, ship it out to the best painter you can find for an uber paint job. There is one downside here, the $40-$100 you spend on the high end paint just might make the car look so good that you simply can not stand to see it get messed up by actually driving the car.
---
Summary:
A = Outstanding/Best in Class, B = Above Average, C = Average, D = Below Average, F = Horrific
Time To Bash: C Kits are definitely not the fastest way to hit the track. In the case of the Speed Passion, the pan car went together quickly, but its multiple piece body takes a couple of evenings to finish up.
Workability: A The LM-1 was well laid out and exceptionally easy to spin wrenches on.
Car Show Rating: A The body for the LM-1 is gorgeous. It looks fast, it looks scale realistic, it is a stunner.
Bash-A-Bility: B Our LM-1 test machine took numerous hard hits without major breakage.
Fun Factor: B While the range of driving areas for the LM-1 might be limited due to its pan car design, when it is in its element, the LM-1 is a fun machine to wheel around.
Handling: B As far as 10th scale pan cars go, the LM-1 might not be the very best handling machine money can buy, but it still handles quite well.
Value: B The kit runs $169, the body another $45, and the electronics however much you feel like spending. We feel the LM-1 ends up being an affordable car that can run with much more expensive cars in its class.
Parts Availability: D You will not find Speed Passion LM-1 parts on the shelf at your local hobby shop, nor can they be had from Hobbico or Horizon. Luckily, parts are readily available from Speed Passion directly.
BigSquid Rating: B The Speed Passion LM-1 is quick, tough, and is incredibly good looking. While it might be best suited for a carpet indoor track, it can certainly hold its own while blasting up and down the local cul-de-sac. We really liked the LM-1, give one a try if you are looking for a new on-road machine.