Review – Spektrum DX4S 4-Channel DSMR AVC Radio System
THE Spektrum DX4S 4-Channel DSMR AVC Radio System Review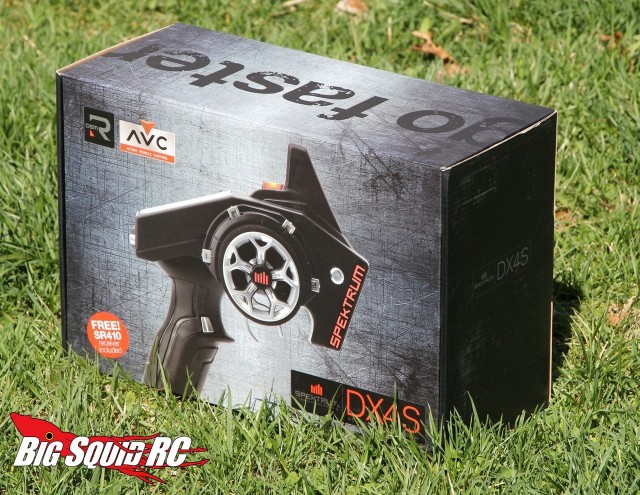 What's the real scoop on Spektrum's new AVC (Active Vehicle Control) system? Does it work? Can it truly make your car easier to drive? Is it just another marketing gimmick? Has range improved with the newer Spektrum products? We've been driving, testing, and beating on a Spektrum DX4S for weeks now and we learned a lot about it. To find out exactly what we learned, and to get the answers to all the questions above, hit the "Read More" button to get this party started…
From: Spektrum
Direct Link: DX4S
Review By: Cubby
Pictures By: Tim Mohr
Specs:
Transmitting Frequency- 2.4GHz Frequency-agile DSMR
Model Memory- 30
Number of Channels- 4
Telemetry Capable- Yes
AVC Active Vehicle Control Capable- Yes
ABS Braking- Yes
Transmitter Battery- Four AA
Transmitter Weight (measured by BSRC w/ batteries)- 480 grams
Receiver- Two are included, a waterproof SRS4210 AVC and an SR410
Warranty- 1 year limited
Street Price- $249
Primary Competition: Futaba 4PLS
What's In The Box: Lots of stuff – the transmitter, two different receivers, two additional grips, a switch for a receiver pack, the required AA batteries to get the radio kick'n, two bind plugs, and some servo tape.
Build Quality: We found the radio to be well assembled with nothing astray.
Test Drivers: Cubby, Tim, Iron Mike, Sam "The Noob", Bobby G.
Test Venues: RC Outlaws in Collinsville Illinois, Dirtburners in St Louis Missouri, Cliff Cave Park in St Louis Missouri, Minnie Ha Ha Park in Fenton Missouri, Arnold City Park in Arnold Missouri
Set-up Notes: We used the DX4S in two different vehicles, a 2wd Pro-Line PRO-2 Buggy and a 4wd Vaterra Halix. We only used the 4210 AVC receiver in both. One of our drivers used the included "slim" grip while everyone else used the standard "medium".
Feel In Hand: Compared to some radios (read Traxxas) on the market the Spektrum felt better, but compared to some of its direct competition it came up a bit lacking. Its wheel/trigger/grip relationship felt proper for the majority of our testers, but it fell short in a few other areas. While it does come with foam on the wheel, the foam has a cheaper feel than the foam on a 4PLS. Also, the radio is very light, so light in fact that it has a cheaper feel to it than other radios at its price point. The trigger is well contoured and worked on a variety of sized fingers, but it doesn't have serration on the flesh side that we have come to prefer. Also, the trigger pull is the lightest we've come across, all of our testers felt the tension was too light, and there was no adjustment to make it harder.
Ease of Use: We were big fans of the menus on the Spektrum, they were very easy to use and are perhaps the best on the market. Binding a receiver requires a plug, which isn't as convenient as a button, but still, binding and calibrating the receiver are a fairly painless procedure. We found that everything you need to know is well explained, and easy to find, in the manual.
Features: The DX4S is loaded no doubt. It has ABS braking, it has mix modes, it has a large model memory, vibration alerts, an SD card reader, and it has something nobody else has, active vehicle control.
Glitching: During the entirety of our testing we never noticed glitching of any type.
Driving Performance Non-AVC: In the past we've noticed Spektrum radios to be a bit softer in low end power than other brands, and we've also noticed they seemed to change steering response at long distances. On the DX4S we noticed neither of those. Throttle response seemed as linear as other radios we compared it to, and the steering seemed the same at 50 feet as it did at 400. Response time seemed fine, nobody talked about it being either slow or fast, it just felt natural.
AVC Driving: Ok, this is where the DX4S kicks everyone else's ass on the market. Sure, we had some "pro" AVC guys on our crew, but we also had a couple "anti-AVC", however, by the end of the review every person felt AVC was something they could not live without.
We've tested an AVC equipped vehicle before, the Vaterra Halix, but the Halix's radio does not offer all the adjustability that the DX4S does. In a stock Halix, sure AVC works, but it also widens its turning radius, a pretty severe trade-off. When using the DX4S you can adjust the AVC system to have all the upsides, with none of the down.
What exactly does AVC do? It does two things, when your car starts to spin out and slide sideways, it counter-steers and reduces power to the motor to keep your car from sliding out. On the DX4S you can independently adjust how much it affects steering and throttle, plus you can independently adjust steering priority (more on this later). When placed at higher settings it is extremely difficult to get your car to slide out on a slick surface, and when you need to make a tight corner it can do that too.
We found the AVC to be much more beneficial on our 2wd PRO-2 buggy than on the 4wd Halix. With 4wd, the Halix was naturally prone to not spin out as much, so with the AVC optimally adjusted for our driving conditions there was a noticeable difference, but not as large as the one on the 2wd Pro-Line buggy. We tested on two different tracks, both bone dry hard pack with no groove, just a thin layer of dust on top, what us Mid-westerners call "brown ice". You can get around a brown ice track with 4wd ok, but with a typical 2wd it is so slick you can barely get into the gas without spinning out. With the AVC properly adjusted on the PRO-2, we could basically pound the gas out of every corner. Without it we had to ever so gingerly feather on the power. Driving a brown ice track is simply frustrating with a "normal" car, with AVC it was actually enjoyable.
Does AVC actually work? Yes, it works, it did a great job of keeping both our test vehicles from spinning out after the apex of corners, and we could pound the throttle on the straights without fear of them getting all out of shape. In fact, after long discussions with all our testers, it not only just works, but works nearly flawlessly, there isn't much we would change to it. Someone at Spektrum did their homework, this is one of the first AVC systems available, yet it doesn't have a bunch of flaws.
We also want to mention the AVC steering priority function. As you increase the steering priority setting, the farther you turn away from center, the less active AVC control is. With a steering priority setting of 100%, when you turn 100% left or right you completely override the AVC system, and your vehicle instantly gets full left or right. This enables your car to have all the benefits of the active vehicle control, yet when you need to make that hairpin corner you can still do it. On most surfaces we ran the steering priority at between 70 and 100% depending on driver.
You can also adjust steering and throttle control gain independently. On super slick surfaces our testers typically ran between 50 and 90% on both, on higher bite surfaces they ran between 10 and 60%.
Ok, so it's been all upside so far, what are the downsides of AVC? We noticed an increase in temperatures on the motor and speedo when driving with AVC turned on as compared to driving the same vehicles with it turned off. The increase wasn't huge, we measured around 15 degrees, but still, if you are running right at the top of the temperature range without AVC, you will be running too hot with it turned on. You can drop your gearing to help drop temps, but then you won't have the same top speed as before.
Lets talk lap times a moment. Yes, we are BigSquidRC and aren't fans of racing, but to test the AVC system we did take some lap times. We used the Pro-Line buggy because it was 2wd and benefited more from the AVC, and we used two different drivers, our "Pro" guy and another guy who has been driving for decades and could be considered an "average" driver. We conducted the test at a very slick "brown ice" 8th scale buggy track. Just FYI, a normal lap time at this track with a non-AVC Pro-Line buggy was around a 33. Lets start with our "average guy". The difference between his fastest lap with and without AVC was 1.5 seconds (AVC being faster), but his average lap times dropped by 3 full seconds when using AVC. Our average guy had a very hard time just getting around the slick track without AVC, but with it turned on he could actually drive hard. For our "Pro" guy, his fastest lap with AVC was only .75 seconds faster than without AVC, but his average lap times dropped by 1.5 seconds when AVC was switched on. Yes, AVC can make a big difference in lap times on a super slick track with 2wd, however, the higher the traction, and if you are driving 4wd, the less difference it makes.
Can you just grab a couple of gyros and add them to your current radio and make it work as well as the AVC on the DX4S? Highly unlikely. While you could certainly get some of the effects of AVC, you still wouldn't have the steering priority setting that gives a DX4S driver full tight steering when needed. Nor would have you it all easily adjustable from the transmitter, nor would you be able to do it with one small unit in your car. Needless to say, the other radio manufactures are behind the game on this one.
Radio Range: Older Spektrum units were notorious for poor range, but that was not the case with the DX4S. We measured range at a radius of 650 feet. 650 feet isn't record breaking, but it is much longer than previous units, and your car is soooo small at that range that it is hard to see.
Durability Testing: For hard bashing a transmitter has to be able to take a bump or two, and well, we gave the DX4S about a half dozen good drops. First we knocked it off a one story roof to grass, not once, but twice for good measure. Then we dropped it from head height (about 6′) to a variety of surfaces like hardpacked dirt and concrete. The DX4S come through like a champ with zero issues. The battery door didn't pop off, the screen stayed in place, after all those drops the radio still feels the same, and works like new. If you accidentally knock it off your pit table you shouldn't have to worry about buying a new one.
Misc Notes:
Some transmitters have an antenna that sticks up and is easy to break off, the antenna on the DX4S is built into the unit.
While the DX4S isn't the top of the line radio from Spektrum, all of our testers are big fans of a drop down wheel and would like to have seen it as some sort of option.
Take note here, when using AVC you must calibrate the receiver at initial set-up, and must recalibrate it if you change the servo reverse after binding, change the travel after binding, or want to use a different model memory. This is done so the AVC works properly.
Also make note, you must use a digital servo with the AVC system.
We liked the fact the DX4S came with 3 different grips, it was nice to have some options for different sized hands.
We also liked the included paper manual. One of the last radios we reviewed came with its manual on a CD, we much prefer paper.
---
SUMMARY
A = Outstanding/Best in Class, B = Above Average, C = Average, D = Below Average, F = Horrific
Time To Bash: B Pop in the supplied AA batteries, mount one of the pre-bound receivers and you are ready to drive. If you are driving with AVC, you'll need to calibrate the receiver which takes a couple of minutes.
Car Show Rating: B The DX4S sports a new age radio look which all of our reviewers liked.
Bash-A-Bility: A The Spektrum took perhaps the worst beating we've ever put on a transmitter and it still works fine today.
Range: B While the DX4S doesn't have the longest range we've ever tested, it is much longer than older Spektrum units, and more than long enough for serious bashing.
Value: A The Spektrum comes loaded with features, comes with extra grips, includes not just one but two receivers, and has AVC. Yes, it tops its class for value.
Big Squid Rating: B+ The DX4S is a solid performing radio and worth the cash. While we were not big fans of how it felt in hand (especially its light trigger spring), AVC is a huge deal and makes the DX4S worth way more than its asking price. The AVC can make an undriveable car driveable on the slick surfaces that us bashers like to frequent. If you drive on slick surfaces, especially with 2wd, the DX4S is a must have.