Review – Tattu 2S 80C 6200mAh Lipo Battery
THE Tattu 7.4v 2S 80C 6200mAh Lipo Battery Review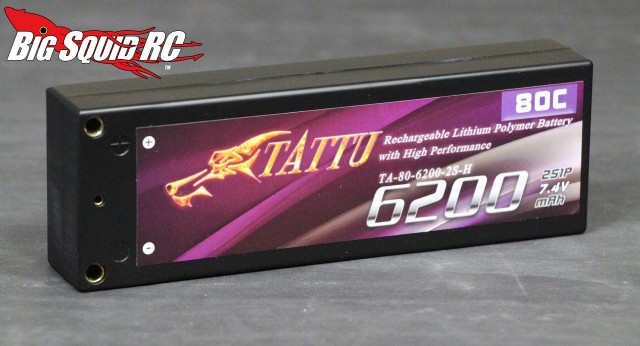 Tattu is one of the newer names in the Lipo Battery biz. Seeing as how a majority of hobbyists run electric now days, Lipos are highly in demand. Today we are taking a close look at the Tattu 2S 80C 6200 to see exactly how it performs. Should a Tattu be at the top of your "to buy" list? Hit the "Read More" to find out…
From: Tattu World Batteries
Direct Link: 2S 80C 6200 Lipo
Review By: Cubby
Pics By: Tim Mohr
Specs:
Battery Type: Lithium Polymer
Stated Capacity: 6200mAh
Cell Configuration: 2S1P
Voltage- 7.4v (8.4 volt max, 6 volt min)
Discharge- 80C continuous (496 amps)
Weight (measured by BSRC w/ Traxxas connector)- 326 grams
Dimensions (measured by BSRC)- 47 x 25 x 138 mm
Balance Plug Type- JST-XH-3P
Stock Connector- Deans
Stock Wiring- 12 gauge to 4mm banana
Max Charge Rate- Not listed on pack, not findable on their website
Part number: #TA-80-6200-2S-H
Street Price: Umm… no worldly idea
Test Platforms: We drove the Tattu in a Pro-Line Pro-2 with Castle 7700 kv brushless system, Hitec servo and Futaba 4PK Super R transmitter. We also used a MIP & STRC tuned Losi SCTE with Hitec servo, Castle 1410 brushless power and Futaba 4PK Super R running the show. For charging we enlisted a Hitec X1 Touch out in the field, while a Hyperion 720 iNet3 was used in the lab. We used a 1C charge rate in the field but went with 2C (12.4 amps) for lab tests.
Fit: The Tattu has a standard ROAR 2S form factor that fits well in most standard applications. In some tighter installs, the height of the wires coming from the dual front bullets can be an issue.
Test Drivers: Iron Mike, Tim Mohr, Sam "The Noob", and yours truly
Test Venues: St Louis Dirtburners 8th scale off-road track, Leisure Hours indoor off-road track in Joliet Illinois, Minnie Ha Ha park in Fenton Missouri, and a CostCo parking lot
Driving Impressions: We grabbed our trucks, we grabbed our testers, and we grabbed a few different packs to see how the Tattu stacked up. First our testers drove the Pro-Line PRO-2, blindly going from the Tattu pack, to our reference pack, to a low capacity (and low quality) Lipo to see if they could tell the difference. And the answer was…. all our testers, except for Iron Mike, could immediately feel a difference while driving. The drivers that could tell the difference felt our reference pack had the most rip, the Tattu had good power but wasn't quite as fast, and that the old low quality pack was clearly slower. We then did the same test with our SCTE. Once again, all the drivers (except Mike) could blindly tell a difference, and once again they blindly rated the reference pack the fastest, followed by the Tattu, and rated the old low end pack the slowest.
Is the Tattu slow? No, it's not. In both trucks we had the ability to easily clear the biggest jumps on the tracks. The Tattu also produced enough power for big wheelies, huge roost, and it provided long runtimes. However, compared to our reference, it was a bit softer off the bottom and didn't pull as long on top. On a slick off-road track it produced more power than could be put down, but in a basher setting, like doing speed runs back and forth across a huge parking lot, it was easy to tell our reference had more yank.
When compared to a lower end/lower capacity Lipo, the Tattu had the upper hand. Where the low end Lipo could barely make our PRO-2 pop a wheelie, the Tattu could make it ride a wheelie 50 feet long. When compared to some RTR Ni-Mh packs we had sitting around, the Tattu was like adding rocket fuel to our trucks, it was much, much faster.
Discharge Notes:
Please see our previous Lipo battery reviews if you are not familiar with how we perform our bench tests. I will say that with my thousands of hours behind a CBA and Tim's years with Lipo battery companies like Apogee and Maxamps, that we are very hardcore about our Lipo battery testing.
Overall – The Tattu was a solid performer on the West Mountain CBA. We were especially impressed with its capacity values, being nearly exactly as stated at 1C (100.4%), and it was still at 98.8% of capacity at 60 amps.
As far as how well the Tattu held its voltage under load, it did a solid job. As you can see in the graphs, the Tattu pumped out decent numbers for its capacity and "C" rating. It was down on voltage compared to our reference pack, but it was generally solid compared to packs of similar capacity and "C" rating.
Measured Temps (ambient 68):
1C – 78 F
30 amps – 94 F
6C/37.2 amps – 97 F
60 amps – 107 F
Measured Capacities:
1C – 6224 mah
30 amps – 6145 mah
6C/42 amps – 6155 mah
60 amps – 6141 mah
Measured Run Times:
1C – 60:09
30 amps – 12:20
6C/37.2 amps – 9:58
60 amps – 6:09
---
A = Outstanding/Best in Class, B = Above Average, C = Average, D = Below Average, F = Horrific
Summary:
Time to Bash: B The Tattu comes with a pre-soldered Deans connector and we had no issues charging it at 2C.
Car Show Rating: C The Bash Crew thought the Tattu had a rather bland look.
Bash-A-Bility: A We had no issues with the Tattu, even after various huge impacts and a roof huck (or two, or five).
Power: C The Tattu puts out solid power, but is about average compared to other packs of its "C" rating and capacity.
Value: ??? We have no idea how much the the pack sells for.
BigSquid Rating: B- It is hard to issue a final score for the Tattu lipo without knowing what its price is, but we can say it produces solid power, gives good runtimes, and took our abuse without any problems.