Review – Team Durango 1/8th DEX408T 4WD Truggy Kit
THE Team Durango 1/8th DEX408T 4WD Truggy Kit Review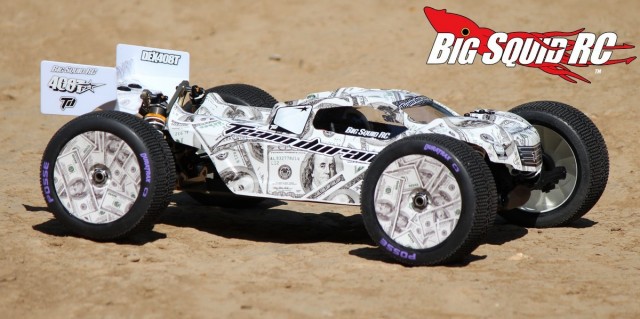 8th scale truggies are known for their prowess as bash machines. They have big tires, big power, and can typically take quite a beating. Today we'll be taking a closer look at the Team Durango DEX408T Truggy to find out if it makes a good bash machine, or if it is better left to the track. Click the "Read More" and lets find out…
From: Team Durango
Direct Link: DEX408T Truggy Kit
Unboxing Pics: Unboxing the DEX408T
Review By: Cubby
Pics By: Cubby
Specs:
RTR or Kit: Kit
Age: 14+
2wd or 4wd: 4wd
Chassis: Aluminum
Shaft or Belt: Shafts
Electric or Gas: Electric
Scale/Size: 1/8th
Length: 17.9″
Width: 16.6″
Wheelbase: 14.8-15.0″
Weight: approx 141 oz
Differentials: Three fluid filled gear type
Driveshafts: CVD
Shocks: Big bore, aluminum, oil filled
Screws: Hex
Bearings: Yes, full set
Tires/Wheels: Not included
Battery: Not included
Part Number: #TD102026
Top Speed (measured by BSRC): 42 mph on 4S
Street Price: $599
Primary Competition: Electric 8th scale truggies
What's Needed To Complete: Wheels, tires, paint, motor, speedo, receiver, servo, radio system, a pair of 2S high current Lipo batteries, battery charger, diff oil, and shock oil.
Build Quality: The DEX408T is a kit, this means the build quality is up to you. The quality of the parts provided all looked very good.
Test Drivers: Cubby, Brian, Tim, and "Iron" Mike
Test Venues: Dirtburners in St Louis Missouri, RC Outlaws in Collinsville Illinois, Cliff Cave Park in St Louis Missouri, and a local cul-de-sac.
Set-up Notes: We had our friends over at RC Custom Lab Workz hydro dip the body, wheels and rear wing in a $100 bill print. For tires we opted for Duratrax Posses which worked quite well on the hard packed tracks we were running on. Potent power was supplied by a Castle Monster 2200kv system and TrakPower lithium batteries. We used a Futaba 4PK Super R and Futaba servo to control this angry beast. Charging duties were handled by Hyperion 720iNet3s.
Turning: Fantastic. The DEX408T had nearly the perfect amount of steering. It didn't oversteer, nor did it push, it simply went where you pointed it. The rear stayed glued in sweepers, yet could be rotated quickly when needed in hairpins.
Jumping: We really liked how the big Durango jumped. It nearly always leveled out nicely when in the air, but when you needed to do a mid-air correction a slight stab of the brakes or punch of the throttle yielded instant attitude changes. Blown out jump faces didn't seem to deter the DEX408T much, it seemed to ignore big holes. Landings were a bit on the harsh side, being softly sprung is great for corner speed on loose surfaces, but it would blow through its travel on big landings.
Bumps/Whoops: Those big tires and good chassis geometry yielded a truggy that blasted through gnarly stuff as fast as anything we have driven. A blown out section where you might be forced to lift on an 8th scale buggy you could pound through with the big Durango.
On-Road: The last thing the Durango was designed for was pavement, but it drove quite well there. The truggy was quite low slung with very little chassis roll allowing for some alarmingly fast corner speeds on-road. The big tires and hefty suspension soaked up pot holes, and traction rolling was rare.
Grass: Once again those big truggy tires came in mighty handy making the Durango a good grass machine. It might not ignore grass like some of the larger monster trucks can, but the DEX408T was a blast to drive in grass.
Off-Road: Now we are talking about the Durango's element. On a prepped, hard packed, slightly grooved race surface, the Durango was exceptionally planted and easy to drive. The front end stuck where you pointed it and the rear stayed right in line making it easy to go amazingly fast. The DEX408T inspired confidence and just begged you to go even faster. In a bashing environment, like a rough dirt surface covered in dirt clods, the Durango still handled well. Its low slung chassis would snag on some of the larger clods that a monster truck may have ignored, but overall, the Durango was truly impressive off-road.
Broken Parts: We broke a couple parts early in testing before we got to our "extreme" phase. We broke a rod end on one of the tie-rods, snapped a front knuckle when slamming a pipe, and we stripped out a spur while pounding the gas going up a jump face.
Misc Notes:
The DEX408T was easier to build than other Durango kits we've tried. There is less digging through bunches of bags in the initial steps and everything simply goes together better.
There is one snafu in the manual though, it suggests in the diagrams to insert the front and rear diffs in the wrong direction, then one step later shows them in the proper direction (steps 9 & 14).
We ended up mounting our receiver where a transponder is intended to go. We did this to minimize chances of an errant wire getting chewed up by the drive-line.
Durango uses double sided velcro to secure the battery packs.
The rear chassis brace acts like a small shock absorber.
The DEX408T isn't a cookie cutter truggy that looks like it was engineered in 94′. It looks modern and has sports neat engineering.
Best Mod: Lots of quality parts come with the Durango and it drives dialed out of the box, invest your extra cash in quality electronics to get the most out of it.
---
Summary:
A = Outstanding/Best in Class, B = Above Average, C = Average, D = Below Average, F = Horrific
Time To Bash: C The DEX408T was easy to build, but it will take up 3 or 4 evenings to get it built and running.
Workability: B The DEX408T was well laid out and very easy to work on.
Car Show Rating: B We are not fans of cab-forward UFOs around here, yet most of our staffers liked the looks of the Durango.
Bash-A-Bility: C The Durango took some big hits without breaking, but still broke earlier than we would have liked to have seen.
Fun Factor: A Driving a big over-powered truggy is HUGE fun, both at the track and at the local bash spot.
Handling: B The Durango is one of the best track handling vehicles we've tested but didn't work as well as a dedicated monster truck in super rough bash spots.
Value: B Expensive. Yes. A lot of performance for your buck. Heck ya.
Parts Availability: C Durango doesn't have the parts support at hobby shops like Traxxas does, but parts are easily available on-line.
BigSquid Rating: B- The Durango DEX408T is a great track machine that handles with the best of them. It can hold its own while bashing but broke a few more parts than expected.