Review – Team Durango DEX210v2 1/10 2wd Buggy
THE Team Durango DEX210v2 Buggy Review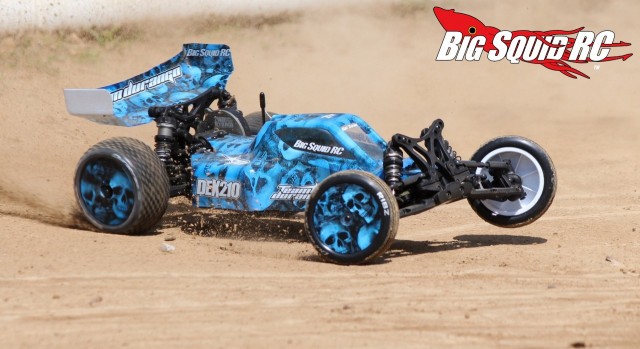 If you are an "old timer" then you probably spent years driving/racing/bashing a 2wd tenth scale buggy. Now days the class has had a resurgence in popularity, making it arguably bigger than it has ever been. The "new crop" of 2wd buggies are loaded with tech from front to rear, and one of the companies staying on the leading edge of 2wd buggy technology has been Team Durango. We've been bashing the living daylights out of their new DEX210v2 to find out if it's just a race machine, or if you can actually have fun with it at the local bash spot. What did we find out? Click the "Read More" button to find out…
From: Team Durango
Direct Link: DEX210v2
Unboxing Pictures: BSRC Unboxing
Review By: Cubby
Pictures By: Tim Mohr
Specs:
RTR or Kit: Kit
Age: 14+
2wd or 4wd: 2wd
Electric or Gas: Electric
Scale: 1/10
Length: 13.2″ (mid-motor)
Width: 9.6″
Wheelbase: 10.5-10.8″
Differential: Ball diff
Slipper Clutch: Yes
Driveshafts: CVD type
Gear Ratio: 2.6:1
Shocks: Big bore aluminum bodies, plastic caps, oil filled
Servo Saver: None
Screws: Metric hex
Spur/Pinion Pitch: 48 pitch
Bearings: Yes, full set
Part Number: #TD102028
Top Speed (measured by BSRC): 36 mph
Runtime: 17 minutes on 2S 4600mAh Trakpower shorty LiPo
Street Price: $279
Primary Competition: Team Associated B5 series, TLR 22 2.0, Kyosho RB6, multiple others.
What's Needed To Complete: Motor, speedo, servo, tires, paint, shock oil, radio and receiver, battery, and battery charger.
Build Quality: This is a kit, so the ultimate build quality is up to you. As far as the quality of the parts included was concerned, we found the aluminum parts to be top notch and perfectly done, and the same could be said for the quality of the plastic pieces.
Test Drivers: Hawaiian Chris, Iron Mike, Tim Mohr, Sam "The Noob", and yours truly.
Test Venues: Dirtburners 8th scale off-road track in St Louis Missouri, RC Outlaws 8th scale off-road track in Collinsville Illinois, CostCo parking lot, Minnie Ha Ha park in Fenton Missouri, and a local cul-de-sac.
Set-up Notes: Being a kit, the Durango needs a lot of gear to get up and running. While the buggy comes with wheels, it doesn't come with tires so we used Duratrax Ribz up front and Equalizers in the rear. To control the show we used a Futaba 4PK Super R radio system with one of their S9353HV servos. For power, a Trakpower 2S 4600 Shorty LiPo provided the juice to an MS-1 speedo and sensored 8.5 brushless motor. Our buddy DWayne over at RC Custom Lab Workz hooked up our buggy and wheels with a sweet basher hydro dip. For settings, we stayed with what the manual suggested and built the buggy in mid-motor configuration.
Turning: The Durango has some pretty awe inspiring mechanical grip. The front end just loves to stay planted, even on slick surfaces, and the rear end is equally planted, to a point that is. Going into a corner the front end digs in and sticks, and stays stuck through the entire corner. The rear is not a "rotater", it digs and simply follows the front until you push it too hard, then it breaks out abruptly. While having the rear step out in such a manner can be alarming, because of the raw amount of traction the rear end yields up to that point, you have to be pushing far too hard to get the rear to jump out.
Jumping: We just loved how the aluminum chassis'ed Durango popped over big jumps. It launches great off of jump faces, typically required very little correction while airborn, and can be landed at all kinds of crazy angles without rolling over.
Bumps/Whoops: The shocks included on the Durango are some of the best on the market. They have very little stiction and generally work extraordinarily well. Add those shocks to some very well done chassis geometry and the Durango is amazing when blasting through the rough. Everything from braking bumps on the track, to bicycle tire ruts at the local park, is soaked up in stride with the Durango. While it can't slam through the rough like an 8th scale monster truck can, it is top notch for a 2wd 1/10th buggy.
On-Road: Pretty dialed for a 2wd buggy would describe the Durango on-road. The front end bites in the corners, and the rear sticks quite well, while its suspension is plenty overkill for the average road joint or errant rock.
Grass: Grass is definitely not the forte of the Durango. In the shortest of grass its get around fine, anything taller than that and its low ride height and 2wd catch up with it. If grass driving is your thing, look elsewhere.
Tires: While not included, we really liked the Duratrax Ribz front tires. They worked well on multiple surfaces and wore very little. On the rear end we went with Duratrax Equalizers, a medium pinned tire that worked best on loamier surfaces.
Power: Also not included is the power system, but the TrakPower MS-1 speedo, 8.5 motor, and 2S Lipo resulted in extremely smooth power delivery, with more yank than we could use on either of our two test tracks.
Radio: A radio system is not included either, so we used the best of the best, a Futaba 4PK Super R with a Futaba S9353HV servo. Need I say more?
Broken Parts: We found the DEX210v2 to be rock solid, and tougher than most "race machines" in its class. We generally drove it like lunatics without having any issues. We didn't pop off any ball cups, or have any issues during normal driving. Because it survived the "normal" portion of our testing it was time to do some roof hucking. The first couple of one story roof jumps it landed without issue. Finally, after pinning it hard off the peak of a roof and landing at a very bad angle, we broke one of the front arms at the inner hinge pin, and ripped one of the rear shock shafts out of its shock end.
Misc Notes:
There is no servo saver in the steering rack, nor any type included. This is the optimal way to go for precise steering while racing, but definitely not the way to go if you bash or run cheap servos.
The spring retainers are different front and rear on the Durango. This is good as it allows for an optimal suspension set-up front and rear, but its bad because spring retainers tend to get lost while driving and nobody wants to pack along two different types for just one buggy.
What is the very worst thing on the Durango? Easy, the front body clip. It's a huge PITA to get on and off. Do yourself a favor and use Velcro along the sides of the body to hold it on, you can thank me later.
The DEX210v2 can easily use a variety of battery packs. We used a "shorty" pack and loved how it handled.
The aerodynamic front a-arms are little works of art. They are beefy and look the part of being very aero.
The Durango is incredibly adjustable. All the "normal stuff" is highly adjustable, plus you can adjust all the stuff you only read about on factory driver blogs. We also liked the fact that everything you need to run either rear or mid motor is included in the kit.
Building the DEX210v2 was an absolute pleasure. Durango has really upped their kit building game. The little bags are smartly organized, the manual is top notch, and all the parts fit together to perfection. Huge props to Durango on the way they have their kits set-up, and we can highly recommend it to even first time builders.
But… we had one tiny snafu during the build, and it came at the very end. The mounting hole marks in the rear wing are dialed if you build the kit rear motor, but we went mid-motor and the holes were too far apart. This isn't a big deal, as we moved back an inch and drilled proper holes.
The steering rack, along with every other moving part on the Durango is very smooth. We found no binding on the kit, and the steering rack was one of the best we've ever seen.
We could have built our test Durango in rear motor configuration, but we opted for mid-motor. Why? Because we've broken dozens of motors in the past year by hard rear end landings. With a mid-motor configuration we never had to worry about destroying another motor, and it just happens that it drove really well on a variety of surfaces that way. If you bash we consider mid-motor the way to go.
Best Mod: If you are using a cheap servo, or simply want your servo to live longer, spend the 5 bucks on a decent servo saver.
---
Summary:
A = Outstanding/Best in Class, B = Above Average, C = Average, D = Below Average, F = Horrific
Time To Bash: B No, a kit isn't the fastest way to hit your local bash spot, but as far as kits go, the Durango was a pleasure to build.
Workability: B The metric hex hardware is always nice, and the Durango is generally laid out to be easy to work on.
Car Show Rating: B The body isn't crazy cab forward, it has nice lines that the majority of our reviewers liked looking at.
Bash-A-Bility: B Durango has made a solid buggy with the DEX210v2, it took some abuse before breaking.
Fun Factor: A Our testers had a blast driving the Durango. We could drive it hard without worrying about breakage, it had fantastic handling, and overall it left our test crew fighting over the controller.
Handling: A Compared to other 2wd buggies, the Durango is the best overall we've ever driven. It's on rails in the corners, it jumps better than anything else in its class, and thanks to its superb shocks, it can blast through the rough stuff with the best of them.
Value: B While $279 for a kit isn't chump change, you are getting a very high quality product for your hard earned cash.
Parts Availability: C No, Durango does not have the parts availability of Traxxas, nor are they always able to keep certain parts in stock. However, it isn't uncommon to see Durango parts on local hobby shop shelves now days.
BigSquid Rating: B The Durango DEX210v2 is fun to build, amazing to drive, and is loads of fun to bash with.