Review – Team Durango DEX410v4 Buggy
THE Team Durango DEX410v4 Buggy Review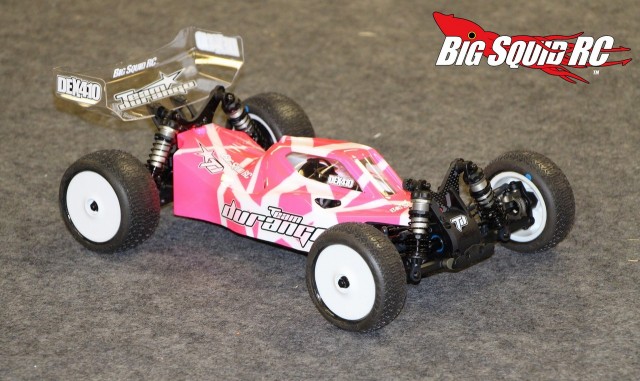 10th scale 4wd buggies have a well earned reputation for being nuclear missiles. All around the globe you'll find them tearing up tracks, and flat out hauling at local bash spots. Today we'll be taking a close look at the Team Durango DEX410v4. The version 4 is the latest and greatest from Durango, with multiple upgrades over previous verions. Is it fast? Can you bash with it? Will it run circles around your buddies at the local bash spot? Click the "Read More" to find out…
From: Team Durango
Direct Link: DEX410v4
Unboxing Pictures: BSRC DEX410v4 Unboxing
Review By: Cubby
Pictures By: Tim Mohr
Specs:
RTR or Kit: Kit
Age: 14+
2wd or 4wd: 4wd
Shaft or Belt: Shafts
Electric or Gas: Electric
Scale: 1/10th
Length: 13.75″
Width: 9.8″
Wheelbase: 10.9-11.2″
Differential: Two oil filled gear diffs
Slipper Clutch: Yes
Driveshafts: CVDs & universals
Gear Ratio: 2.47:1
Shocks: Big bore, oil filled, aluminum bodies w/ plastic caps
Servo Saver: In steering rack
Screws: Metric hex
Spur/Pinion Pitch: 48 pitch
Bearings: Yes, full set
Tires: Not included
Part Number: TD102030
Top Speed (measured by BSRC on 2S Lipo): 34 mph
Runtime: 19 minutes
Street Price: $399
Primary Competition: Team Associated B44.2, Kyosho ZX-5, Losi 22-4, XRay XB4, Schumacher Cat K1 Pro
What's Needed To Complete: Radio system, steering servo, speedo and motor, paint, shock & diff oils, tires, pinion, battery & charger
Build Quality: Hey it's a kit, that is completely up to you, take your time and do it right. As far as the quality of the parts went, they all looked good. The aluminum parts were well done and we didn't find any obvious issues with the plastics.
Test Drivers: Iron Mike, Tim Mohr, Sam The Noob, and yours truly.
Test Venues: Jake's Race Place in Fairmont City Illinois (RIP, it just closed), SmacTrac in St Charles Missouri, and a city park in Arnold Missouri.
Set-up Notes: To get the Durango up to speed we used a TrakPower MS-1 speedo and 8.5 sensored motor. For juice we used a TrakPower saddle pack Lipo while the steering duties were handled by a quite uber Futaba 9353. For charging duties we enlisted a TrakPower VR-1 and we used a Futaba 4PK Super R to run the show. We used several different sets of tires, including Duratrax Equalizers, Duratrax Persuaders, and Pro-Line Ions. We also used various gearing, but typically went with a 22. We used the optional (and included) sway bars front and rear for all testing. We used 7k diff oil in the front, 3k in the rear, and opted for 30 weight AE shock oil front and rear.
Turning: One of the best things about the DEX410V4 is the fact it has a lot of steering, but not so much as to make it hard to drive. We were never left wanting more steering, and the rear end just followed the front, planted to the ground. Even in super tight 180s, corners that many 4wd buggies tend to struggle with, the Durango could take the inside line, feeling closer to a 2wd than you would expect.
Jumping: The Durango uses a slipper in place of a center diff, which can make some vehicles overly sensitive to trigger input while in the air. That wasn't so much the case with the DEX410V4. We found the buggy launched straight, it tended to fly flat, and it responded very well to trigger input while airborn. Compared to other 10th scale 4wd race buggies we found the Durango easier to jump consistently, and it tended to inspire the confidence needed to push the envelope while in the air.
Bumps/Whoops: The stock suspension and geometry of the DEX410 loved soaking up the various bumps, edges and holes on prepped tracks. You could tell its suspension was designed for track use, properly soaking up a bump and rebounding in such a way as to constantly keep the tires glued to the surface. In a bashing context, where there are huge chunks of dirt and ruts deeper than the buggy was tall, its small diameter tires and low ground clearance kept it from blowing through the nasties like a larger/taller vehicle could.
On-Road: The Durango is an animal on-road. Yes, you can get it to flip when turning abruptly, but otherwise it scoots around pavement very, very quickly. If you are used to driving something like a 2wd SCT in your local cul-de-sac, the Durango will really open your eyes to what "fast" is.
Grass: Our tires, which worked great on high bite tracks, didn't work well in grass. The 4wd of the Durango is a big plus for grass driving, but its low ride height holds it back. If you mainly drive in the green stuff we would recommend you look at other vehicles in the Durango line-up like their short course trucks or 8th scalers.
Broken Parts: We didn't break very many different kinds of parts on the DEX410, but we did break one of the plastic servo saver arms every single time we drove it. Durango makes an aluminum version of the piece we kept breaking, it should come standard with the kit.
Misc Notes:
About the build process- it keeps getting better and better with Durango. The DEX410v4 was the easiest to build yet. You don't have to open 6 different bags to do the first step with the Durango, quite the contrary. Huge props to Durango for their manual and how they have packaged all the parts and screws (except plastic parts) into separate bags for each build step.
With that said, we did come across a couple of small issues during the build. In step E1 the screws that go up through the chassis started breaking out the plastic they went into. In step I2 our kit came with grub screws that were too long to fit inside the CVDs. And in step L1 the part numbers listed for the shock pistons are for the older, smaller bore pistons, not the big bore pistons needed for the build.
The shocks are pretty amazing. There is very little stiction and they work extremely well with very little fiddling.
We stripped out several screw heads on our test buggy, save yourself some time (and cursing) down the road by ditching the stock screws.
We have complained about how you have to remove the center diff to change battery packs on previous Durango vehicles, and we'll complain again. Yes, it makes sense for the chassis to be set-up that way for maximum handling, but the hardware holding in the center diff is less than optimal (I'm talking about the wire thingy). There has to be a better way.
The low slung cab-forward body is great for handling, but leaves very little space underneath for electronics, wiring, etc. If you have large, old school electronics, they simply will not fit in the Durango.
We are not fans of the hex size (14mm) used on the wheels. This severely limits wheel choice, 12mm please with sugar on top.
While out testing we were able to compared the Durango against two of its biggest competitors. The other buggies were mainly stock, except for some limited dialing in to the track. We really preferred how the DEX410v4 handled compared to its competition. The Durango tended to have more steering, but what really made it stand out was how planted and easy to drive it was. We could drive the Durango harder without feeling as much "on the edge" as the other buggies. The word "plush" was also used to describe the Durango by several of our testers, and it was amazing how much corner speed it could carry with basically a box stock set-up.
Best Mod Under $5: Do yourself a favor and install a #TD330311 aluminum servo saver arm before ever driving the buggy. Ya, I know it's $20 but its worth every penny.
Best Mod Over $5: Screw kit. The heads on the stockers aren't up to serious torque. Pick your favorite screw kit and install them while building the kit.
---
Summary:
A = Outstanding/Best in Class, B = Above Average, C = Average, D = Below Average, F = Horrific
Time To Bash: C Durango keeps making their kits easier to build, but you can still plan on several hours to get it up and running.
Workability: C The DEX410v4 is well laid out and easy to get to everything, but the soft heads on the screws tend to strip out.
Car Show Rating: C The cab forward body is great for handling, but our Bash Crew would have preferred a more traditional buggy look.
Bash-A-Bility: D A servo saver arm broke every time we drove it.
Fun Factor: A Doing blow-by after blow-by of other bashers at a local parking lot was loads of fun.
Handling: A The Durango is a top notch handling machine, able to rail corners and it jumps with the best of them.
Value: C At $399 the latest edition of the DEX410 isn't cheap, but all that luscious handling helps you forget the price tag.
Parts Availability: C As Durango has gotten more popular local hobby shops have been carrying more of their parts, but you still won't find them as often as Associated or Traxxas.
BigSquid Rating: C+: For bashing, the DEX410v4 isn't the ultimate weapon, but if you are looking for a 10th scale 4wd race buggy the Durango is dialed.