Review – Thunder Tiger ST4 G3 RTR Truggy
THE Thunder Tiger ST4 G3 Review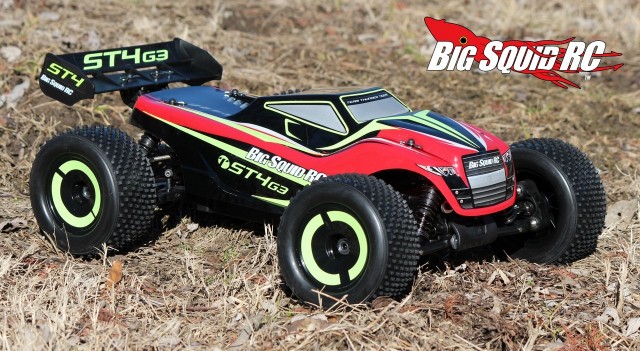 Just under a year ago we reviewed the Thunder Tiger ST4 G3 Truggy. We found it to be much like its monster truck cousin, the MT4, a big beastly bash machine. For 2014 Thunder Tiger has released a new version of the ST4, they didn't change much, just the transmitter, but today we'll be taking another look at the ST4. Is it still one of the Kings of the Hill at the bash spot? Does it live up to the G3 tradition of toughness? If you show up with one will you pwn your buddies? Click the "Read More" to check out our review…
From: Thunder Tiger
Direct Link: ST4 G3 Truggy
Unboxing Pictures: BSRC TT ST4 Unboxing
Review By: Cubby
Pics By: Tim Mohr
Video By: Cubby
Video Editing By: Doug Welker
Specs:
RTR or Kit: RTR
Age: 14+
2wd or 4wd: 4wd
Shaft or Belt: Shaft
Electric or Gas: Electric
Waterproof: No
Scale: 1/8th
Length: 19.1″
Width: 15″
Wheelbase: 14.2-14.4″
Motor: 2000kV brushless
Speed Controller: Ace RC BLC-80C
Low Voltage Cut-off: Yes
Radio: Ace RC Cougar GP3 2.4GHz
Differential: 3 fluid filled gear differentials
Slipper Clutch: No
Driveshafts: CVD front & rear, bones center
Shocks: Oil filled, plastic bodies & caps
Servo Saver: In rack
Screws: Hex, metric
Spur/Pinion Pitch: 1.0 Module
Bearings: Yes
Tires: Thunder Tiger knobbies
Part Number: #6404-F111
Top Speed (measured by BSRC on 4S): 34 mph
Runtime (measure by BSRC with 4S 5600mAh pack): 16 minutes
Warranty: "Thunder Tiger guarantees this truck to be free from defects in both material and workmanship."
Street Price: $479
Primary Competition: HPI Racing 1/8 Trophy Truggy Flux, Durango DEX408T, Tekno ET48
What's Needed To Complete: You'll need six AA batteries for the transmitter, a battery for the truck (a pair of 2S, or a single 4S LiPo), and a battery charger.
Build Quality: The camber front and rear, and the front toe, were way off and needed adjusted. The front ride height also needed adjustment (it was too low), otherwise everything was tight, the spur/pinion mesh was set properly, and the shocks were well filled.
Test Drivers: We used the crew of Iron Mike, Tim Mohr, Sam The Noob, and myself for the review.
Test Venues: Minnie Ha Ha Park in Fenton Missouri, Cliff Cave Park in St Louis Missouri, RC Outlaws outdoor track in Collinsville Illinois, and a CostCo parking lot.
Set-up Notes: We ran the ST4 stock except we switched over to Traxxas connectors. For power we used a TrakPower 4S 5600, and we used a TrakPower VR-1 to handle the charging duties.
Turning: You don't notice the turning much on the ST4, it simply goes where you point it without any issue. It's a very neutral turner and the stock servo gets the job done without really being noticed (albeit a bit slow). There is some excessive chassis lean in the corners, which actually works well on soft/loose surfaces, but works against it on high bite.
Jumping: The ST4 doesn't jump or land as well as some of its high end competition (most notably the Durango), but it's still fun and easy to get BIG airtime with. The ST4 tends to jump level, and should you need to make mid-air corrections they are easily accomplished by tapping the brake or pinching the throttle. The center diff and relatively low mass tires (compared to a monster truck) help make the ST4 easy to jump and correct. The ST4 likes landing huge hucks when straight, but it tends to flip when landed a bit sideways. Also, because of its durability, you can do big jump after big jump without worry about the truck falling apart.
Bumps/Whoops: Our testers had a big long discussion if the ST4 was the best machine we've ever tested in the rough. After some hours of back and forth, making cases for a couple of different vehicles, we could not proclaim it the stand alone best, but we all agreed it can plow the gnarliest ground at full tilt with the very best the industry has to offer. The geometry of the ST4 lends to a vehicle that you can pin through some impossible sections and it comes out (amazingly) the other side on all four wheels. If your thing is running pinned WFO back and worth across your bumpy back yard the ST4 is the machine you want. It has a lower CG than a typical monster truck, and the truggy sized tires tend to stay planted through the rough instead of just bouncing around.
On-Road: No, the ST4 was not designed for cul-de-sac blasting, but it does an admirable job. Yes, you can get it to traction roll if you go pinned and yank the wheel to one side, but if you are paying even minimal attention you can keep it on all 4 wheels in the corners. Otherwise, the big power and tires help make it a road eating machine.
Grass: Where the ST4's low center of gravity help it most of the time, it can hurt it in tall grass. The ST4 is still a great machine for use in grass, but if tall grass is the only place you drive you would probably be better off with a higher off the ground machine like the MT4 G3. If the grass is low to medium in height, have no doubt the ST4 can rip around the back yard as fast as anything on the market.
Tires: The stock shoes worked decent on a wide variety of surfaces. They worked well (but wore quickly) on pavement, they worked well on a wet/soft outdoor track, they also provided good all around traction in general bashing conditions. They are not the hot ticket for damp/clay indoor tracks or in extreme loam, but overall they do a fine job.
Power: The ST4 comes with a 2000kV Ace brushless system that produces plenty of power in a truggy. Low end was stout, the mid-range was powerful yet smooth, and the top had significant power but perhaps signed off a bit earlier than expected. That was on 4S. On 6S all that changes and the ST4 is a straight up fire breathing animal. Not many drivers can put down all the power the ST4 has to offer on 6S, it is insanely fast.
Radio: Range was good on the Ace GP3 and we didn't experience any glitching issues. Ergonomics were fine for most of our testers, but one really didn't like the feel of the trigger. The trigger has heavy serrations on the skin side that irritated one user, and its general curvature didn't suit him either. That was just one tester, the others pretty much just used it and thought it was fine.
Broken Parts: Like in our review of last years model we had an early problem with a shock cap blowing off. We had a shock cap pop while do some small jumps during a photo shoot, much earlier in testing than we would have expected. You can tighten up the droop screws to prevent this from happening, and we would highly recommend you do this before you even run the truck. We also lost a couple screws that held in the rear wing, but that is probably our fault as we didn't use thread lock when we installed them. We also had the motor come loose on the third pack which caused the pinion/spur mesh to become too loose. Otherwise the ST4 withstood a bunch of abuse without complaint.
Misc Notes:
The ST4 is a RTR, but you have to install the wheels and rear wing before you can drive it. On one hand, that only takes a couple of minutes, on the other, some users might be turned off by having to wrench on an RTR.
The transmitter uses six AA cells, making it somewhat heavier than other RTR radios that only use four.
The ST4 likes to "diff out" a lot. You can see in the pictures that typically one (or more) of the tires is much larger than the others, heavier diff oil can help put more power to the ground.
There are certain things expected from an RTR now days. The ST4 has brushless, it has a 2.4GHz radio, but one feature it lacks is waterproofing. It was kind of odd actually avoiding big water holes, most other RTRs we test we can dive right in.
That big wing on the back looks cool and helps with handling, but it has a downside. Every time you flip over the wing pretty much ensures the truck won't roll back over to its feet. Expect to do some extra marshalling with the ST4.
Best Mod Under $5: Totally free- tighten up the droop screws. Then spend a few bucks and grab some heavier diff oil (at least for the center).
Best Mod Over $5: Metal shocks so you don't have to limited the downtravel. After that, a good set of Pro-Line truggy tires.
---
Summary:
A = Outstanding/Best in Class, B = Above Average, C = Average, D = Below Average, F = Horrific
Time To Bash: C- The ST4 takes a bit longer to get going than other RTR trucks. You'll have to bolt up the wheels, bolt on the rear wing, then charge up a pack for the truck and install the AAs in the transmitter.
Workability: B Everything is well laid out and very easy to spin wrenches on.
Car Show Rating: B The bash crew liked the racy looks and well done graphics.
Bash-A-Bility: C We popped a shock cap early during testing and experienced a couple of other minor issues. The ST4 can take some big hits, but the little things held back its score in this category.
Fun Factor: B The combination of all the things the ST4 does well left our Bash Crew with huge smiles after driving it. It's just a big gnarly bash animal.
Handling: B The truck hasn't changed much since our last review, but this time around we've upped its score to a B. Its tires worked well on the track we used for testing, and it was a very good handling machine for general bashing conditions.
Value: B $479 for a big overpowered 8th scale truggy that works as a great bash machine is a decent price.
Parts Availability: C The G3 platform has been out a while now so parts are readily available on-line, but still not many local hobby shops stock parts on the shelf.
BigSquid Rating: B- Yes, the Thunder Tiger ST4 lives up to the G3 tradition. It's big, it has crazy "throw the tire off the rim" power, and once you get some minor bugs worked out it can take an intense beating. If you are looking for a machine capable of dominating the local bash spot the ST4 can certainly do it.
Check out the video below