Review – Tower Hobbies Cutback 4WD Brushless Short Course Truck
THE Tower Hobbies Cutback SCT Review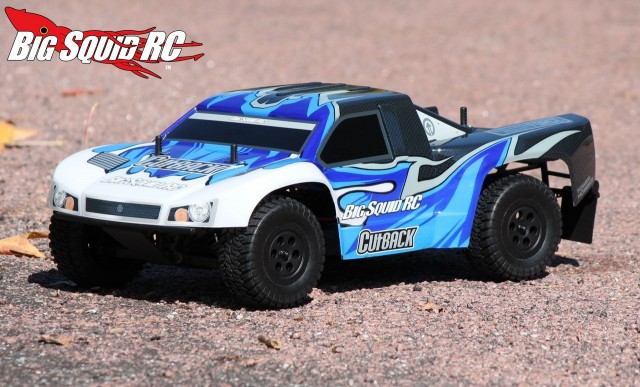 The Dallas Cowboys are "America's Football Team", just like Tower Hobbies could be considered "America's Hobby Shop". While Tower is certainly known more for being a mail order Goliath than being a truck manufacturer, they do have a new 4wd Short Course Truck on the market called the Cutback. How does it handle? Is it fast? Can you slam it around without breaking it? Hit that "Read More" button to find out…
From: Tower Hobbies
Direct Link to Order: Cutback SCT
Unboxing Pictures: BSRC Cutback Unboxing
Review By: THE Cub Reporter
Photography By: Tim "Hollywood" Mohr
Specs:
RTR or Kit: RTR
Age: 14+
2wd or 4wd: 4wd
Shaft or Belt: Shaft
Electric or Gas: Electric
Waterproof: Yes
Scale: 1/10
Length: 20.9″
Width: 11.2″
Weight: 6 lb
Wheelbase: 13.1″
Motor: Tower Hobbies 4 pole 3600kV
Speed Controller: Tower Hobbies TH-80WP 80 amp
Low Voltage Cut-off: Yes
Radio: Tower Hobbies THT-124 2.4GHz
Differential: Three gear type diffs
Slipper Clutch: No
Driveshafts: CVD front, bones center & rear
Shocks: Oil filled, plastic bodies and caps
Servo Saver: Yes, in steering rack
Screws: Metric hex
Bearings: Yes
Tires: Tower Hobbies, scale realistic
Battery: Not included
Part Number: #TOWC0500
Top Speed (measured by BSRC): 21 mph on 2S LiPo
Runtime: 16 minutes on 3000mAh LiPo
Warranty: UPDATE: We have been informed that there is a One year Bash Proof guarantee on all plastic parts including the spur gear, 2 years of you are a Super Saver Club member. This in an impressive deal!
Street Price: $299
Primary Competition: Losi SCTE RTR, Racers Edge PRO 4 Enduro, ECX Torment 4×4, Traxxas Slash 4×4
What's Needed To Complete: You'll need to supply four AA batteries for the transmitter plus a pack for the truck and a battery charger.
Build Quality: Our review unit looked well built. We didn't find any loose or stripped out screws, the gear mesh was spot on, and the shocks were not leaking and were properly filled.
Test Drivers: Adam "The Intern", Wrench Bill, Sam The Noob, Iron Mike, T-Mohr, Brian the Editor Type, and yours truly.
Test Venues: Leisure Hours Raceways in Joliet Illinois, St Louis Dirtburners, RC Outlaws in Collinsville IL, Minnie Ha Ha park in Fenton Missouri, Belleville IL city park, and yes of course, a CostCo parking lot.
Set-up Notes: We didn't make any changes before running the Cutback. It came with a sweet Deans connector so of course it was left on, and we used a Duratrax Onyx 2S LiPo battery for power. Charging duties were left to a TrakPower VR-1.
Turning: If there is one thing the Cutback has, it is a LOT of steering. The front goes exactly where pointed in all but the sloppiest of conditions, while the rear is quite loose. When going into a corner the front bites right in while the rear may or may not slide around making the truck difficult to control. If anything, the harder you drive the Cutback the better it corners. We learned that driving in hot, letting the rear pivot, and getting on the gas early to help plant the rear was the way to go with the Cutback.
Jumping: We found that the Cutback liked to jump a bit nose down. While that helps keep air from getting under the body and causing parachute effect, the low peak rpm of the power system simply can't bring the nose up. Otherwise, its suspension soaked up landings in fine fashion and it could be landed quite sideways without traction rolling.
Bumps/Whoops: The Cutback did fine in rough sections but did not excel there. The stock suspension seemed to be set-up for racing (a bit on the soft side), which left it bottoming out hard when slamming dirt clods or large braking bumps.
On-Road: Lots of fun can be had with the Cutback on-road. Yes, it still had a bit too much steering but it drove well and didn't traction roll.
Grass: The Cutback gets around fine in grass. It has good low-end power and its tires like chewing up grass.
Tires: We liked how the stock tires looked and generally how they performed. They are a hard compound which limits their overall grip, but they have a good tread pattern and last forever.
Power: The Cutback is a tale of two cities. Yes, it has wonderful brushless power that rips like crazy from a dead stop. But… it is way undergeared- it hits top speed in about 8 feet. The low end power is meaty like you'd expect from a brushless power system, then it screams through a brief mid-range, leading to a top end that winds out incredibly early. Yes, the power is there, but it takes taller gearing to truly uncork it.
Radio: Standard Hobbico issue here. Decent ergos, good range, no problems.
Broken Parts: We drove the Cutback like we stole it and it came away with very little breakage. "Wrench" Bill slammed it into a pipe and managed to rip the bottom of the front bumper away from the chassis, and Iron Mike managed to rip a front arm off a hinge pin after tagging a curb WFO. All in all, it took a lot of hits to get it break.
Misc Notes:
The Cutback comes with above average body clips. They are somewhat larger than standard fare, but still not quite large enough to make your fingers happy.
We never would have thought that the Cutback would be a beast on-track, but it was. It is certainly capable of winning local races by simply bolting on race tires and adding a couple teeth to the pinion.
The supplied manual is great for getting the truck up and running, but doesn't provide a detailed break down of the assembly process or part numbers. Update: The full manual, assembly breakdown, and parts are online.
The Cutback comes with a strong steering servo. It has plenty of power and enough speed to be usable.
The Deans connector was extremely loose fitting on our truck. Hitting average sized bumps would sometimes cause it to disconnect from the battery pack, this is far less than optimal.
Best Mod Under $5: Larger pinion please! Pinions are cheap and you can really unleash the beast by adding a couple of teeth to the Cutback.
Best Mod Over $5: Tires. A good set of Pro-Lines makes a world of difference in the way the Cutback handles.
---
Summary:
A = Outstanding/Best in Class, B = Above Average, C = Average, D = Below Average, F = Horrific
Time To Bash: B Charge up a pack and bash, it doesn't take much time to go from box to track with the Cutback.
Workability: B Big props to Tower for using hex hardware, but the front top deck makes it hard to get to the speedo and servo.
Car Show Rating: C The realistic looking wheels and tires were big hits with our testers. The body had sharp graphics but could have scored higher with more scale detailing.
Bash-A-Bility: B The Tower Cutback can take a good hit without breakage.
Fun Factor: C We had fun wheeling the Cutback but a larger pinion could really up the fun factor.
Handling: C A bit more rear bite in corners and more motor rpm to pull the nose up while jumping would have bettered the score here.
Value: B With minimal mods the Cutback can run with much more expensive trucks, therefore making its $299 price a good deal in our eyes. With that warranty update, it's a really good deal.
Parts Availability: ? We can't give the Cutback a score here. It isn't out yet and we don't know exactly what its parts distribution will be like.
BigSquid Rating: B- We had a great time testing the Cutback. It has an affordable price point and was a solid performer for us.