Review- TrakPower MS Series 10.5 Turn Brushless Racing System
THE TrakPower MS Series 10.5 Turn Brushless Racing System Review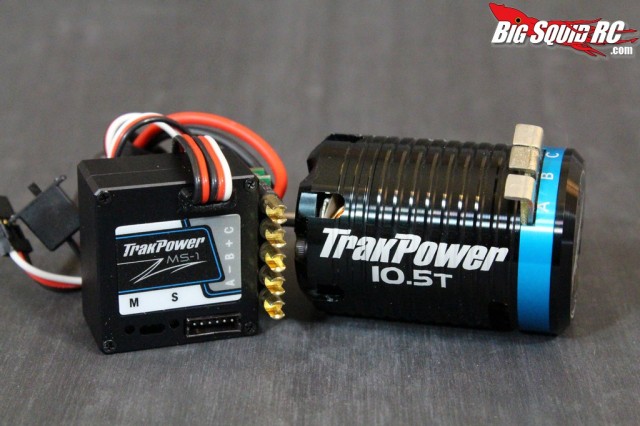 You don't see a lot of sensored 10.5 brushless systems being used by hardcore bashers. Why? Because they typically don't have the yank needed for the bashing crowd. Today we'll be taking an in depth look at the latest sensored system from TrakPower, their MS Series 10.5, to see if it is bash worthy or if it should be left for track use only. Let's jump right in shall we?
From: TrakPower
Direct Link: MS Series Brushless Racing System
Reviewed by: Cubby
Pics by: Cubby
Part Number: TKPC6035
Street Price: $260
Speedo Specs:
Waterproof: No
Motor Limit: 2.5 turn (on 2S)
Input Voltage: 3S Lipo max
Rated current: 100 amps cont.
Low Voltage Cut-off: Yes
BEC: 6 volts, 3 amps
Motor Connectors: Direct solder
Battery Connector: None
Reverse: Yes, programmable
Sensored- Yes
Weight: 55 grams
Dimensions: 24 x 33 x 36mm
Wiring: 12 AWG
Blinky mode: Yes
Programming: Manual
Fan- No
Motor Specs:
Size: 540
Sensored: Yes
Turn: 10.5
Max Voltage: 3S Lipo
Shaft Diameter: 3.175mm
Dimensions: 35.9mm x 52.4mm
Weight: 175 grams
Top Speed (measured by BSRC): 34 mph
What's In The Box: Speedo, motor, double sided tape, wires, sensor wire, sensor clip (clamp), and instructions.
Direct competitors: 10.5 sensored systems from Viper, Novak, LRP, and Tekin.
Build Quality: Very nice from top to bottom.
Test Drivers: Cubby, Brian, and Iron Mike
Test Venues: Leisure Hours in Joliet Illinois, local city park, cul-de-sac, and a grassy backyard
Set-up Notes: We used the 10.5 TrakPower system in our Pro-Line Pro-2 short course truck. A Futaba 4PK Super R was used for control, and a Hitec servo was enlisted to point the front wheels. Also of note, we only used 3S Lipo power during testing. We used a 20 tooth Robinson pinion on the stock Pro-Line spur gear. All speedo settings were left stock except for the addition of reverse.
Ease of Use: The TrakPower is intended for the racing crowd so it requires some soldering to get up and going. If you are a hobbyist and don't know how to solder, don't use that as an excuse to skip the TrakPower, you need to learn how to solder if you plan on staying in the hobby. On the programming side of things the TrakPower uses a pretty standard calibration and programming set-up. The instructions are well written and make calibration and programming changes a breeze. Yes, setting changes could be easier if done via a programming card or a laptop, but lugging those around can be a hassle. As is, programming the TrakPower manually works just fine.
Drivability/Feel/Powerband: This category is where the TrakPower really shines. From a dead stop it is smooth as butter on a hot summers day. There is simply no hint of a lurch or lugging from a dead stop, it just takes off smoothly. From there, there is no "hit" through the rest of the powerband. The power simply builds smoothly through the entire rpm range. We only drove the TrakPower on 3S, which typically makes any powerband hit even harder, and the TrakPower remained exceptionally smooth. The incredibly smooth powerband made the TrakPower exceptionally easy to drive, especially compared to non-sensored units that can hit like a freight train on higher cell counts. To boil it down, the TrakPower is perhaps the smoothest driving brushless system we've ever driven, bar none.
Thermalling: We didn't have any issues with thermalling and our motor temps stayed quite low despite being run on 3S. But… I must note that conservative gearing and low ambient temps certainly helped keep the motor temps low. The TrakPower 10.5 system was never run in an ambient over 50 degrees Fahrenheit and we never saw a motor temp over 115 degrees. Of course you can expect much higher motor temps in warmer ambient conditions (and/or with higher gearing).
Cogging: We experienced no cogging whatsoever with the TrakPower system.
Power: The TrakPower 10.5 on 3S had plenty of power for big roost, wheelies, and making every jump on the track. However, it is a sensored 10.5 system, meaning it simply does not have the "insane" power that some of the other high cell count non-sensored systems have. Yes, the TrakPower has more than enough power to have a great time, but no, it doesn't have the insane/undrivable power of some of the non-sensored systems on the market.
Brakes: On a loose dirt surface the brakes on our TrakPower Pro-Line truck were nearly perfect right out of the box. Of note was their progression, they were quite soft at small trigger input and progressively got much stronger. Other brushless systems seem to offer too little or way too much brake with no progression in between, but the TrakPower was not like that. Rolling on the brakes on a slick surface brought our 2wd SCT to a very controllable stop. On high bite surfaces the TrakPower had lots of braking power on tap, bringing our truck to a halt on a dime if needed.
Fit: The TrakPower speedo has a small footprint and doesn't have a heatsink or fan on top, thus making it relatively small. The TrakPower left tons of extra room in our Pro-Line SCT, and it should be an easy install in most any vehicle. The motor was a standard 540, meaning it should bolt right up in any "normal" 10th scale vehicle.
---
Summary:
Time To Bash: C Programming is very easy but you'll need to solder up all the battery and motor wires.
Car Show Rating: B The speedo sports the popular murdered out/wrap look while the motor is black with an anodized blue ring. Overall a good looking system.
Bash-A-Bility:A We subjected the TrakPower system to high g-forces by hucking our truck off of huge skate park ramps and landing on concrete. We also drove it with the speedo flopping around inside the truck (the double sided tape had let go). Finally, we only drove the system on 3S, its maximum rated cell-count. After giving it our all we've had absolutely no issues with the TrakPower system.
Fun Factor:B While the TrakPower system didn't have the insane power of a non-sensored system, it did do something we've never had the pleasure of experiencing before- a very drivable 3S powerband. There was plenty of power instantly on tap, and more importantly, we could actually control it. That was quite fun in our eyes.
Drivability:A As mentioned above, the TrakPower MS Series brushless system just might be the smoothest, most drivable brushless system on the market. Absolutely top notch.
Power:C Compared to a stock brushed system the TrakPower will blow your mind with power. Compared to another 10.5 it is right on point. But… compared to some of the non-sensored/high cell count systems on the market the TP 10.5 isn't in the same league for pure power.
Value:C The TrakPower comes in right at, or below, the price point of other popular 10.5 racing systems. Compared to some of the more powerful non-sensored systems, the TrakPower is typically more expensive, but the non-sensored systems don't have the buttery smooth powerband.
BigSquid Rating:B The TrakPower MS Series 10.5 boils down to this- are you looking for blow-your-tires-off-the-rim power, or are you looking for solid power with fantastic control? If you are looking for tire shredding power the TrakPower system is not for you. If you are looking for an exceptionally easy to drive system with plenty of smile producing power, then the TrakPower is definitely worth your cash.